Diane Alperin, Ph.D.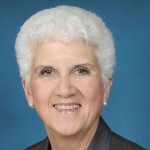 Diane Alperin, Ph.D
Professor Emerita
Phyllis and Harvey Sandler
School of Social Work
alperind@fau.edu 

Florida Atlantic University
777 Glades Road
Boca Raton ,  FL   33431
Diane Elias Alperin , Ph.D., is Senior Advisor for Academic Affairs of the Boca Raton campus and Professor of Social Work. She has a bachelor's degree in Psychology from SUNY Stony Brook, MS from Columbia University and a Ph.D. in Social Welfare from Florida International University. Research areas of interest include child and family services, new areas of social work practice, and social work education. She has published a number of articles and is coauthor of two books in these areas. She has been active with several professional and community organizations, and in 1987, was selected Social Worker of the Year by the Florida Chapter of NASW. She is currently a member of the Board of Directors of Family Promise of South Palm Beach County, Inc.