Meet the Chiefs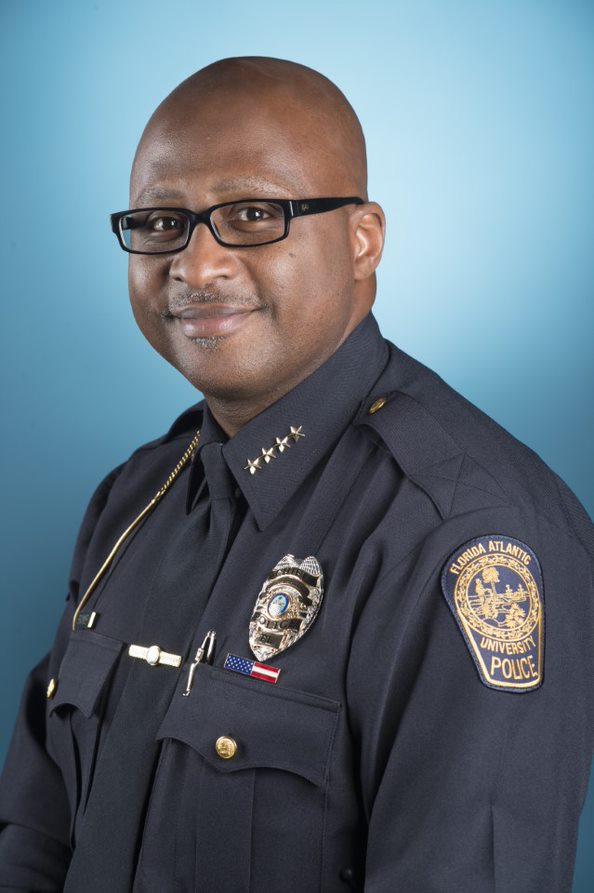 Message from Chief Brammer
I am extremely proud to be a part of such an exemplary law enforcement organization that continues to grow and expand its services for the fastest growing University in the state of Florida. I firmly believe in a management model that provides for community service, incorporating an accountability-driven leadership model to facilitate the needs of our community. Our department is committed to providing a safe environment conducive to the goals of education and research.
In partnership with the University community, we unite to prevent crime and solve problems that affect students, faculty and staff. While patrolling our borders is a primary function of FAUPD, we also have programs that are of great benefit to the University and the community at large. Crime Prevention Programs such as Rape Aggression Defense (RAD), Operation Identification, Substance Abuse Education and "Coffee with the Chief", a program geared toward improving police-citizen relations, are all tools utilized to educate and build relationships at Florida Atlantic University. We have recently implemented the "Owls with COPPS" ; which assigns one police officer to each residential building to serve as a liaison between law enforcement and our resident population. Our newly opened substation located in the heart of the Boca Raton Campus on the Breezeway next to the Bookstore serves as a valuable tool for our department, as we are now able to facilitate some of our services at a location convenient to our student and staff population.
To maintain an effective working relationship with the community and to respond to its needs, the FAUPD is organized into four twelve hour shifts that work 24 hours a day, 7 days a week, 365 days a year. Our officers conduct foot, bicycle and vehicle patrols, respond to reports of crimes, and provide information and resources to the community. This information includes many practices, procedures, and safety tips for helping to keep FAU safe. These tips are published annually in safety brochures, safety talks that are conducted by police officers at student orientations, new employee orientations, and other gatherings like our annual "Owls Night out with the Five-O". Our command staff developed a strategic plan consistent with that of the University's, detailing our efforts to improve efficiency, technology, quality of service, while setting goals and raising the standards of community engagement.
I encourage all students, faculty, staff and visitors to familiarize yourselves with the resources offered by FAUPD and the innovative technology deployed daily by visiting our website at www.fau.edu/police. In doing so, you will be helping us to help you in the pursuit of a safe campus. Feel free to stop by our headquarters located on the Boca Raton campus inside the Campus Operations building (Bldg. 69) to ask any questions about security issues that are important to you.
Thank you for choosing Florida Atlantic University and for partnering with us to prevent crime, and "Go Owls!"
Sincerely,
Sean Brammer
Chief of Police, Florida Atlantic University Police Department
Phone: (561) 297-1377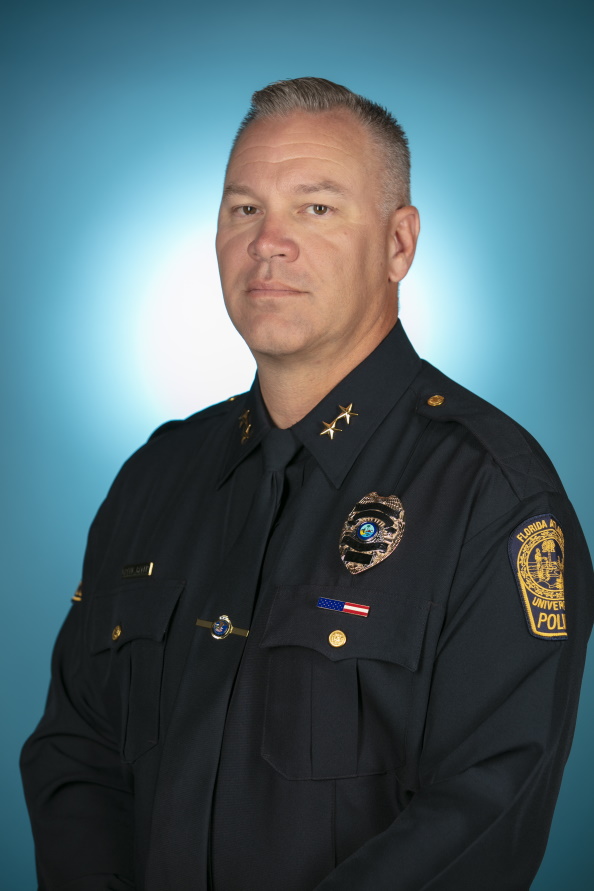 Assistant Chief of Police - Bureau of Patrol Operations
Assistant Chief Crane-Baker began his law enforcement career in 1995 as a State Police Officer at the Florida School for the Deaf and Blind (FSDB) in St. Augustine, Florida. During his time at FSDB, he was a Field Training Officer (FTO) and a canine handler.
In 1997, he was hired by the Delray Beach Police Department (DBPD), where he held numerous positions, including SWAT Team member, Sergeant of Road Patrol, FTO, Training and Recruitment, Lieutenant of Road Patrol, Investigations, and Internal Affairs. Assistant Chief Crane-Baker's most recent position was Captain, where he oversaw the Investigative, Community Patrol, Community Response, and Professional Standards Divisions.
Assistant Chief Crane-Baker holds a bachelor's degree in Criminal Justice from Western Carolina University and a master's degree in Criminal Justice Administration from National University. Additionally, he attended numerous leadership and tactical schools, including the FBI National Academy, Senior Management Institute of Police, the FBI-LEEDA Trilogy Courses, Intentional Leadership, SWAT Management, Tactical Commanders Course, and SWAT Supervision and Leadership.
Additionally, he was awarded the Medal of Valor, Elks Officer of the Year, PBA Officer of the Year runner-up, PBA Officer of the Month, and has received two (2) Chief's Achievement Awards.
His professional/community associations include being a member of the FBI National Academy Associates, Alpha Phi Sigma Honor Society, Kiwanis International, International Association of Chiefs of Police, Florida Police Chiefs Association, Palm Beach County Chiefs of Police Association, PERF, FBI-LEEDA Association, Florida SWAT Association, and the National Tactical Officers Association.
Assistant Chief of Police - Bureau of Support Operations
Assistant Chief Hal Hutchins entered Law Enforcement in 1981 as a police cadet, attending the Police Academy after being hired by the Town of Palm Beach Police Department. After serving in many capacities for over 23 years with the Town of Palm Beach Police Department, Assistant Chief Hutchins joined the Ocean Ridge Police Department in 2005, where he served for 16 years. Assistant Chief Hutchins then joined FAU PD in August of 2022 as Assistant Chief of Support Operations. Assistant Chief Hutchins is proud to serve and has served multiple communities in Palm Beach County for over 41 years in various Law Enforcement roles.
Chief Hutchins is a proud member of the International Association of Chiefs of Police. Assistant Chief Hutchins is also a member of the Florida Police Chiefs Association and has served as a member of the Board of Directors. Additionally, Assistant Chief Hutchins is an active member of the Palm Beach County Association of Chiefs of Police and has served as the Secretary, Vice-President, President, and Executive Director for this organization.
Assistant Chief Hutchins is a native Floridian. He is a graduate of Barry University in Miami Shores, Fl. and holds a bachelor's degree in Professional Study. He is also a Graduate of the University of Louisville, Southern Police Institute, Command Officer Development Program. In addition, Assistant Chief Hutchins has maintained a Law Enforcement Certificate over 41 years and has over three thousand hours of in-service, specialized, and continuing education training.
As a member of the FAU family, Assistant Chief Hutchins is excited and proud to be part of the FAU Police Department team.