By Bethany Augliere and David Lewellen
Determining the cause of neurodegenerative diseases, like Alzheimer's disease, is one of the most critical questions in brain research today. So, the race is on for treatment — or even a cure.
Maciej J. Stawikowski, Ph.D., thinks the answer may lie in how cholesterol and other lipids move through cells and affect how cells communicate.
It's well-known that lipids and Alzheimer's are linked, and lipid imbalance may be leading to amyloid plaque formation— a hallmark of the degenerative disease, said Stawikowski, an assistant scientist, department of chemistry and biochemistry, Charles E. Schmidt College of Science, and member of the Stiles-Nicholson Brain Institute, who studies lipids within individual brain cells.
To do this work and because "biological systems are extremely complicated," Stawikowski designs artificial lipid molecules, called fluorescent analogs, that respond to light, so that they can be monitored in live neuronal cells with high resolution in both time and space. A better understanding of the issue could lead to the design of drugs to inhibit or enhance specific lipid movement and activity,
he added.
At the Brain Institute, which Stawikowski joined in 2021, "I've found my niche," he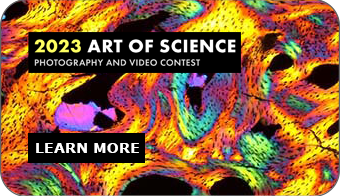 said. This is largely due to the collaborative nature of the group of researchers. While Stawikowski focuses on chemical synthesis, characterization and computer simulation, he also collaborates with Qi Zhang, Ph.D., who brings expertise in neuronal cell work and imaging technologies. Together they tackle this interdisciplinary problem, he said. Zhang is a research associate professor in the Charles E. Schmidt College of Science, and a member of the Brain Institute.
Stawikowski said he always had a curiosity for science, and it was his seventh-grade chemistry class that got him hooked for life on the discipline. He continued to pursue that passion and earned a doctorate degree from the University of Gdansk, Poland, before coming to the U.S. for a postdoctoral fellow opportunity at FAU with Predrag Cudic, Ph.D., professor and associate dean for research in the Charles E. Schmidt College of Science and member of the Brain Institute, where he worked on the synthesis of antibiotics against MRSA, a methicillin-resistant staph infection.
But Stawikowski said his fascination with science is artistic as well as analytical. "The images of live brain cells labeled with these fluorescent compounds made in my laboratory are really mesmerizing," he said, adding that one of his photos of brain cells with color-enhanced molecules won first place in FAU's 2021 Art of Science photography contest shown on next page. "Science is complex and beautiful."