Marine Biomedical & Biotechnology Research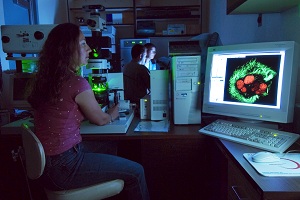 The overarching goal of the Marine Biomedical & Biotechnology Research Program (MBBR) is to harness the power of marine biotechnology to improve the human condition through the discovery of natural products that are useful in the development of improved medicines or as molecular probes to better understand disease. We also have interests in the use of microbes in the production of alternative fuels and industrial chemicals. Our research is an integrated effort among four faculty members who work as a team with interrelated research objectives. MBBR collaborates extensively with researchers outside of FAU Harbor Branch to extend the scope of investigation on its natural products library and welcomes new collaborative efforts.
• The Bioinformatics lab led by Dr. Nick Dickens employs advanced computational methods to understand the evolution and operation of DNA sequence
• The Biosynthesis & Biocatalysis of Natural Products lab led by Dr. Guojun Wang uses genetic and biochemical methods to produce and discover compounds with therapeutic potential
• The Microbiology lab led by Dr. Peter McCarthy has two main goals: the discovery of novel natural products produced by microbes that may have utility as therapeutic agents, and understanding the microbial populations of the Indian River Lagoon and their impact on human health
• The Cancer Cell Biology lab led by Dr. Esther Guzmán develops and performs cutting-edge assays to discover marine natural products with therapeutic potential and conducts secondary testing to understand their mode of action
• The Natural Products Chemistry lab led by Dr. Amy Wright purifies natural products, defines their structures and prepares analogs for biological evaluation
• The Sponge Biotechnology lab led by Dr. Shirley Pomponi develops methods for in vitro production of bioactive compounds as a supply of chemically complex natural products
FAU Harbor Branch is also the home to the Center of Excellence in Biomedical and Marine Biotechnology, which is led by Dr. Amy Wright. This Center of Excellence was created to support multi-disciplinary research projects across Florida that are exploring ocean-based drug discovery, create synergies and collaborations between Florida-based researchers from public and private research institutions and biotechnology companies, stimulate team applications for future federal extramural funding and support frequent workshops and informal social gatherings where researchers can share their research questions to build trans-Florida collaborations.