Student Spotlights
Yuly Andrea González
Fulbright Student Scholar
POSITION:
Fulbright Student Scholar
EDUCATION:
Ed.D (in progress) Education and society | Research focus in education, language, and communication
M. Ed. | 2015 | Universidad Externado de Colombia | English Language Teaching
Professional Graduate Certificate (especialización)  | 2011 | Bilingual education
B.Ed. | 2007 | English - Spanish


WHY DID YOU BECOME A FULBRIGHT SCHOLAR?
One of the main reasons that motivated me to be a Fulbright scholar was the possibility of thinking about other academic scenarios to learn and share different perspectives regarding teaching English as a second language and its implications in linguistically and culturally differentiated classrooms in the case of Colombia. 
As an English language teacher in a Colombian public school and an emergent researcher in the field, I have raised consciousness about the conditions and inequities for those neglected in the local language policy. In this sense, being a Fulbrighter also meant the possibility to learn and lead initiatives to reduce the existing gaps in education in Colombia. 
I strongly align with one of the purposes of Fulbright: to generate sustainable connections among people to establish a mutual understanding between the two nations; thinking of myself as a Fulbright scholar means the possibility of creating a community that aims to contribute to the educational development of my country.
RESEARCH INTERESTS:
My research explores the linguistic policy in Colombia and its connotations in preschool and elementary pre-service teachers' training in English language methodology. As part of my doctoral studies in Education and Society, I explore the intersection between teaching beliefs, teaching practicum, and formative research in the initial training of teachers at Normal Schools in Colombia (teacher training colleges). This study will provide a baseline for future studies in relation to English language teaching and the challenges of Normal Schools in rural contexts, English-centered language policies and their implications for culturally and linguistically differentiated communities, and the role of Normal Schools in conducting research in bilingual and multilingualism topics.
WORK EXPERIENCES:
English and Spanish Language Teacher and bilingual program coordinator. In service teacher´s trainer. Secretariat of education in Bogotá. 2011-present
Curriculum advisor and consultant. Gimnasio Caceres 2016-present
Audio material producer for EFL books, Pedagogía interactiva publishing house. 2010- 2014
In-service teachers' trainer, Pearson education 2013-2014
ADVICE FOR FELLOW FULBRIGHT SCHOLARS:
As we are agents of social change, it is important to stablish a permanent community that contributes to that end. In this sense I suggest making clear actions that keeps that community connected, active and sensitive towards the challenges for minoritized and non-privileged groups.
FUTURE PLANS:
I am working with Professor Andrés Ramírez on a bilingual teacher education proposal to articulate genre pedagogy inspired by Michael Halliday's functional linguistics. This is a model that Ramírez has implemented with Latina mothers who must teach their children English without having sufficient knowledge of the language. This project is also being implemented in Medellín, Colombia, with regular elementary teachers in urban settings. Once I get back, I will research the application of this strategy in the context of public schools and teacher training programs in Normal Schools in Colombia.
FAVORITE QUOTE:
Education either functions as an instrument which is used to facilitate integration of the younger generation into the logic of the present system and bring about conformity or it becomes the practice of freedom, the means by which men and women deal critically and creatively with reality and discover how to participate in the transformation of their world.
— Paulo Freire
Joshua A. Katz
Ph.D. Student In Department Of Counselor Education
COLLEGE:
FAU College of Education, Department of Counselor Education
MAJOR:
Ph.D. in Counseling
EDUCATION:
Doctoral Student |August 2018| Florida Atlantic University| (anticipated May 2023)
Doctor of Counseling and Counselor Education: CACREP Accredited Program
Educational Specialist | August 2018 | Florida Atlantic University.
Licensed Mental Health Counseling: CACREP Accredited Program         
Master of Education
| May 2016 | Florida Atlantic University.
Rehabilitation Counseling: CORE Accredited Program
Licensed Mental Health Counseling: CACREP Accredited Program
Applied Behavior Analysis: BACB Accredited Program
Master of Education | May 2013 | Florida Atlantic University. Educational Psychology
Bachelor of Science| May 2011| Florida Atlantic University. Psychology
Bachelor of Arts |August 2011 | S.U.N.Y. Purchase
Drama Studies, Minor Psychology


RESEARCH INTERESTS:
LGBTQAI+ Issues, Disability Awareness, Advocacy, and Community Service, Autism Spectrum Disorder, Bullying, & Religiosity and Spirituality in Counseling
LIFE EXPERIENCES:
Being a Licensed Mental Health Counselor, Certified Rehabilitation Counselor, and trained in the field of Applied Behavioral Analysis have given me vast and diverse professional experiences. But the most meaningful beyond the awards, leadership roles, recognition, and academic accomplishments has been my ongoing passion for volunteering.

My greatest joy is spending a week each summer as a volunteer counselor with Muscular Dystrophy Association Summer Camp. This year was my 10th year and another significant accomplishment.

There is no greater joy, no amount of money, or reward that can fill the soul than giving of your time in such a meaningful way. This is and will always be my greatest accomplishment.
CLUBS AND ORGANIZATIONS:
Chi Sigma Iota Academic and Professional Honor Society International: induction May 2014.Served 7 years actively on the board including President in 2015,past president 2016, treasurer 2017-2019 and still act as advisor and mentor to the current and acting board each year.
Kappa Delta Phi Honor Society in Education: induction May 2013
Delta Epsilon Iota Honor Society in Career Development: induction May 2014. (Lifetime Member)
ONE THING EVERY FAU STUDENT SHOULD EXPERIENCE:
Volunteer! Get involved in at least one student organization, club, or academic honor society your passionate about. Experiencing the opportunity for a leadership role in a student organization was lifechanging and one of the foundational reasons I made it all the way to a doctoral program.
ADVICE FOR FELLOW STUDENTS:
Follow your heart, learn to trust your instincts, when to take a break, and especially when to ask for help!
FUTURE PLANS:
Complete my dissertation and finally achieve my lifetime dream of earning a doctoral degree, followed by a successful professional life and career sharing that knowledge with as many people as humanly possible. 
FAVORITE QUOTE:
"Do onto others as they would do unto you."


PUBLICATIONS:
(Katz, J. A., 2017) Beta Rho Chi Chapter Newsletter: April 2018
(Katz, J. A., 2018). Boca campus library in need of money for renovations. U Press Online:  https://www.upressonline.com/2018/10/boca-campus-library-in-need-of-money-for-renovations/
Freund, R. R., Gill, C. S., Katz, J. A. (2019). Understanding counselor values conflict through the lens of Adlerian social interest. Journal of Individual Psychology. December Edition
Paul Massy
Ph.D. Student In Department Of Curriculum And Instruction
COLLEGE:
FAU College of Education, Department of Curriculum and Instruction
MAJOR:
Ph.D. in Curriculum and Instruction
RESEARCH EXPERIENCE:
Action research has always been my practice. My research has allowed me to observe what happens in the classroom and how stakeholders respond to innovation. These stakeholders are administrators, students, teachers, and parents.
At FAU, I also worked with faculty in the Palm Beach School district. This experience has been enriching for both researchers and all the engaged stakeholders, especially the students.
CLUBS AND ORGANIZATIONS:
I am presently the President of the Student Achievement Council and a Kappa Delta Pi member in the College of Education. At FAU, I am a member of the Holmes program and Phi Kappa Phi. Nationally I am a board member of the AACTE Holmes Scholars, and internationally I serve as the External Relations Officer of the Pan in Schools Coordinating Council located in Trinidad and Tobago.
ONE THING EVERY FAU STUDENT SHOULD EXPERIENCE:
Every student should experience a football game in the stadium. The atmosphere is electrifying, patriotism is at its highest level, and the community support is unbelievable. Make sure you know what colors are being worn by the spectators, and you are sure to make a lifelong friend at the event.
ADVICE FOR FELLOW STUDENTS:
Stay focused and know that you are worthy of your scholarship at FAU. There are many opportunities to learn new knowledge and skills. Join at least one of the student government organizations and participate in the numerous professional development sessions. After you graduate, I can assure you that you will be ready to contribute immensely and positively to the broader society.
FUTURE PLANS:
My plans are first to become a professor and actively contribute to the academy. Secondly, to continue my community work nationally, regionally, and internationally and find the time to return to my engagement in sports and music upon graduation.


FAVORITE QUOTE:
"Speak more from the heart and less from the mind," Paul Massy



Simone Tracey
Master's In Communication Sciences And Disorders
COLLEGE:
FAU College of Education, department of Communication Sciences and Disorders
MAJOR:
Communication Sciences and Disorders
ONE THING EVERY FAU STUDENT SHOULD EXPERIENCE:
One thing every FAU student should experience is the opportunity to fulfill their purpose and experience joy while doing it.
ADVICE FOR FELLOW STUDENTS:
Do not let setbacks or weaknesses discourage or disqualify you. They all play into your growth and they get you exactly where you are supposed to be. I am a person with a stutter who will soon become a speech language pathologist. For a long time, I did not think that I could ever enter a field that like that, but I realized that WITH (not despite) my stutter, I can be successful in pursuing my passions and I can use my story to encourage others to do the same.
ELEANOR SU-KEENE
ELRM - School Leaders, Holmes Scholar
COLLEGE:
FAU College of Education, department of Educational Leadership and Research Methodology
MAJOR:
K-12 School Leaders Ph.D.
CLUBS AND ORGANIZATIONS:
AACTE Holmes Scholar Program
ONE THING EVERY FAU STUDENT SHOULD EXPERIENCE:
Attend a research conference or symposium within your field of study. This includes not just the local ones on FAU's campus but also national and regional conferences as well. It is an important opportunity to connect with other people and build social capital and create a sense of community within your field. Even though COVID-19 has dramatically changed how people attend conferences, the way that the virtual platform works may often be more inclusive and remove some of the barriers that often existed such as the financial cost of travel and board.
ADVICE FOR FELLOW STUDENTS:
Stay true to you while discovering your passions through learning and ultimately choosing a career. Sometimes it feels like you have to give up part of who you are, negotiate and compromise your purpose, or let go of some of your passion for the career you want. And perhaps sometimes you do have to do this for a little bit but it should be temporary. Instead, think about how you can blend your passions and career aspirations to find something that you can put your mind and heart in. In this particular time that we find ourselves in, I think it can feel a bit overwhelming and planning for your future can feel incredibly challenging. But there are two things that seem to be true. We tend to see that the cracks that have always been there in our lives start to widen, so problems that we might have had have become exacerbated. But the second thing is that the light shining through the cracks is brighter than ever. Find ways in which you use this context as an opportunity to strengthen your purpose and future.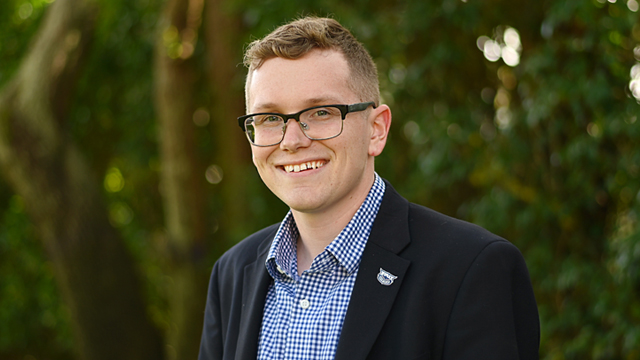 Darren Pikul
ELRM - Higher Education Leadership
COLLEGE:
FAU College of Education, Department of Educational Leadership and  Research Methodology.
MAJOR:
Master's in Higher Education Leadership
CLUBS AND ORGANIZATIONS:
Director of the FAU Graduate & Professional Student Association (GPSA). The GPSA Director serves as FAU's internal and external representative for the graduate student body.
ONE THING EVERY FAU STUDENT SHOULD EXPERIENCE:
Truthfully, every FAU student's experience is going to be way different based on their own unique preferences. The one universal thing every FAU student should experience though is excelling in and outside of the classroom, and walking across the graduation stage at commencement when their time has come!
ADVICE FOR FELLOW STUDENTS:
Take every opportunity you can, whether it ranges from signing up for a research project to attending an event put on by your department or the College of Education. You are only a student for a small fraction of your entire life, and you want to take that time to not only learn as much as you can but you also want to make an impact on your peers and/or faculty.
GABRIEL PEÑA
COE COUNSELOR EDUCATION
Gabe is involved in research on the therapeutic alliance between counselor and therapist.
COLLEGE:
FAU College of Education, Department of Counselor Education
MAJOR:
Mental Health Counseling
CLUBS AND ORGANIZATIONS:
I wasn't a part of any clubs or organization. I am a member of Dr. Peluso's Alliance Lab. We're conducting research on the therapeutic alliance between counselor and therapist. I'm currently in grad school but I first joined the lab in Spring 2013 when I was just an undergraduate student, and this is about the extent of my "extracurricular" activities.
ONE THING EVERY FAU STUDENT SHOULD EXPERIENCE:
At least one football game; walking through the breezeway and being bombarded with brochures; the foam party; and pulling an all-nighter by studying in one of the classrooms (don't know if this is still do-able).
ADVICE FOR FELLOW STUDENTS:
Don't dread on FAU being a smaller school or not having what other universities have. Make the most of what you have because at the end of the day, a degree is a degree regardless of where you get it from. And you're paying to be here so really make sure that you're getting your money's worth and putting in the work. And on a more serious note, show up early for class so you can find parking without being late.
Brianna Joseph
College Of Education
COLLEGE:
College of Education, Department of Exceptional Student Education
MAJOR:
Doctorate in Exceptional Student Education.
CLUBS AND ORGANIZATIONS:
Brianna serves as Project I Squared Project Grant Supervisor. She is currently a Holmes Scholar and a Holmes Scholars Social Media Coordinator. She is also a Council for Exceptional Children, FAU Chapter CAN representative.
ONE THING EVERY FAU STUDENT SHOULD EXPERIENCE:
A FAU football game
ADVICE FOR FELLOW STUDENTS:
"Take advantage of the resources at FAU that will allow you to improve as a student and progress towards being successful in your career field."