Student Spotlights
ELEANOR SU-KEENE
ELRM - School Leaders, Holmes Scholar
COLLEGE:
FAU College of Education, department of Educational Leadership and Research Methodology
MAJOR:
K-12 School Leaders Ph.D.
CLUBS AND ORGANIZATIONS:
AACTE Holmes Scholar Program
ONE THING EVERY FAU STUDENT SHOULD EXPERIENCE:
Attend a research conference or symposium within your field of study. This includes not just the local ones on FAU's campus but also national and regional conferences as well. It is an important opportunity to connect with other people and build social capital and create a sense of community within your field. Even though COVID-19 has dramatically changed how people attend conferences, the way that the virtual platform works may often be more inclusive and remove some of the barriers that often existed such as the financial cost of travel and board.
ADVICE FOR FELLOW STUDENTS:
Stay true to you while discovering your passions through learning and ultimately choosing a career. Sometimes it feels like you have to give up part of who you are, negotiate and compromise your purpose, or let go of some of your passion for the career you want. And perhaps sometimes you do have to do this for a little bit but it should be temporary. Instead, think about how you can blend your passions and career aspirations to find something that you can put your mind and heart in. In this particular time that we find ourselves in, I think it can feel a bit overwhelming and planning for your future can feel incredibly challenging. But there are two things that seem to be true. We tend to see that the cracks that have always been there in our lives start to widen, so problems that we might have had have become exacerbated. But the second thing is that the light shining through the cracks is brighter than ever. Find ways in which you use this context as an opportunity to strengthen your purpose and future.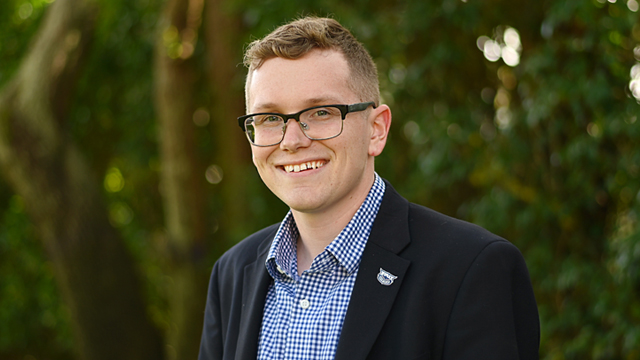 Darren Pikul
ELRM - Higher Education Leadership
COLLEGE:
FAU College of Education, Department of Educational Leadership and  Research Methodology.
MAJOR:
Master's in Higher Education Leadership
CLUBS AND ORGANIZATIONS:
Director of the FAU Graduate & Professional Student Association (GPSA). The GPSA Director serves as FAU's internal and external representative for the graduate student body.
ONE THING EVERY FAU STUDENT SHOULD EXPERIENCE:
Truthfully, every FAU student's experience is going to be way different based on their own unique preferences. The one universal thing every FAU student should experience though is excelling in and outside of the classroom, and walking across the graduation stage at commencement when their time has come!
ADVICE FOR FELLOW STUDENTS:
Take every opportunity you can, whether it ranges from signing up for a research project to attending an event put on by your department or the College of Education. You are only a student for a small fraction of your entire life, and you want to take that time to not only learn as much as you can but you also want to make an impact on your peers and/or faculty.
GABRIEL PEÑA
COE COUNSELOR EDUCATION
Gabe is involved in research on the therapeutic alliance between counselor and therapist.
COLLEGE:
FAU College of Education, Department of Counselor Education
MAJOR:
Mental Health Counseling
CLUBS AND ORGANIZATIONS:
I wasn't a part of any clubs or organization. I am a member of Dr. Peluso's Alliance Lab. We're conducting research on the therapeutic alliance between counselor and therapist. I'm currently in grad school but I first joined the lab in Spring 2013 when I was just an undergraduate student, and this is about the extent of my "extracurricular" activities.
ONE THING EVERY FAU STUDENT SHOULD EXPERIENCE:
At least one football game; walking through the breezeway and being bombarded with brochures; the foam party; and pulling an all-nighter by studying in one of the classrooms (don't know if this is still do-able).
ADVICE FOR FELLOW STUDENTS:
Don't dread on FAU being a smaller school or not having what other universities have. Make the most of what you have because at the end of the day, a degree is a degree regardless of where you get it from. And you're paying to be here so really make sure that you're getting your money's worth and putting in the work. And on a more serious note, show up early for class so you can find parking without being late.
Brianna Joseph
College Of Education
COLLEGE:
College of Education, Department of Exceptional Student Education
MAJOR:
Doctorate in Exceptional Student Education.
CLUBS AND ORGANIZATIONS:
Brianna serves as Project I Squared Project Grant Supervisor. She is currently a Holmes Scholar and a Holmes Scholars Social Media Coordinator. She is also a Council for Exceptional Children, FAU Chapter CAN representative.
ONE THING EVERY FAU STUDENT SHOULD EXPERIENCE:
A FAU football game
ADVICE FOR FELLOW STUDENTS:
"Take advantage of the resources at FAU that will allow you to improve as a student and progress towards being successful in your career field."