Diplomacy Program Students Travel to Geneva, Switzerland
Friday, Sep 15, 2023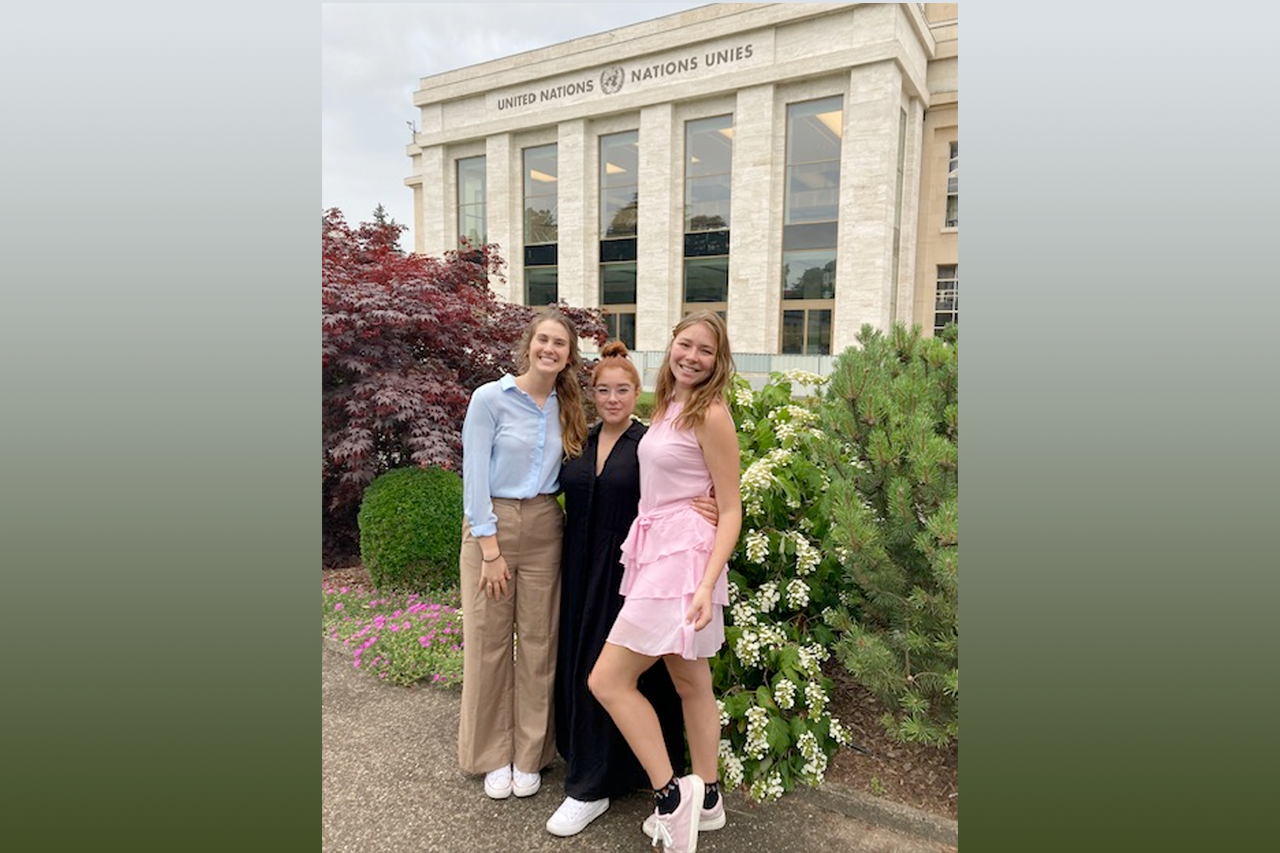 ---
Three FAU students journeyed to Geneva, Switzerland, this summer to enhance their understanding of international organizations, diplomacy and European culture. Rachel Semenchukand Ellie Pfahler of the Wilkes Honors College and Isabella Olofson-Ring of the College of Arts& Letters spent a week in one of Europe's most beautiful and vibrant cities.
While in Geneva, the students toured the European Headquarters of the United Nations, visited the International Committee of the Red Cross, the CERN particle collider and World Intellectual Property Organization. Cultural visits included a day trip to the fourteenth century village ofYvoire, France and the Baur Foundation Museum of Far Eastern Art.
For Isabella, a junior majoring in Political Science with a minor in Cybersecurity, the experience in Geneva, Switzerland, was a defining moment in young political minds. "The educational trip tothe mesmerizing city of Geneva, Switzerland, with its rich history, international significance, and breathtaking landscapes, provided the perfect setting for an enriching exploration of International Relations. During our trip, we had the privilege of visiting The United Nations headquarters in Geneva. As we entered the iconic Palais des Nations, awe and anticipation filled the air. We were welcomed by a guide who provided us with a comprehensive tour, unveiling this internationalorganization's history, purpose, and impact. Walking through the Assembly Hall, we were captivated by the sight of the world's leaders gathered to address global challenges and promote peace. The intricate artistry and symbolism displayed in the Council Chamber left us in awe of the UN's commitment to fostering diplomacy and cooperation. At World Intellectual Property Organization (WIPO), we had the privilege of attending presentations by experts in the field,shedding light on the importance of protecting intellectual property rights and fostering innovation. The profound history of the Red Cross museum inspired us and instilled a deeper understanding of the importance of empathy and solidarity in our global community. Our experience was an amalgamation of educational, cultural, and personal growth. We returned to our university campuswith a broader perspective on global issues, an appreciation for the power of diplomacy and humanitarian work, and a deeper understanding of the world beyond our textbooks.
"With its international significance and enchanting charm, Geneva gave us a transformative experience that will shape our academic and personal pursuits for years to come." - Isabella Olofson-Ring
Ellie, a junior majoring in International Studies and Spanish found the trip to Geneva, Switzerland both intellectually and personally empowering. "To me, one of the most striking things about Geneva, was the duality of modern aesthetic with historical landmarks and traditional architecture – all intertwined into one magnificent city. Just a fifteen-minute bus ride from where we stayed was the old city – housing some of the country's oldest government buildings, delicious cuisine, traditional cobblestone roads, and quaint piano music always playing (due to the multitude of orange painted pianos stationed around the city free for anyone one to use). Taking the train back five minutes positioned us on the longest stretch of name brand stores I have ever seen. Not only is Geneva visually striking, but the city also holds the deep roots of international history and global significance. Tours of the World Intellectual Property Organization and Red Cross showed me just how important international cooperation is and how much work it takes to keep that level of organization running smoothly. While we toured the United National Headquarters, the Human Rights Council was actively meeting, and we were able to peep in on a session. Even down to the architecture, the UN is designed to represent the power of all nations working together and the power of individual voices. We also bumped into the Prince of Oman in the upstairs library... how often does that happen! I left each building we toured in awe of the work that was being done to keep our global community functioning and united, and I left Geneva feeling humbled and empowered to do my part. Ultimately, Geneva was buzzing with diversity, packed with the movement of important places and people, and genuinely beautiful.
It's the kind of experience I will remember always for the education ad empowerment it brough all of us and it's the kind ofplace I will dream about every day, until I get to go back."- Ellie Pfahler
Rachel, a junior majoring in Biochemistry, was grateful to be a part of a trip that was crafted with such high anticipation and joy. The trip seamlessly blended her passions for history, language, and nostalgia, creating a truly unique and enriching experience for her. "I found myself dreaming before the trip with all the anticipation I had been building up, and I fondly recall the little piecesof myself I left behind for me to one day pick up where I left off. I made sure to take a moment of appreciation every day on our trip to Geneva, Switzerland whenever I encountered elements that truly resonated with me. Ever since we first landed in the region that encompasses the Swiss Alps, I was prepared to absorb as much of the French language as possible. For example, during lunch, it pleased me to blend into the local culture, exchanging words and expressions with servers, feeling like a natural and effortless conversation. I would hear a beautiful tune of Clair de Lune playing 15 (meters*) away on an orange piano. It surprised me when the girls and I encountered these pianos more than once, as well as accordions and cellos, considering my love for playing and hearing these instruments. Exploring Yvoire and tasting fish from European freshwater highlighted my nostalgia for eating fresh fish that my father would bring in every weekend. Somedays, when it would rain, I would feel at peace with my favorite weather in a foreign country, and I was also intrigued because the sprinkled rain in Switzerland couldn't compare to the rain in Florida. Visiting the United Nations strengthened my love for learning languages and filled mewith national pride when our guide mentioned the value of Ukraine at the Human Rights Council.The conference rooms' ceilings and floors held deep symbolism, representing the power of multiple voices united by a common language. Using the bus for a 5-minute ride to go anywhere easily amazed me, especially considering the horror stories that defined my public transportation experiences in the United States.
Getting the chance to speak to new people and families, taking nightly strolls in the beautifully illuminated city, having slumber parties with my girls, and sharing moments of tears from laughter, particularly with Dr. Morton, were my favorite experiences that I was grateful to express in a new place that felt like home." - Rachel Semenchukand

All three students represented Florida Atlantic University last year in the National Model United Nations competition in Washington, D.C, leading the delegation to its fifth national title. They look forward to returning to Nationals this fall to defend their title. Funding for their travel was provided by the Leon Charney Diplomacy Program and the Morton Research Forum, which annually supports dozens of students through generous study abroad scholarships. The Diplomacy Program was established in 1996 and is currently the nation's topranked academic program, and the Morton Research Forum are donor-funded programs that train students in conflict resolution, negotiation and the peaceful settlement of disputes. The Diplomacy Program is open to undergraduate students of all majors who are interested in improving their research, writing and public speaking skills. Those interested in joining the Program next semester should contact Jeffrey Morton at jmorton@fau.edu for more information and to obtain an application.