In Memoriam: Dr. Cecilia Campoverde (1936-2022)
Thursday, Jan 12, 2023
---
(Photo Courtesy of @GuatemalanProject Instagram Account)
Campoverde holding her beloved green parrot. 
Former Social Work faculty member, Dr. Cecilia Campoverde was affectionately given many titles: professor, social worker, mother, abuelita, community leader, activist, and even river. After a lifetime of exhibiting the values of social work, she lived out her days where her heart had found its home – in El Triunfo, Guatemala. There Campoverde served as an unpaid volunteer director of the Guatemalan Project, Inc., a non-profit public foundation that assists low-income women in developing sustainable micro enterprises. 
Earlier in her life, Campoverde earned her Master of Social Work degree from Adelphi University, and her master's in education and Ph.D. in research and evaluation from Hofstra University. In 1989, she began working at Florida Atlantic in what was then the Department of Social Work in the former College of Social Science. In 1995, she was awarded tenure after a controversial selection process; then in 2007, she was awarded the coveted "Social Worker of the Year" title in 2007 by the Florida Chapter of the National Association of Social Workers. One year later, Campoverde retired from the university and began her work in Guatemala, where she would spend the remaining 14 years of her life until her death in October 2022.
"We send our condolences and comforting thoughts to Cecilia's loved ones and those who had the fortune to work with and be inspired by her passion and commitment to helping others," said Naelys Luna, Ph.D., MSW, social work professor and founding dean of the College of Social Work & Criminal Justice. "She was a highly respected and an admired colleague in our School of Social Work."
A CELEBRATION OF LIFE THROUGH WORDS & PICTURES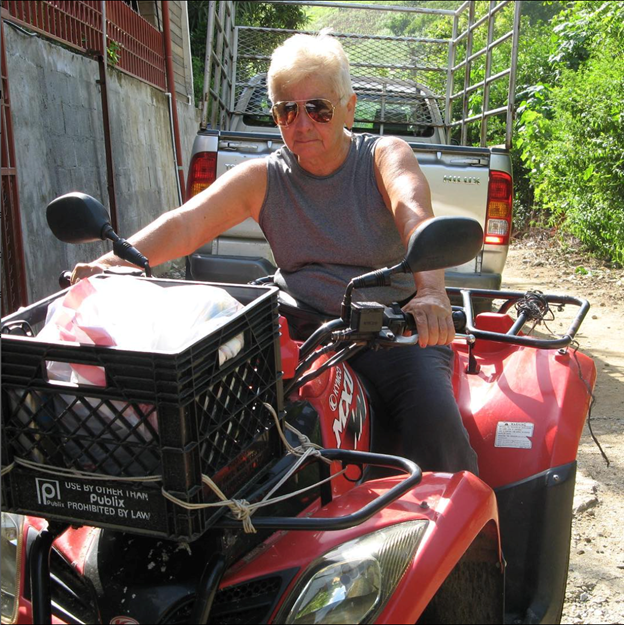 (Photo Courtesy of @GuatemalanProject Instagram Account)
Campoverde aboard a quad bike in Guatemala. 
"I remember her as a fierce advocate for human rights. She was committed to macro level change as evidenced by her community development in Guatemala. She could move from anger to laughter in a moment. She was a social worker through and through." 
– Keith Platt, DSW, LCSW, Senior Clinical Instructor, Sandler School of Social Work
---
(Photo Courtesy of @CeciliaCampove Facebook Account)
Campoverde with women and children from the local El Triunfo community making their way inside the Christmas 2015 celebration. 
"I have many memories of Cecilia inspiring students. She developed micro economic interventions for poor women in Guatemala. As I recall, and before I came to FAU, she experienced what it was like for people from Central America to come to the USA by the back roads. She was a friend of the down-trodden, rooted for those that were forgotten, and didn't much care what administrators thought about her. She used to tell me, 'I don't pay attention to them.' My favorite memories, however, are of her pointing out the incongruencies between the methodologies of administration and the values and ethics of social work."
– Michael Kane, Ph.D., LCSW, M.Div., Professor, Sandler School of Social Work
---

During her 2005 retirement party, Campoverde is embraced by her colleague and former student, Robin Rubin
"Cecilia Campoverde is one of those people that truly changed my life. When I was getting my master's degree at FAU, she was one of my professors. I will never forget her kindness, her warmth, and her true compassion for all human beings. She dedicated her life to training future social workers and helping people in Guatemala have a better life. I will never forget her, and I will hold her in my heart forever."
– Robin Rubin, MSW, Instructor, Sandler School of Social Work
---
(Photo Courtesy of Dr. Allan Barsky)
L-R: Jim Furdon, seated, one of FAU's first social work instructors; Grisel Barrios, former support staff; Dr. Campoverde; and Cheryl Moody, former field coordinator during a faculty/staff event. 
"My first recollection of Dr. Cecilia Campoverde was when I came to FAU in the spring of 1999 to interview for a position with the Department of Social Work (as it was then known). During my research presentation, Cecilia asked a number of pointed questions, showing not only that she appreciated my presentation but that she wanted me to think more deeply about some of the implications of my research. I learned very quickly that Cecilia was someone who cared deeply about teaching and learning, and particularly how research and theory can be used by social workers to help the individuals, families, and communities that we serve. Cecilia was not only a wonderful classroom instructor, but also an amazing model of excellence and ethics in social work practice. 
"As Dr. Campoverde's community empowerment work with the Guatemala Project in El Triunfo suggests, she knew how to motivate people toward a greater cause. She did not believe in raising funds as 'charity to give to people'. Instead, she believed in cultivating resources and support systems to creating opportunities for communities to be creative, to build social capacity, and to ensure sustainable and equitable social development.
"Dr. Campoverde understood that meaningful social work education extends beyond the classroom and into our communities. She developed an experiential learning program in which she took students into an area near Belle Glade, Florida, to live and work among migrant farm workers. This experience provided students with an opportunity to develop greater empathy with a community that experienced many hardships, but also had many strengths and incredible resilience. A parent of one of her students once called her to demand that his daughter be excused from this experience because 'she had never been outside of Boca Raton.' Cecilia responded, 'That's exactly why she needs to come with us.'
"Dr. Campoverde was not just one of the most beloved social work professors, but also one of the first tenured social work professors at FAU. When Dr. Wilma Greenfield, the first department's chair, hired Cecilia, she did not realize that they shared not only their love for social work education, but also, the same name. "Campoverde" means "green field." May Cecilia's life and career continue to inspire social work students and faculty to cultivate greener fields, communities where all people enjoy dignity, respect, peace, comradery, and the resources that they need to flourish." 
– Allan Barsky, JD, MSW, PhD, Professor, Sandler School of Social Work
---

Clipped article from the South Florida Sun Sentinel, March 18, 2007
"Whether in the classroom or in the field, Cecilia showed the world that the values of social work – particularly service, dignity and worth of the person, and the importance of human relationships – were her core values. She lived out her passion and modeled for our students exactly what it means to be a social worker, through and through."
– Michele Hawkins, Ph.D., MSW, Professor, Sandler School of Social Work and Interim Provost, Florida Atlantic University
---
(Photo Courtesy of @GuatemalanProject Instagram Account)
The Guatemalan Project partnered with a local El Triunfo nunnery to provide housing, basic education and basic cooking, baking and sewing skills to adolescent girls in the local region who have nowhere else to go. The photo shows Campoverde in July 2022 at the future housing site.
"Cecilia, I sometimes think of the day I stumbled across your project - sometimes I cannot believe I had the audacity to visit a rural village in the middle of nowhere, but mainly I think about how I had no idea that the most amazing human would be waiting for me there. I don't know what I did to deserve you in my life, but I will be forever grateful for your mentorship, friendship, and love over these past 13 years.
"Very seldom can you say that someone has profoundly changed your life, but you did. You taught me that anything is possible. You have strength that has literally moved mountains. A modern-day Mother Theresa that I have been honored to know so intimately. You are a force of light that is so lacking today in this world.
"When the pandemic hit, I, like many others, turned and hid inside my home, but you went out and built a nunnery so the abused girls in the surrounding villages could have a safe place to rest their heads at night. I think about your legacy and how many lives you have touched, and if I was there in El Triunfo today, I am certain that there would not be a single person within the entire village, surrounding villages, probably the whole state of Zacapa that has not been impacted positively by your presence.
"Cecilia, thank you. Thank you for being a mother and grandmother figure to me, thank you for being my friend, thank you for sharing the story of your life with me.
"You taught me the true heart of social work – to empower others and ensure that there is a working system, a river as you called it, from which to fish in.
Cecilia, you are that river. I cannot imagine life without you in it – I will miss you so much and I promise to grow and be strong and continue to ripple your love and wisdom into the world. Thank you, I love you."
– Lindy Ariff, MSW, LCSW, CHT, former independent study student and MSW intern at the Guatemalan Project now in private practice in Portland, Oregon
---
PHOTO GALLERY
Remembering Dr. Cecilia Campoverde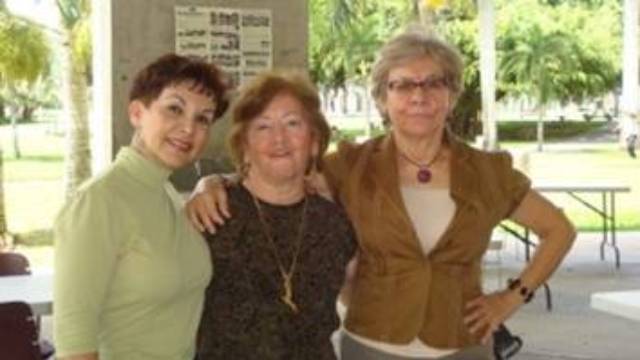 Campoverde (center) flanked by fellow FAU faculty members during her 2005 retirement party.
(Photo Courtesy of @CeciliaCampove Facebook Account)
Campoverde, back row center, with a group of El Triunfo children proudly clad in new school uniforms, funded by generous donations to the Guatemalan Project.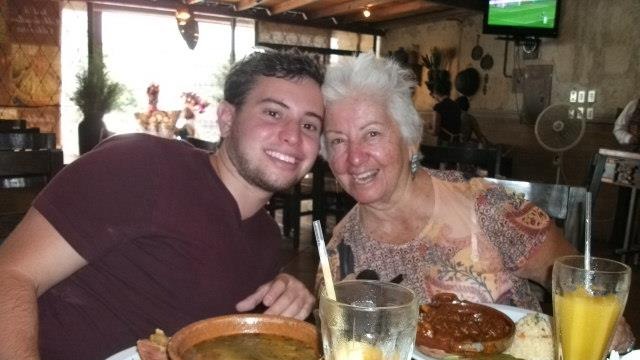 (Photo Courtesy of @CeciliaCampove Facebook Account)
Campoverde in 2012 dining with her grandson, Ryan Mermer.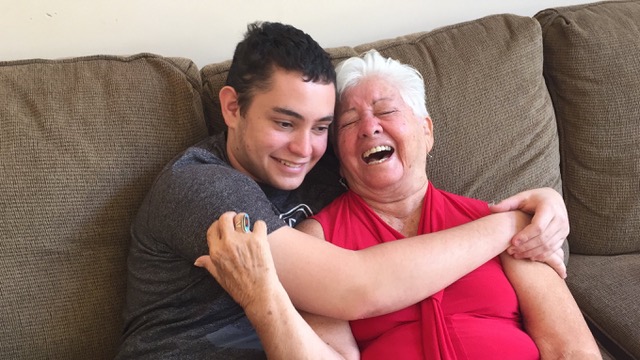 Dr. Campoverde enjoying a laugh with her grandson, Carter Mermer.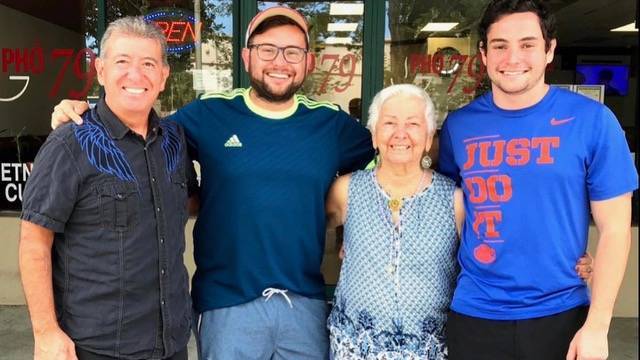 Dr. Campoverde with her beloved son Glen Mermer and her grandsons Ryan and Carter.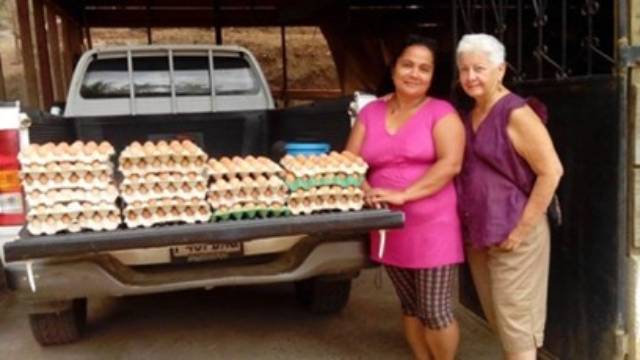 (Photo Courtesy of @GuatemalanProject Instagram Account)
Campoverde with a fellow Guatemalan Project volunteer next to fresh eggs from the "One Egg a Day" nutritional program for El Triunfo children.
(Photo Courtesy of @GuatemalanProject Instagram Account)
Campoverde, seated, welcoming local El Triunfo children and mothers to the Guatemalan Project Christmas celebration.
(Photo Courtesy of @GuatemalanProject Instagram Account)
March 2020: Campoverde helping make chicken soup and tortillas on the Guatemalan eco stoves.
---
VIDEO GALLERY
ABOUT THE GUATEMALAN PROJECT