Teaching
Awards
Distinguished Teacher of the Year, College of Education, 2010.
Teacher Incentive Program (TIP) Award for outstanding achievements in teaching, 2003
Excellence in Undergraduate Teaching, Florida Atlantic University, 2002.
Dilys Schoorman's teaching includes courses in Multicultural Education, Global Education, Curriculum Theory and Critical Approaches to Research. Her teaching is grounded in the principles of critical pedagogy and her courses focus on urgent issues of social injustice and the manner in which educators, scholars and citizens can be catalysts for transformation.
Courses taught at FAU
Critical Foundations of Educational Inquiry (EDF 7578)
An elective course for doctoral students that constitutes a survey of multiple forms of critical theory in educational inquiry and their methodological implications.
Curriculum Theory (EDF 7221)
A required course in the Curriculum and Instruction doctoral program that explores the history of educational reform and diverse philosophical approaches to curriculum design and implementation.
Doctoral Seminar (EDG 7938)
An introduction to the doctoral program of study, educational research, theory and practice in curriculum.
Foundations of Global Education (EDF 6800)
This course takes a critical perspective of the process of globalization and examines its multifaceted nature and impact on diverse nations of the world. Common global concerns such as human rights, the environment, and conflict are explored through in-depth studies of the history, culture and education of a nation and through comparative analysis of sociopolitical or educational issues.
Foundations of Multicultural Curriculum (EDF 6887)
This course focuses on the historical, philosophical and social foundations of curriculum as it relates to the education of diverse ethnic groups in the USA. The multiple traditions of educational philosophy, emergent philosophies throughout the particular histories of diverse ethnic groups in the USA and the implications of these historical, philosophical and social foundations in the creation of curriculum and in educational policy and practice in current contexts are explored.
Race, Class and Gender in Education (EDF 6637)
This course is designed to critically examine the social construction of gender, race and class, as well as other aspects of social categorization, and the impact of such constructions on the life and work of diverse groups of people. Specific to our discussions will be the manner in which social groups have been marginalized and silenced and role of education in perpetuating or eliminating such social injustices.
Seminar in Multicultural Education (EDG 5705)
This is a graduate seminar that is designed to acquaint the student with research based on the influence of race, ethnicity, gender, language, socioeconomic class, handicapping conditions and other factors that impact educational achievement in US public schools.
Introduction to Diversity for Educators (EDF 2085)
A required undergraduate lower division course designed as an introduction to the field of multicultural curriculum. The focus of the course is on the critical examination and the creation of curricula in diverse content areas. Course includes a field experience component.
Education in a Multicultural Society (EDF 3610)
A required undergraduate upper division course that surveys concepts, principles and issues integral to the field of multicultural and global education. Discussions include diverse cultural, theoretical, and political perspectives intended to facilitate a critical conceptual grounding in the socio-cultural implications of and for education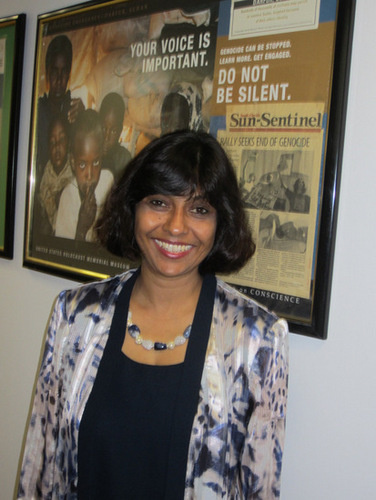 Dilys Schoorman, Ph.D.
Professor
Department of Curriculum, Culture, and Educational Inquiry
Office Phone: 561.297.3965
Office Fax: 561.297.2925
Office Location: Boca 47 – ED 495
777 Glades Road Boca Raton, FL 33431