Pair of FAU Students Named 2023 Goldwater Scholars
Florida Atlantic University students David Baldwin and Michael Green have been named 2023 Goldwater Scholars.
---
Florida Atlantic University students David Baldwin and Michael Green have been named 2023 Goldwater Scholars. The Barry Goldwater Scholarship is the most prestigious national research fellowship for undergraduate students given this year to just 413 scholars nationwide, making this the second consecutive year that FAU students have been awarded the honor. The two were selected from a pool of 1,267 students from 483 institutions across the country.
"I am incredibly proud of David and Michael," said Donna Chamely-Wiik, Ph.D., associate dean for Undergraduate Research and Prestigious Fellowships and associate scientist in the Department of Chemistry and Biochemistry within the Charles E. Schmidt College of Science. "We celebrate their successes, knowing this prestigious scholarship is only the beginning of a bright future for these two accomplished scholars. This is a testament to the caliber of FAU's students, the quality of our collaborative programs, and the dedication of our exceptional faculty mentors who guide their curiosity and passion for research."

Baldwin is a sophomore at the Harriet L. Wilkes Honors College, majoring in environmental science with an interest in ecological research. He has an extensive network of research mentors and recently earned a spot in the McCoy Evolutionary Ecology Lab at FAU Harbor Branch. Baldwin's current research is being mentored by Chris Moore, Ph.D., and Iris Segura-Garcia, Ph.D.
"Thrilled is an understatement. I am honored, humbled and grateful to be a part of the Goldwater Scholarship legacy," said Baldwin. "This award reaffirms my commitment to the furthering the scientific community, and my dedication toward equitable access to research and STEM. It was extra special to be notified by the foundation when I was in the lab and surrounded by the support of some of my colleagues and mentors. Truly a moment I will long remember."
This summer, Baldwin will complete his second internship as part of the Yale Conservation Scholars program with the New York City Parks and Recreation Department, Division of Environmental Planning. Over the next two years, he will complete his honors thesis in evolutionary ecology under the guidance of the McCoy Lab Group and start the application process for Ph.D. programs in ecology and evolutionary biology, with hopes to graduate with honors in May 2025 if not sooner. His professional goal is to continue researching, teaching and evolving in the world of academia as an ecologist.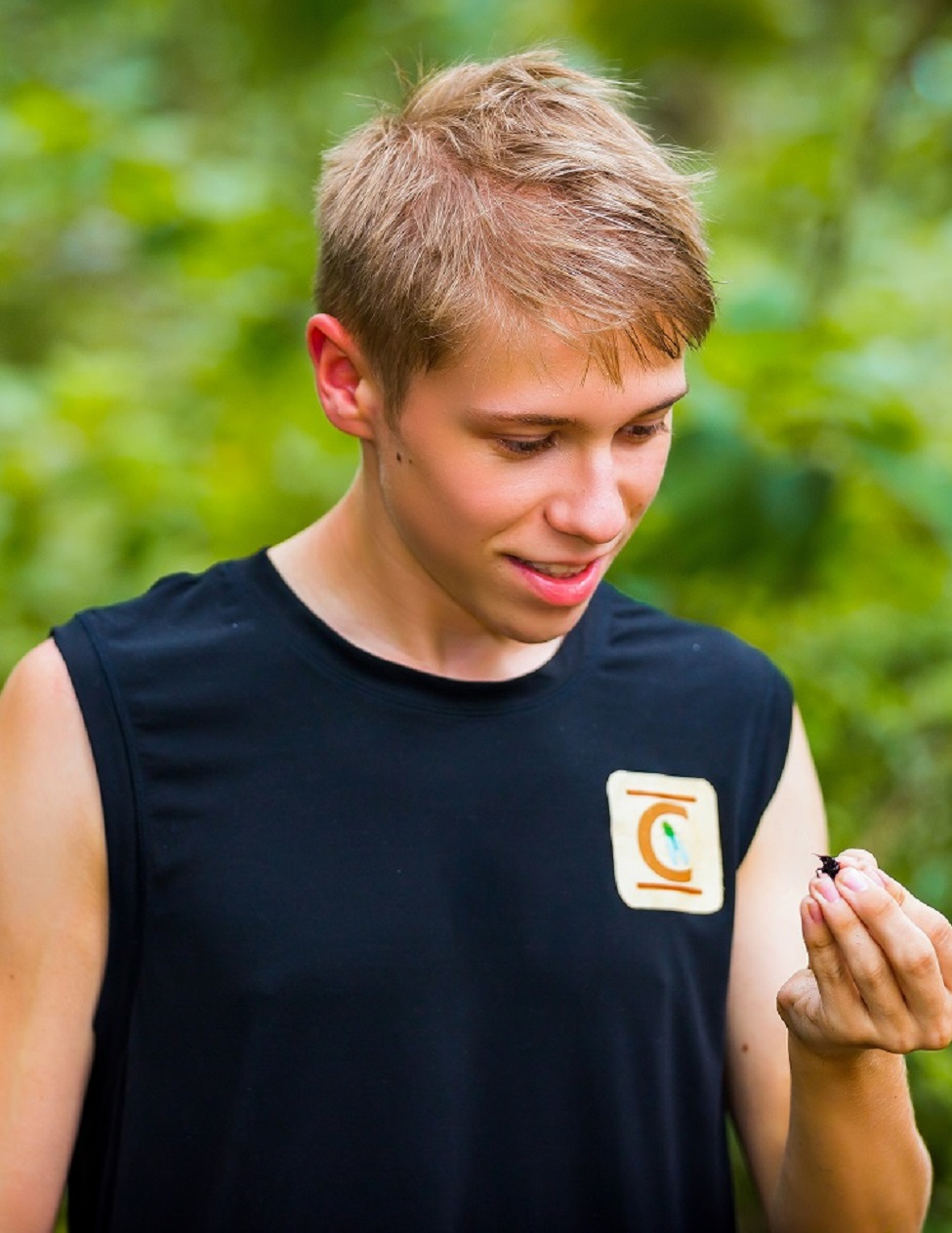 Green is a junior biology major within the Schmidt College of Science and is dual-enrolled at FAU High School. His research interests are in entomology, a field that is underrepresented at FAU. While Green has conducted much of his research independently, he has sought guidance and mentorship from Tricia Meredith, Ph.D. He has been admitted to Wilkes Honors College and will begin his senior year there this fall.
"When I saw that I had received the scholarship, I was both extremely excited and shocked as I did not expect to be recognized in this way," said Green.
Green's fellowship has allowed him to pay a large amount of the money needed for his transfer to the Wilkes Honors College, which allows him to be able to work with a mentor and continue this project into the form of his first thesis. After attaining a bachelor's degree in biology, he plans to extend his education to a Ph.D. in entomology. From there, he aspires to continue research on insect taxonomy, systematics and ecology and teach at a university level.
The duo applied for the Goldwater Scholarship with assistance from FAU's Office of Undergraduate Research and Inquiry and Prestigious Fellowships .
The Goldwater Foundation is a federally endowed agency. The scholarship program honoring U.S. Sen. Barry Goldwater was designed to foster and encourage outstanding students to pursue research careers in the fields of the natural sciences, engineering and mathematics. The Goldwater Scholarship is the preeminent undergraduate award of its type in these fields.
-FAU-