Immigration and Transnationalism
ANTIGUA, GUATEMALA
Understanding Immigration and Transnationalism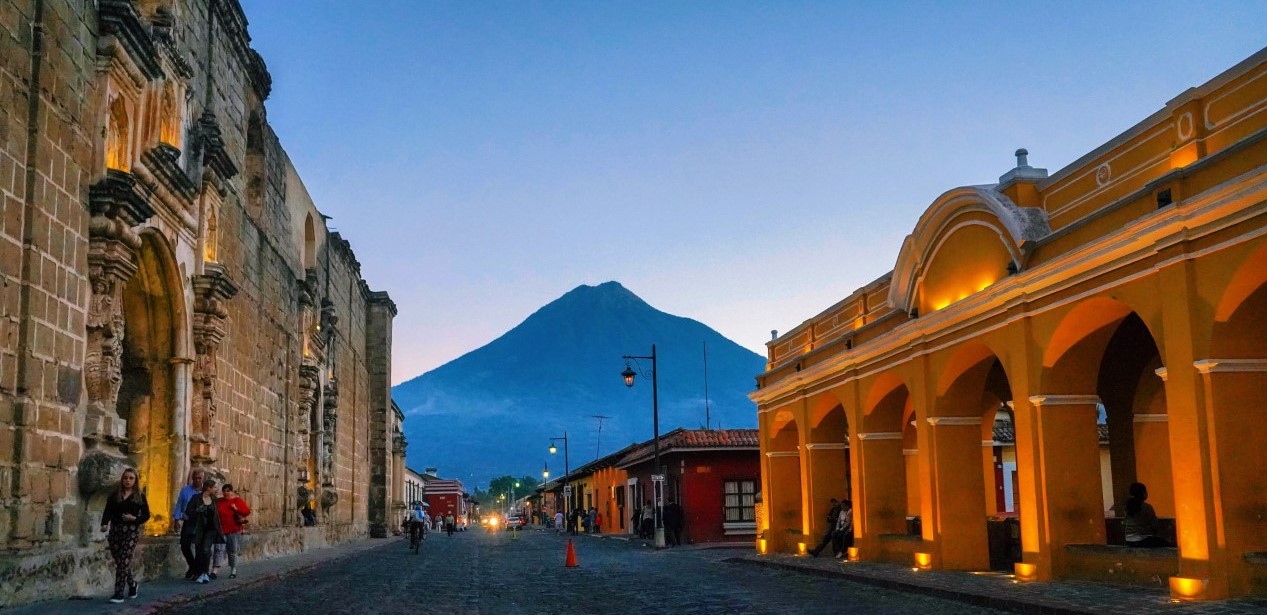 Program Description
This study abroad program offers students the opportunity to live in an UNESCO World Heritage site while studying Spanish and learning about the process of immigration and transnationalism from the US and Guatemalan perspectives. Students live with a Guatemalan host-family and receive one-on-one Spanish language training in the mornings and attend the immigration class two afternoons a week, leaving lots of time to explore the colonial city of Antigua (founded in the 1600s) and its many restaurants, cafes, cultural attractions, and historical sites. The program includes weekend excursions to scenic Lake Atítlán and Chichicastenango, as well as the Mayan ruins of Tikal. Students will also visit a local coffee farm, weaving cooperative, and have the opportunity to explore a live volcano and zipline through the tropical rainforest. The immigration course includes an academic service-learning component, working with a Guatemalan non-profit to provide classroom technology to a Guatemalan school. Learn Spanish, receive academic service learning credit, learn about the forces propelling the cycle of migration, and fall in love with one of the greatest cities in the world on this Guatemalan adventure.
Program Dates and Deadlines:
Term
Year
Application Deadline
(or as space permits)
Start Date/Check-in
End Date/Check-out
Summer
2023
February 1, 2023
May 12, 2023
June 12, 2023

Program fee payment deadline: See details below in program cost section. Program fees cannot be deffered. Plan accordingly. 
Information Sheet

Open to
All undergraduate students in all academic disciplines
Language of Instruction
English and Spanish
Level of Study
Undergraduate 
Credit Offered
FAU credits
Program Primary Subject
Political Science, Immigration, Transnationalism, and Spanish Language
Sponsoring College
Wilkes Honors College
Program Course Offerings

:
IDS 4957: Honors Interdisciplinary Study Abroad: Immigration and Transnationalism (3 credits) - Required for All Participants
SPN 2957: Spanish Conversation Abroad (3-4 credits) 
SPN 4905: Honors Spanish Language and Culture (3-4 credits)
Course Eligibility & Requirements:
Students participating on the program are required to take IDS 4957 and one of the SPN program course offerings for at least 6 credits total.  

Note your courses of interest on your study abroad application in the course section. 
Program Eligibility & Requirement
Must have a 2.5 overall GPA at the time of application for undergraduate students
Must be in good academic standing at the time of application
Must be eligible to take FAU courses during the study abroad program term
See Policies & Procedures page for more information
COVID-19 Statement
Important Information for Study Abroad
The host country or host provider may require proof of COVID-19 vaccination to participate on this program. FAU does not have control over the requirements of a foreign government or other organization. Students should not participate in this program unless they have reviewed and are willing to comply with the public health requirements of the host country or provider. Failure to comply with such requirements may mean you will be denied boarding of your flight, entry into country at immigration abroad, housing, and/or access to public spaces in-country. Please note, as this is not an FAU requirement, FAU is not responsible for verifying your vaccination status prior to travel. If you commit to this program and later withdraw due to vaccination status or other public health requirements of the host country or host provider, you will be subject to financial penalties as described by your terms and conditions.
Students may be required to quarantine once they have arrived to a study abroad destination or isolate if they become ill. If the host country or provider requires travelers to quarantine upon arrival to the host country or isolate at any time, students will be financially responsible for the isolation or quarantine period and must complete this prior to the program start date/check-in. Students must be able to begin program participation by the program start date/check-in. It is the student's responsibility to know and adhere to the public health guidelines where they are traveling, and to factor those requirements into their travel arrangements and budget.
| | |
| --- | --- |
| In-country Program Faculty Leader: Dr. Timothy Steigenga | Education Abroad Contact: Alex Baker |
| Wilkes Honors College | Coordinator |
| Phone number: 561-799-8610 | Phone number: 561-297-1039 |
| Email: tsteigen@fau.edu | Email: bakera@fau.edu |
Location
Antigua is a charming colonial city with many well-preserved artifacts and regal structures in the shadow of three volcanoes. The volcanoes can be hiked into the highlands to explore the lovely landscape as well as the city from above. The city is surrounded by tiny Mayan villages with vibrant local markets and coffee farms. 
Housing
Home-stay with a Guatemalan family. Students will have a private room with shared bathrooms. When available, two or more students share a family. Meals, laundry service, and basic utilities included. Housing assignments are communicated prior to arrival and are designed to match the needs and expectations of each program participant. 


Program Cost and Funding
Financial Aid and Scholarship Information 
Students participating on FAU Faculty-led Programs may use eligible financial aid
Program participants may be eligible to apply for the FAU Education Abroad Scholarship
See additional scholarship and funding information here.
Program Cost
$2,950.00 program fee + tuition for the required program summer course(s). FAU in-state or out-of-state rates apply. 

Program fee payment deadlines: 
1ST PAYMENT:       $1,500 due Sunday, February 5, 2023
2ND PAYMENT:      $ 1,450 due Thursday, March 2, 2023

Accepted participants will receive detailed payment instructions from the Education Abroad team via email. Links to the payment portal will be sent to participants at least 10 days before the program fee payment deadline. Program fee payments cannot be deferred. Plan accordingly. 
Program Fee Includes:
Homestay accommodations from check-in through check-out date
International medical insurance
Roundtrip airport trasport to and from Antigua
3 meals a day M-F with host family 
8+ group meals
4 hours of one-on-one Spanish instruction M-F
Weekend hikes to the Pacaya and Acatenango volcanos
Excursions and transportation to Lake Atítlán and Chichicastenango and Mayan ruins of Tikal
Round trip flight to Tikal
Antigua walking tour
Local afternoon excursions to a coffee farm, weaving cooperative, and other local excursions
Ziplinig activity
Guest lectures
Service learning experience
Activities and excursions are subject to change by faculty leader or program provider/vendor if needed. Replacement activity or excursion would be provided.
Program Fee Does Not Include :
$200 administrative fee paid at time of application submission
International flight
Tuition for courses/credits taken on program (FAU in-state and out-of-state rates apply)
Personal meals outside the family accommodation (such as at restaurants)
Personal spending money
COVID-19 testing related to travel if applicable (entry or exit requirements) 

Health, Safety and Travel Documentation
All students must attend pre-departure sessions prior to study abroad. Education Abroad and your program faculty leaders will provide you with further details pertaining to dates, times, and location in the semester before your program. 
1) Mandatory pre-departure orientation hosted by the Education Abroad office. This session will cover general international travel related topics such as health, safety, insurance, and travel tips. 
2) Mandatory pre-departure meeting hosted by program faculty leader. This session will cover program and location specific information such as arrival, expectations, itinerary, and course overview.

International health and travel insurance
All FAU students participating on an FAU Faculty-led Program will be registered in international health and travel insurance coverage through Cultural Insurance Services International (CISI). This mandatory insurance ensures that students have access to medical and emergency support services while abroad. This is included in the program cost.
COVID-19
Check country specific information for requirements. Each country and region has different requirements in regard to COVID-19. Students may be required to quarantine once they have arrived to the study abroad destination or isolate at any point during the program. If quarantine is required, it is the student's personal and financial responsibility to complete prior to the start of the program so that they are available to participate for the program start date. It is the student's responsibility to know and adhere to the public health guidelines where they are traveling, and to factor those requirements into their travel arrangements and budget.
Resources
Reduced risk of denied entry if a country requires vaccination for entry
Reduced risk of having to get vaccinated abroad if it becomes mandatory in the country of study
Reduced risk of denied acceptance to one of our foreign universities
Reduced risk of denied acceptance into campus housing or host accommodations abroad
Reduced risk of spreading COVID-19 and its variants to other parts of the world, including the communities where we have programs
Reduced risk of contracting COVID-19 while abroad, which could lead to missed classes and excursions, mandatory quarantine or isolation, and other disruptions to the program
Increases student access to local events, services, and travel while abroad
Provides more flexibility in planning study abroad extracurricular activities, including excursions
The WHO and U.S. CDC agree that the vaccine helps reduce the risk of serious illness and helps prevent the spread of COVID-19
Alongside our other prevention measures, the vaccine significantly increases protection for FAU faculty, staff, students, and international partners
Regarding increased access because of being vaccinated, please be aware that businesses and services may legally restrict access to exclude unvaccinated individuals. Local ordinances may allow the same. In such cases, FAU won't be able to intervene or advocate on your behalf.
Travel Documentation
A valid passport is required for all international travel. If you are traveling anywhere abroad, you need a passport to board an international flight and to enter the country. Passport cards will not be accepted as form of I.D. You may be denied boarding if you travel with a passport that appears damaged or altered.
Some countries require that your passport be valid at least six months beyond the dates of your trip. Some airlines will not allow you to board if this requirement is not met. Check the Country Information to learn about entry and exit requirements for the country or countries in which you are traveling.  

If you are applying for a passport for the first time, you need to renew your passport, or you have any other passport questions, you can find information on the Travel.State.Gov website. In addition, several U.S. Embassies and Consulates provide information to assist applicants in collecting the documentation needed. For a list of Embassies, please visit U.S. Embassy.gov.