Adult & Community Education
Adult and Community Educational Leaders Concentration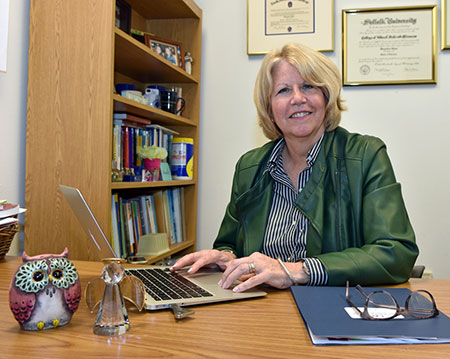 The Adult/Community Educational Specialist concentration serves individuals preparing for leadership positions in education programs for adults in a wide variety of settings: universities and community/state colleges, business and industry, health and social service agencies and public and private schools. The foundational knowledge base includes the basic tenets and principles of leadership. Leaders must develop well-rounded leadership skills, a capacity to envision the future and be able to find opportunities within and outside of their organization for the benefit of those they lead. The professional knowledge base includes the technical knowledge, specialized skills and ethical standards used to function in the professional adult education workplace.
The program is designed for individuals who want to further specialize in adult and community education beyond a master's degree. The four major domains of this program of study include: professional attitudes; historical, philosophical and social context; adult learning and development; and organization and administration of adult programs. Completion of this program meets the requirements for State of Florida certification in adult education (not K-12) administration for those meeting the other requirements: three years of teaching and a professional certificate (State of FL Administrative Rule 6A-4.008).
Specialist in Education (Ed.S.)
The specialist's degree is designed for individuals who want to further specialize in educational leadership beyond the master's degree. The master's level leadership core courses are prerequisites to completion of the specialist's degree.
Admission Requirements
Master's degree from an accredited college or university;
Achieve a minimum GPA of 3.0 in a master's program;
A sponsor commitment form from a school principal who is willing to sponsor the student for three semesters of internship (only for School Leaders K-12 students pursuing certification).
Degree Requirements
Leadership Foundation
(9 credits)
ADE 6381 – Leadership 1: Adlt Lrng/Assess
3
EDS 6100 – Ldrship 2: Role of Ldr
3
EDA 6103 – Leadership 3: Admin Processes
3
Research and Technology Foundation
STA 6113 – Educational Statistics
3
EDA 6415 – Intro to Qualitative Inquiry
3
EDF 6481 – Educational Research
3
Professional Knowledge
ADE 5185* - Adult Community Education
3
ADE 6265 – Organ & Admin Adult Com Ed
3
ADE 6184 - Prog/Curr Dev-Adults
3
ADE 6930 – Semnr in Adult/Commnty Educ
3
ADE 7935 – Semnr in Adult Comm Educ
3
* Prerequisite
Electives
(9 credits)
Prerequisites and/or certification courses may be used as electives with advisor approval. Nine credits must be taken in one of the following areas:

Adult Education
College Teaching
Community Education
Human Resource Development/Organizational Leadership
Technology

Experiential Component
(9 credits)
EDA 6941 Internship/Exchange
6
EDA 7940 Internship/Exchange
3
EDA 7905 – Directed Independent Study
3
EDA 7943 – Field Project 1
3
EDA 7944 – Field Project 2
3
Student Resources
Contact Information
Kathy DuBois
kdubois4@fau.edu
Program Assistant
Educational Leadership & Research Methodology
College of Education
(T) 561.297.3550
Building (ED-47), Room 260
Boca Raton Campus