Where Are They Now?: Graduate Showcase
Where Are They Now?: Graduate Showcase
Dr. Jennifer Sánchez (M.Ed. in Rehabilitation and Mental Health Counseling, 2010) is an Assistant Professor in the Department of Rehabilitation and Counselor Education at The University of Iowa. She received both her bachelor's degree in Psychology and her master's degree in Rehabilitation and Mental Health Counseling from Florida Atlantic University. Dr. Sánchez received her PhD in Rehabilitation Psychology from the University of Wisconsin–Madison. She is a Certified Rehabilitation Counselor (CRC).
Dr. Sánchez has over 10 years of experience working with, serving, and conducting research with individuals with serious mental illness (SMI), cognitive impairments (e.g., TBI, IDD, Alzheimer's), and substance use disorders (SUD), as well as co-occurring conditions. Her specializations include rehabilitation counseling/psychology, psychosocial rehabilitation, and health, employment, and quality of life disparities among individuals belonging to marginalized minority groups. Clinically, Dr. Sánchez has worked in settings such as, inpatient psychiatric facilities, Veterans Administration (VA), state hospitals and agencies, K-12 schools, and community mental health centers.
Her current line of research centers on factors that promote recovery, community integration, and quality of life of individuals with neuropsychological conditions. Dr. Sánchez has edited two special issues, published over 15 peer-reviewed articles, and presented approximately 50 concurrent and poster sessions at local, national, and international conferences. She has collaborated on various writing projects with her former advisor, FAU's Dr. Michael Frain. As an early career professional, Dr. Sánchez has already been awarded over $150,000 in research funding through various internal and external grants, to support her ongoing research projects. Her research has been nationally recognized and she recently received a Research Award from the American Rehabilitation Counseling Association (ARCA, 2016).
Committed to the field of rehabilitation, Dr. Sánchez is currently Chair of the Diversity Committee in APA's Division 22 (Rehabilitation Psychology), Co-Chair of the Council on Psychiatric Rehabilitation of the National Council on Rehabilitation Education (NCRE), and serves as an ad-hoc reviewer for several of the leading Rehabilitation, Mental Health, and Counseling journals.
Dr. Mindy Parsons (M.Ed. in Clinical Mental Health, 2008, Ph.D., 2013) works in private practice in Delray Beach working with children, adolescents, couples and families. Mindy is a registered play therapist trained by leading play therapy experts, including Dr. Terry Kottman, Rise van Fleet, and Garry Landreth, among others. She is an expert in sand tray therapy and has trademarked her own sand tray design. She holds certifications as a National Certified Counselor (NCC) and Certified Clinical Mental Health Counselor (CCMHC). She occasionally is called on as an adjunct professor for both Florida Atlantic University and Lynn University teaching courses on internship and play therapy. Mindy also serves as a Qualified Supervisor for several post-graduate registered interns. She has assisted on writing projects with two FAU faculty members, including "Changing Aging, Changing Family Therapy: Practicing with 21st Century Realities" with Dr. Paul Peluso and she worked with Dr. Len Sperry on the 3-volume encyclopedia entitled Mental Health and Mental Disorders: An Encyclopedia of Conditions, Treatment and Well-Being. She has two other writing projects currently in the works. Mindy lives in Boynton Beach with her husband Judd. The two are proud parents of 22-year-old twins Cody and Savannah.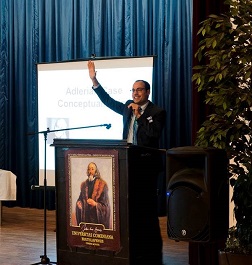 Dr. Jon Sperry (Ph.D., 2011) is currently a staff therapist at the Counseling and Psychological Services at Florida Atlantic University, and is also an Assistant Professor of Psychology at Lynn University. Since graduating from FAU, he co-authored the book, Case Conceptualization: Mastering this Competency with Ease and Confidence, as well as Cognitive Behavior Therapy of the DSM-5 Personality Disorders. In addition to his publications he has been very active presenting at state, national, and international conferences. This summer he will be awarded a Diplomate in Adlerian Psychotherapy at the North American Society of Aderian Psychology (NASAP) annual conference, and will also be presenting about case conceptualization and music therapy at that conference (https://www.alfredadler.org/). Additionally, he is on the faculty of the International Committee of Adlerian Summer Schools and Institutes (ICASSI) and will be teaching two courses in Trenčianske Teplice, Slovakia in July 2016 (http://www.icassi.net).
Dr. Ashley Luedke (Ph.D., 2013) is an Assistant Professor in the Counseling & Educational Psychology Program at the University of Nevada, Reno. She is also the Clinical Mental Health track program coordinator as well as the field site placement coordinator for all three tracks (School Counseling, MFT & CMHC). Lately, she has been very busy assisting with bringing the program to current 2016 CACREP standards. 
As the faculty advisor for the Alpha Omega Mu Chapter of Chi Sigma Iota, she also works with the students to bring in panels and workshops for student and community members alike.