FAU Wave Competition Celebrates Innovative Student Research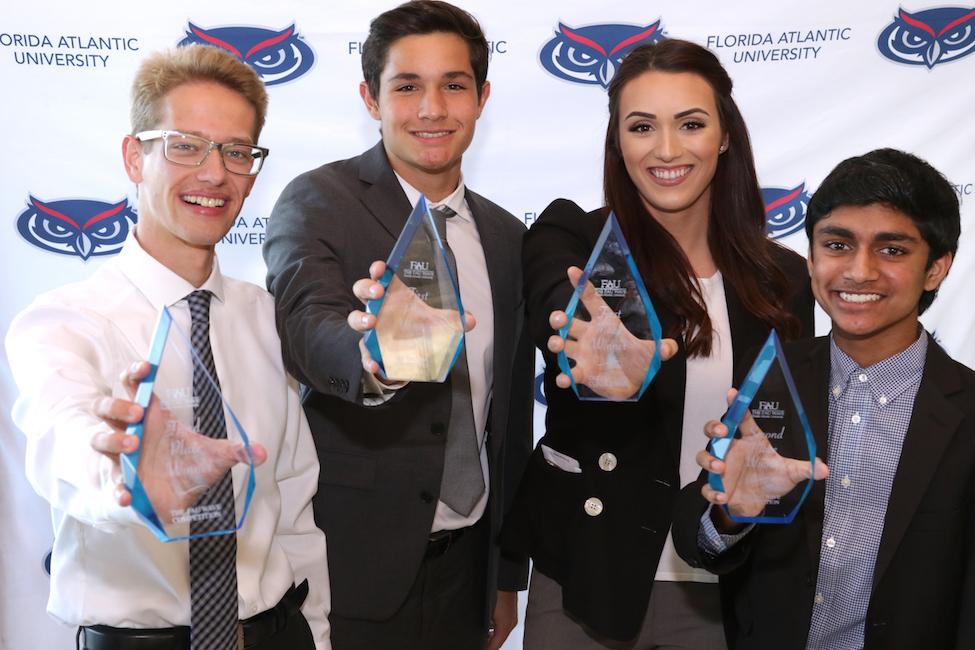 From left to right: Stephen Hoover, Devin Willis, Evita Conway and Vithulan Suthakaran
---
Florida Atlantic University has announced the winners of the annual Wave Competition, an undergraduate research competition organized by FAU Tech Runway and the Division of Research. Students have been working on innovative projects for the past two semesters, taking their ideas from concept to reality.
Devin Willis, a freshman at FAU High School, and Evita Conway, a senior at FAU studying neuroscience and behavior, tied for first place. Willis' project, called SLIDEMAP, is a way to improve the accuracy of tumor cell classification and cancer diagnosis. He was previously named a finalist in the 2017 Discovery 3M Young Scientist Challenge. Conway developed an eye tracking technology that can detect anxiety and mood disorders. The winners each took home a $1500 prize.
This year's second place winner, Vithulan Suthakaran, developed an artificial leaf that transforms carbon dioxide into oxygen through photosynthesis. Suthakaran, a junior at FAU High, said the Wave competition introduced him to valuable resources.
"This program helped me gain connections in the research world that I would not have otherwise had access to," he said. "I also learned how to file a patent, and am hoping to patent my project."
Suthakaran recently won first place in the environmental engineering category at the Florida State Science and Engineering Fair with his project. He also won first place at last year's Wave Competition with a different project, a robot he created to help clean up oil spills.
Other projects during the 2018 Wave Competition included a weight-sensing electric skateboard with assisted navigation; machine olfaction using artificial neural networks; a synthetic biology and bioinformatics system used for counterfeit drug detection; and a drone that can autonomously 3D map uncharted regions.
For more information about the FAU Wave Competition, click here.
-FAU-