Local Neuroscientists Gather for SYNAPSE 2018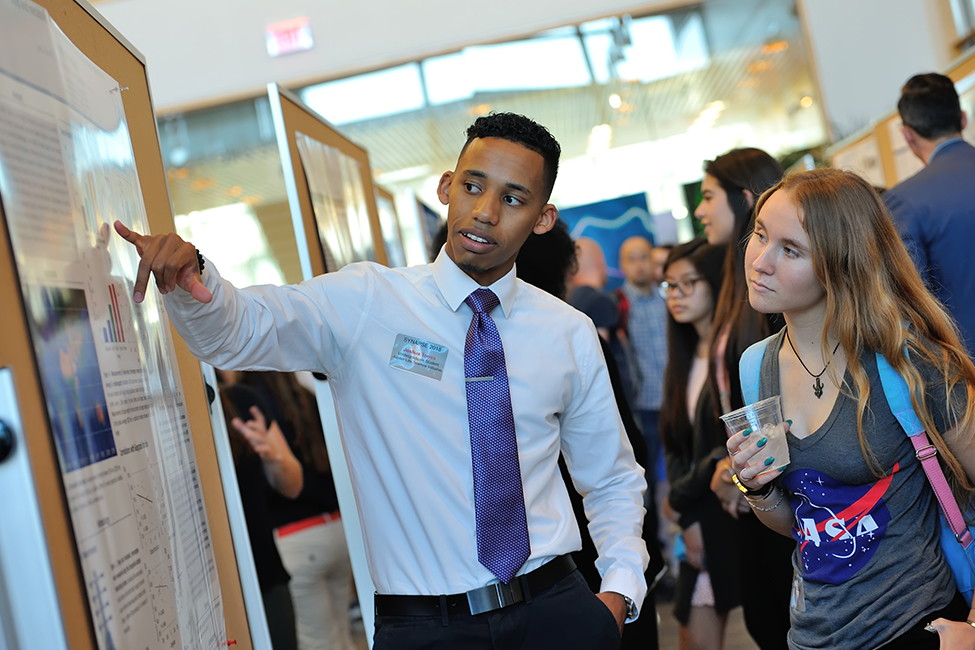 Joshua Torres, an undergraduate neuroscience major at FAU's Wilkes Honors College, explains his research at "Synapse 2018," held at the Max Planck Institute for Neuroscience in Jupiter.
---
FAU's Jupiter Life Science Initiative (JLSI) hosted "SYNAPSE 2018," an annual neuroscience networking event for students and research scientists in collaboration with Max Planck Florida Institute for Neuroscience and Scripps Florida Research Institute. More than 150 of the brightest scientific minds in the region recently gathered at MPFI to network and share their research findings.
"In the last five years, FAU's neuroscience presence has grown dramatically," said Rod Murphey, Ph.D., director of the JLSI and chair of the Department of Biological Sciences at FAU. "This very impressive showing at the SYNAPSE event demonstrates our success."
Representatives from nearby Nova Southeastern University and Torrey Pines Institute also took advantage of this unique event. More than 40 posters were displayed, covering an impressive range of topics such as behavioral studies, neural computations and molecular neuroscience.
"SYNAPSE 2018 gave the unique opportunity for researchers, ranging from undergraduates to principal investigators from all institutes, to come together to share their work and network," said Serena Sossi, FAU Ph.D. candidate. "This intermingling of backgrounds inescapably leads to a flow of ideas allowing collaboration to flourish."
-FAU-