FAU Appoints Leader to New 'Biotech Bridge' Program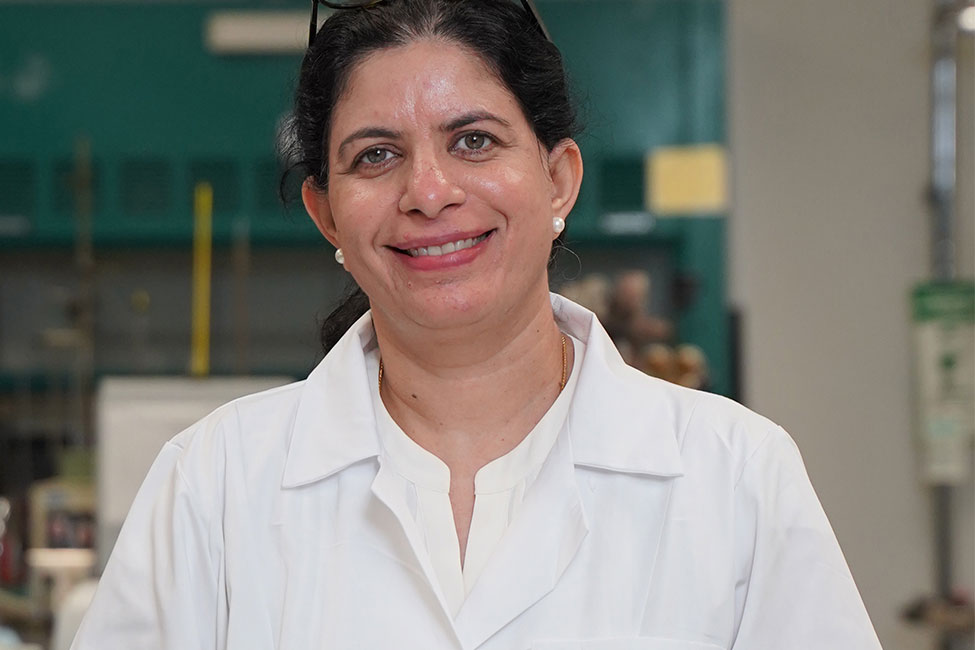 FAU's Charles E. Schmidt College of Science recently appointed Shailaja Allani, Ph.D., as the director of the Center for Molecular Biology and Biotechnology and the newly named FAU Biotech Bridge.
---
Florida Atlantic University's Charles E. Schmidt College of Science recently appointed Shailaja Allani, Ph.D., associate scientist in its Department of Chemistry and Biochemistry, as the director of the Center for Molecular Biology and Biotechnology (CMBB) and the newly named FAU Biotech Bridge program. FAU Biotech Bridge aims to bridge the gap between academia and industry.
"Exposure to the wide array of non-academic career options that exist in the rapidly growing biotechnology industry is critical for students pursuing science degrees," said Allani. "We provide the necessary, top-notch training that produces well-rounded graduates who are competitive in the workforce." 
FAU Biotech Bridge draws on the expertise of 35 FAU faculty from various disciplines, including cancer biology, biochemistry, computational chemistry, neuroscience and aging. The program also boasts 26 affiliate faculty representing external research institutes and the biopharmaceutical industry. The three tracks include:
Biotechnology Certificate
Pharmaceutical Technology Certificate
Professional Science Master's Degree in Business Biotechnology
FAU's CMBB was established in 1997 to expose students to new opportunities, help the local biotech industry and train students.
"Over the last 26 years, our programs have been successful, but we have not had the resources to take our promotional and industry relations efforts up a notch," said David Binninger, Ph.D, one of the founding faculty members of CMBB. "I have led the professional science master's program since its inception, and we have seen a 100 percent success rate of employment for all program graduates. The demand for these graduates is undeniable."
"The drug development course at FAU provided invaluable information on the processes involved in drug discovery and development," said Courtney Cocilova, Ph.D., analytical development scientist at ADMA Biologics. "I networked and built relationships with industry professionals, and the hands-on experience and technical knowledge I gained was essential for starting a career as a recent graduate."
The Biotech Bridge program plans to harness the potential of academia and industry partnerships by building new training programs, expanding internship opportunities, forming an industry advisory council, establishing collaboration with local partners, and providing access to the latest scientific developments to the community through the FAU Biotech Bridge Seminar Series.
"We are breathing new life into this program with a new name and an invigorated focus on connecting with the private sector," said Valery Forbes, Ph.D., dean of the Charles E. Schmidt College of Science. "As one of the top degree-producing colleges at FAU, we continually work to improve and create outstanding opportunities for both undergraduate and graduate science majors."
According to the Business Development Board of Palm Beach County, more than 700 companies in Palm Beach County are primarily engaged in research and development, or the manufacturing of biotechnologies, medical devices and pharmaceuticals. Palm Beach County-based biopharmaceutical company Sofgen Pharmaceuticals recently became an FAU Biotech Bridge industry partner and is offering a minimum of two internships a year for participating students.
"At Sofgen, we invest in training STEM students to provide them real-world experience and a potential career entry point into the biopharmaceutical industry," said Larry Peters, director of laboratory operations at Sofgen.
For more information on FAU Biotech Bridge, visit www.fau.edu/cmbb , or contact Jessica Hibberd, development coordinator, at 561-799-8783 or jlewis92@fau.edu.
-FAU-