Dean Naelys Luna, Ph.D., Named American Council on Education Fellow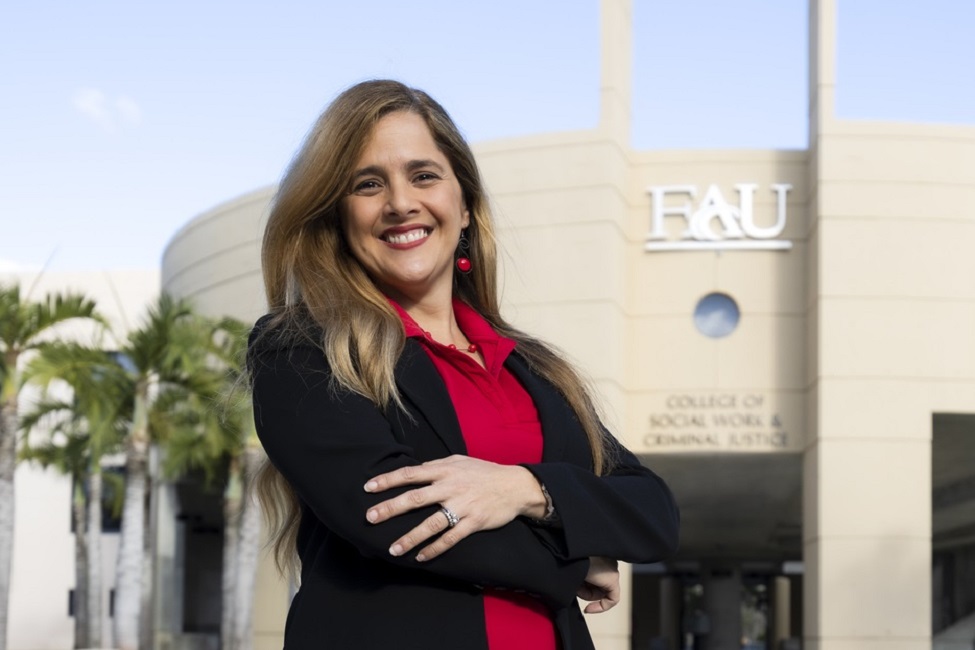 (Photo by Alex Dolce)
---
Naelys Luna , Ph.D., dean of Florida Atlantic University 's College of Social Work and Criminal Justice , has been named an American Council on Education (ACE) Fellow for academic year 2023-24. Following nomination by the senior administration of their institutions and a rigorous application process, 36 Fellows were selected this year.
Since its inception in 1965, the ACE Fellows Program has strengthened institutions in American higher education by identifying and preparing more than 2,500 faculty, staff and administrators for senior positions in college and university leadership through its distinctive and intensive cohort-based mentorship model. Of the Fellows who have participated to date, more than 80 percent have gone on after their fellowship to serve as chief executive officers, chief academic officers, other cabinet-level positions and deans.
"The ACE Fellows Program has a proven track record of developing agile leaders, and it fuels the expansion of a talented and diverse higher education leadership pipeline ," said Ted Mitchell, president of ACE. "ACE Fellows engage in unique learning experiences before returning to their home campuses armed with a fresh outlook and distinct skillset. I am excited to see all that this class accomplishes."
The program combines retreats, interactive learning opportunities, visits to campuses and other higher education-related organizations, as well as placement at another higher education institution to condense years of on-the-job experience and skills development into a single year. 
During the placement, Fellows observe and work with the president and other senior officers at their host institutions, attend decision-making meetings, and focus on issues of interest. Fellows also conduct projects of pressing concern for their home institutions and seek to implement their findings upon completion of the fellowship placement.
At the conclusion of the fellowship year, Fellows return to their home institutions with new knowledge and skills that contribute to capacity-building efforts, along with a network of peers across the country and abroad.  
"I am honored to represent Florida Atlantic University and the College of Social Work and Criminal Justice in our nation's most competitive and comprehensive leadership program for higher education," said Luna. "This prestigious fellowship will be a fully immersive exploration of the culture and policies of my host institution with firsthand experiences of its leadership team's decision-making processes and academic successes. I look forward to learning everything I possibly can throughout the fellowship year and bringing these experiences back to Florida Atlantic as fuel for our race to excellence."
Prior to serving as interim dean and subsequently dean of FAU's College of Social Work and Criminal Justice in 2020, Luna served for three years as a professor and director of the Phyllis and Harvey Sandler School of Social Work. She earned a Ph.D. and M.S.W. in social work from Fordham University in New York, and a B.A. from Seton Hall University in New Jersey. As a licensed social worker (New York and New Jersey), she helped develop ADHD and PTSD programs in a child and adolescent outpatient psychiatric hospital.
Luna has provided clinical social work services to children, adolescents and their families in outpatient units, partial care programs and private practice. Her research interests and multiple publications in national and international journals are in the areas of substance use disorders, mood disorders, spirituality, parental roles, mental health outcomes in minorities (especially Hispanics) and psychosocial functioning.
Luna is the former president of the Florida Association of Deans and Directors, a board member for the National Association of Deans and Directors, a board member for the Association of Latino/Latina Social Work Educators, a trustee member for the Palm Heath Foundation, and an editorial board member for the Journal of Concurrent Disorders. Luna also was named a 2022 South Florida Hispanic Woman of Distinction, one of the nation's largest celebrations of Latina leaders.
-FAU-