Wilkes Honors College Advisory Council
Advisory Council
Mission Statement
The Advisory Council of the Harriet L. Wilkes Honors College at Florida Atlantic University (FAU) supports the College's mission to provide high-achieving students access to a top-quality education.  The Council is made up of community members from outside of FAU, and members are appointed by the Dean to two-year terms, which may be renewed for three terms.  Each member contributes time and expertise to activities such as building relationships with external constituencies, planning and facilitating targeted outreach and fundraising activities, and raising awareness about the College throughout the region and beyond.
Advisory Council Members
Chair: Mr. Edward V. Ricci
Vice Chair: Ms. Diane McNeal
Mr. Lawrence Buck, Esq.
Ms. Cristina Ciolacu
Ms. Anna M. Ewing
Mr. Charles Fischer
Ms. Leanna Landsmann
Ms. Ann Marie Rezzonico, Esq.
Mr. Kadeem Ricketts
Mr. Marty Rogol
Ms. Caitlin Saladrigas, Esq.
---
Lawrence Buck, principal, The Buck Law Firm, is an experienced litigation and trial attorney admitted to practice in Florida in 1999.  He is former Assistant Public Defender for the Fifteenth Judicial Circuit of Florida. He entered private practice in 2002, focusing on representing adults and juveniles facing criminal prosecution in adult and juvenile court.  The practice expanded to encompass residential real estate transactions and title work, general practice issues concerning civil and business-related matters and basic family needs including will and trust preparation.  Buck is Rated AV Preeminent® by Martindale-Hubbell for legal ability and the highest ethical standards of practice.  He has considerable expertise in mental health related legal matters, specifically Baker Act and Marchman Act proceedings.
Buck is Past President of the North County Section of the Palm Beach County Bar Association and served on the Board of Directors from 2008 to 2017. He has been recognized twice by the Florida Supreme Court for pro-bono work advocating on behalf of children for the Palm Beach County Legal Aid Society and for his participation on the Planning and Implementation Committee for the creation of the Palm Beach County Juvenile Drug Court program. He was recognized in 2010 by the local Knights of Columbus Catholic Charity for providing pro-bono service to U. S. Military Veterans.  He is Adjunct Instructor at the FAU Honors College, teaching a popular course "Law in the Real World."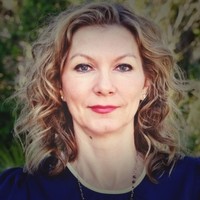 Cristina Ciolacu is a Private Wealth Relationship Manager, First Republic Bank, Palm Beach, Florida. She engages in performance analysis, research and planning, sales strategies, investment management and client relationship management and new business development. Ciolacu has worked in the financial services sector her entire career. Prior to joining First Republic, she worked in investor relations at Global Sigma Group. Prior to that was Associate Portfolio Manager for BMO Harris Private Banking; Business Manager, FISCO Investment Management; and Relationship Management at U. S. Trust. She began her career at Bank Atlantic where she was a Supervisor and Customer Service Representative. In 2006, Cristina recieved her undergraduate degree in International Business and in 2010 she recieved her graduate degree in Executive MBA at FAU. She is fluent in English and Romanian.
Anna M. Ewing is a senior technology executive, board member, angel investor and the former CIO of Nasdaq. Specializing in Financial Services technology solutions, her work has established multiple industry-leading business units at Nasdaq, CIBC and Merrill Lynch.
Anna has been featured in publications that include The Wall Street Journal, CIO Magazine, Institutional Investor, Financial News, and The New York Times. Anna is the 2012 recipient of Dell's Transformational CIO Award; the 2013 recipient of the Trader's Magazine Women on Wall Street Excellence in Leadership Award; and she achieved top rankings among Global Financial Technology Executives by Institutional Investor, between 2010 and 2014.
Anna serves on a number of boards, including RIMES, an EQT portfolio company; Financeware, a NewSpring Holdings portfolio company; and Orchid Insurance, a Towerbrook portfolio company. She supports women entrepreneurs as a mentor and angel investor with Astia Angels; serves on the New York Hall of Science, Board of Trustees to support STEM education for K-12 students; and is a Board member of the Nasdaq Entrepreneurial Center in San Francisco, to educate and support founders and entrepreneurs.
Anna is an avid world traveler, who enjoys visiting her extended family in the U.S. and Canada, and exploring wine regions around the world.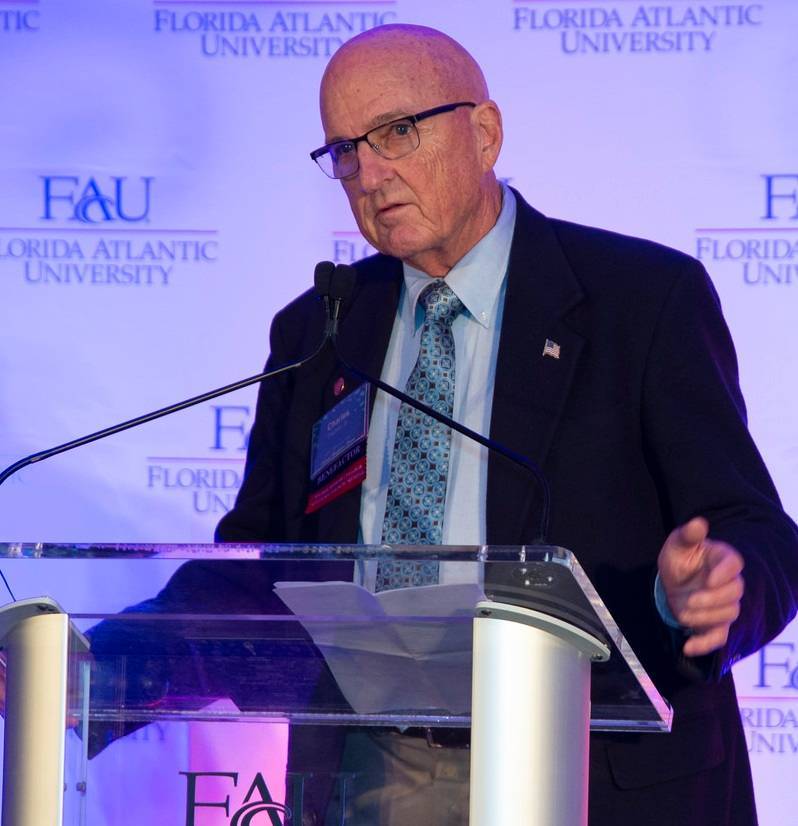 Charles Fischer is past Chair of the Wilkes Honors College Advisory Council. During his career in financial services he served in the trust departments of banking institutions in New York, Michigan, and Florida. In 1996, be moved to Palm Beach where he became Managing Director and Senior Trust Officer for the southeast region of Deutsche Bank Trust Company America.
Fischer retired in 2012, accelerating the charitable work that had always been an important part of his career. He has served on advisory board and committees for several Palm Beach institutions, including the Norton Museum, Rehabilitation Center for Children and Adults, Planned Giving Council, Camp Boggy Creek, and Palm Beach County Estate Planning Council. 
Fischer co-founded the Cancer Alliance of Help and Hope, an organization that provides Palm Beach County cancer patients with financial assistance for day-to-day living expenses.  
 

Leanna Landsmann is a nationally recognized publisher, editor and writer. She was founding president, TIME Magazine For Kids. Prior to joining TIME Inc. in 1997, Landsmann had corporate and entrepreneurial experience. She was vice president, Harcourt Brace Jovanovich; president, Instructor Publications, an HBJ subsidiary; and director, HBJ Children's books. In 1989, she founded a publishing services company to help corporations and associations create appropriate learning materials for kids. She was a weekly columnist for Universal U-Click Syndicate.
She launched New York City's "Principal for a Day" initiative in 1100 public schools and co-founded the nonprofit PENCIL (Public Education Needs Civic Involvement in Learning). She has served on the boards of Girls Clubs of America; Girls, Inc.; Impact Two; U.S. Fund for UNICEF and the San Francisco-based GreatSchools.org, where she was board chair for eight years. Landsmann received the Henry Luce Leadership Award from Time Inc. for management excellence and inducted into the EdPress Hall of Fame in 1999.
She served on the board of the Loxahatchee River Historical Society and was co-chair of The Scripps Florida Council from 2008 to 2015. She is a board member of Sustainable Palm Beach County and Loggerhead Marinelife Center. She tutors at Edna Runner Tutorial Center in West Jupiter, Florida.
 

Diane Peterson McNeal, Vice Chair of the Wilkes Honors College Advisory Council, is part of Wilmington Trust's Wealth Advisory team in Florida where she oversees Private Banking services. She has 40 years of experience in the financial services industry — 35 of those in the Florida market. Prior to joining Wilmington Trust in 2014, she was group manager for Florida Private Banking for Comerica Wealth Management.
McNeal has taught courses on integrating private banking into overall wealth planning at Florida Banker's Association Wealth Conferences. She is a member of the Ann Norton Sculpture Garden Board of Directors, a Palm Beach North Chamber Board Member, and a Member of Executive Women of the Palm Beaches.
 

Ann Marie Rezzonico is founding partner of the Boynton Beach based law firm, Rezzonico & Eagen PLLC. In her law practice she focuses on wills and estates, trust law and real estate. Rezzonico is a member of the Palm Beach County Bar Association, the Florida Bar, and is a member and past president of the Palm Beach County Chapter of the Florida Association for Women Lawyers.
Rezzonico is a former Trustee of the Palm Beach Community College (now Palm Beach State College); Past President and current Board member of Easter Seals, Florida; Charter member of Palm Beach County Women's Chamber of Commerce; and Honorary Board Member of Palm Beach Dramaworks, Inc.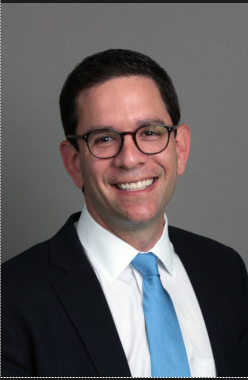 Edward V. Ricci, Chair of the Wilkes Honors College Advisory Council,was born and raised in Palm Beach Gardens, Florida. He is a graduate of The Benjamin School ('97), Georgetown College ('01), and Georgetown University Law Center ('06).
Since joining the firm Searcy Denney Scarola Barnhart & Shipley in 2008, Mr. Ricci has successfully tried numerous personal injury and wrongful death cases to verdict and obtained significant settlements on behalf of his clients. He has advocated for his clients in complicated cases involving product defects, medical malpractice, automobile negligence, and premises liability. He is Board Certified in Civil Trial practice by the Florida Bar.
Before attending law school, Mr. Ricci worked as an Auto Safety Policy Analyst at Public Citizen in Washington, D.C., the nation's oldest and largest non-profit consumer advocacy organization. While working for Public Citizen, he worked to strengthen Federal motor vehicle safety standards and other consumer protection laws.
Mr. Ricci is admitted to practice in the Northern, Middle, and Southern Federal District Courts in Florida. He is a member of The Florida Bar, Palm Beach County Bar Association, Palm Beach County Justice Association, Florida Justice Association, American Association for Justice, and Attorneys Information Exchange Group.
Mr. Ricci has been selected by his peers annually for inclusion in The Best Lawyers in America © from 2012 through 2019. In addition, Mr. Ricci has been recognized by Florida Super Lawyers® as a Rising Star since 2012.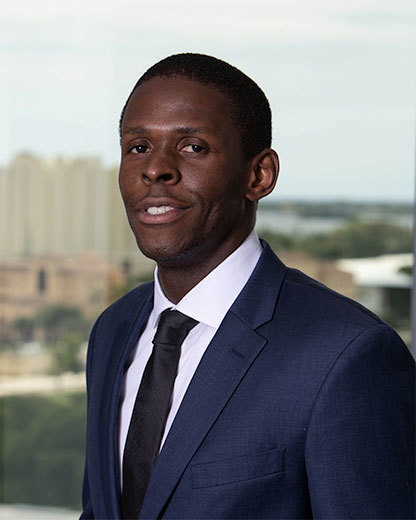 Kadeem Ricketts is an attorney in Shutts and Bowen's West Palm Beach Office. He represents clients in corporate and financial transactions, including mergers and acquisitions, corporate formation and governance, and securities offerings. He also regularly assists in the representation of physician practices and other healthcare providers in private equity transactions and practice affiliations.
Kadeem is an alumnus of the Wilkes Honors College, Washington University School of Law, and the Olin Business School at Washington University in St. Louis. In addition to serving on the Wilkes Honors College Advisory Council, he is also on the Board of the Wilkes Honors College Alumni Network and a member of the American Health Law Association. During his time as a student at the Honors College, Kadeem was a Henry Morrison Flagler Scholar, a two-term Student Body Governor, and the 2014 recipient of the University's Student Talon Award.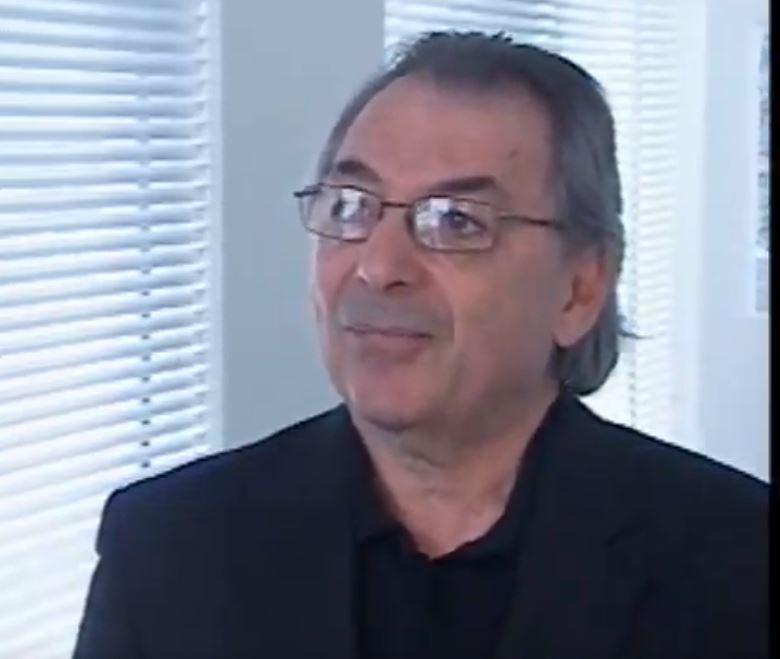 Marty Rogol is founding principal of Marketing Concepts, Inc., a marketing and communications firm that specializes in integrated marketing campaigns, brand building, cause-related marketing programs, strategic communications planning, issues and events management. Prior to creating Marketing Concepts, Inc. he was Executive Director of USA for Africa where he produced the "We Are the World" campaign that mobilized over 7,000,000 people for its Hands Across America project, raising nearly $100,000,000.
He has served as Special Advisor to the Governor's Forum on Developmental Disabilities (Florida) and Special Consultant to the District IX Florida HRS Reorganization. Rogol serves on the board of SunFest and co-chairs the Palm Beach County Ethics Committee and Leadership Palm Beach County where he is past president.
Rogol has appeared on Good Morning America, The Today Show, Larry King Live, McNeil/Lehrer Report and NPR's Morning Edition. He is the on-air Political Analyst for WPBF-TV.
 
Caitlin Saladrigas is an attorney in Holland & Knight's West Palm Beach Office.  She extensively litigates commercial litigation matters in federal court with a particular specialty in fraud-related matters. Ms. Saladrigas has experience litigating insurance fraud, health care fraud, corporate theft and Ponzi schemes. She also counsels clients in their corporate investigative efforts to identify fraudulent conduct and behavior and assists in developing best practices concerning fraud investigations.
Ms. Saladrigas is a proud graduate of the Wilkes Honors College, cum laude, and the University of Miami School of Law, magna cum laude. In addition to serving on the Wilkes Honors College Advisory Council, she also chairs the Wilkes Honors College alumni association and serves as the chair of Judicial Reception Committee for the Palm Beach County chapter of the Florida Association of Women Lawyers. Ms. Saladrigas was awarded a "Rising Star" designation in Healthcare and Business Litigation from Super Lawyers Magazine from 2017-2019. She also received the Outstanding Young Owl Award from the Wilkes Honors College in 2016.