OCEAN SCIENCE ART CONTEST
Calling all artists: We are currently accepting entries for our 5th Annual Ocean Science Art Contest! Our team of more than 200 marine scientists, engineers, and students make amazing discoveries every day and we need your help to share them. This is a great opportunity for you to expand your portfolio, learn about the ocean and use your work to educate the community about the importance of marine science.
This year's awards include a VIP meet and greet with our researchers, behind-the-scenes tours, and other great prizes. The phrase "Ocean Science for a Better World®" motivates us every day, now we can't wait to see how it will inspire your next masterpiece!
Eligibility and Contest Rules
This contest is open to artists of all ages, located anywhere in the United States.
Artwork will be judged in five categories: K-4th grade, 5th -8th grade, High School, Adult, and People's Choice
Entries will be accepted until March 17th, 2023.
Please review the document below to find the contest rules and instructions for submitting your entry packet.
If you have any questions, please contact Jennifer Cutter.
Registration and Release Form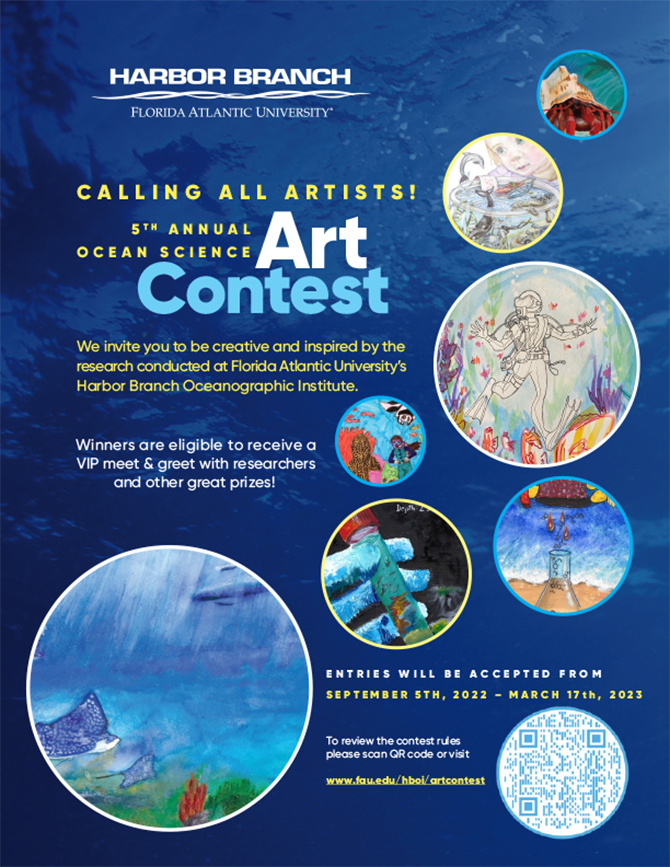 Learn more about some of our research groups below.
Marine Mammal Researchers are working to understand the ecology and health of marine mammals to protect and conserve them.
The Photo Identification research team surveys and identifies dolphins in the Indian River Lagoon using their unique dorsal fins as "fingerprints." Their database includes nearly 2,000 individuals, and they have gained valuable information about the population's distribution, ecology, and social structure. Researchers also use photo identification to study manatees, their movement patterns, and the ways human activities impact them.
The Population Biology and Behavioral Ecology research group investigates the evolution of top predators, from the Caribbean to the Arctic, and can even travel back in time using Ancient DNA! Their findings can lead to the effective management of marine mammals and the conservation of their habitats.
As a member of the National Marine Fisheries Stranding Network, our Marine Mammal Rescue team is on call year-round to respond when animals need help. Over the last decade, their efforts have led to the rescue of more than 300 dolphins and whales along the central east coast of Florida.
The Epidemiology, Population Health, and Pathology researchers focus on the connection among marine mammals, humans, and environmental health. This pioneering research has illustrated that dolphins can provide early warning of diseases and contaminants in both humans and the Indian River Lagoon Ecosystem.
The Marine Wildlife Veterinarian works closely with the Rescue and Epidemiology teams to provide medical care for sick or injured animals. Clinical research is also conducted to provide information on the health of local populations.
For more information, visit:
Marine Mammals
Ecosystem Health Researchers investigate a variety of marine ecosystems to understand how they function and ways that human activities may impact them.
The Indian River Lagoon is home to more than 4,000 plant and animal species, making it one of the most biologically diverse estuaries in North America! This shallow waterway spans 156 miles along the Florida east coast and encompasses many unique habitats. Unfortunately, human activities like urbanization, pollution, and excessive freshwater releases have impacted the lagoon. This has led to a wide range of environmental issues, including harmful algal blooms, poor water quality, and habitat loss. The FAU Harbor Branch campus is located along the lagoon and over half of our research focuses on this vital ecosystem.
To gather real-time water quality data from the lagoon, our researchers established the Indian River Lagoon Observatory Network, an array of 10 monitoring stations that span from Stuart to Sebastian. The data that they collect can be used by both scientists and the public to understand the health of the lagoon better and inform effective management policies.
Researchers also study the marine plants and algae that live along our coast. Seagrasses are important habitats that serve as nursery areas for many fish and invertebrate species. Scientists map seagrass beds to learn more about how they change over time and can even grow seagrass in aquaculture systems to restore damaged beds throughout the lagoon. Researchers also study algae, or "seaweed," and can use stable nitrogen isotopes found in their tissue to "fingerprint" sources of pollution. Phytoplankton researchers use cutting-edge technology from microscopy to satellite imagery to study coastal dynamics and learn more about harmful algal blooms.
Our Geochemistry researchers develop autonomous sensing technologies to better understand how elements cycle throughout an ecosystem and devise ways to restore impacted areas.
Fisheries Ecology and Conservation researchers seek to understand the life histories of important shark, ray and bony fish species, as well as the habitats that they use for breeding, feeding and nurseries. They use innovative tracking tools from telemetry, acoustics, and even DNA barcoding to follow these animals and learn more about them.
Coral reefs are the rainforests of the sea are rich in biodiversity and provide a home for countless other organisms. The Coral Reef and Molecular Ecology team aim to identify coral reef resources, as well as links between environmental conditions and coral health. They are also developing molecular tools that can be used to monitor stressed and diseased corals and provide management strategies that will lead to conservation. Researchers SCUBA dive, use remotely operated vehicles (ROVs) and even submersibles to discover, explore, and study coral reef habitats around the globe. One of our first discoveries was an Oculina coral reef located just off the coast of Fort Pierce. As a direct result of our researchers' efforts, this became the world's first deep-water Marine Protected Area!
For more information, visit:
Marine Ecosystem Conservation
Indian River Lagoon Observatory
Researchers in the Marine Biomedical and Biotechnology Department seek to discover new medicines from the ocean so that we can treat human infections and diseases, like pancreatic cancer.
For centuries, humans have looked to nature to develop cures for diseases. Today, nearly 70% of the medicines that we use are derived from natural products, which are small organic compounds that are produced by microbes, plants, and invertebrates. Because the oceans cover more than two-thirds of our planet, they are a rich source of biodiversity and host a wealth of chemicals that can be explored as potential pharmaceuticals.
To find these compounds, our researchers focus primarily on benthic organisms like sponges, soft corals, sea squirts, and algae. Since these organisms are permanently attached to the seafloor, they produce potent organic molecules that are used to defend against predators, compete for resources, and communicate with one another. Sea sponges are the most prolific sources for marine natural products and have yielded about 200 new compounds a year over the last decade. This research group utilizes an extensive collection of nearly 32,000 organisms to search for new pharmaceuticals.
Because sea sponges are filter-feeders, they accumulate microscopic organisms that can serve as a potential resource for antibiotics. Our Microbiology researchers culture, or grow, bacteria, and fungi to determine their impacts on human health. The FAU Harbor Branch Microbial Collection contains more than 19,000 microorganisms and has led to the discovery of many new species and natural products. Researchers can also grow microorganisms through a process known as fermentation to maintain a constant supply of the natural products they produce.
Chemists in this department seek to extract these chemicals from the producing organism, reveal their complex structures, and prepare the compounds for biological evaluation. To date, their collection holds more than 7,500 enriched fractions and 150 pure compounds with potential use in the drug program. Scientists also seek to synthesize and optimize these compounds in the laboratory.
Researchers in our Cell Biology group can then test these chemicals to determine their effectiveness against various diseases. They can also identify the pathways through which these chemicals work within our bodies and the concentrations that are needed for potential therapies to be effective. Our scientists work primarily on cancer, which affects over 14 million people each year. Finding new ways to detect these diseases and selectively target cancer cells are urgently needed.
For more information, visit:
Marine Biomedical and Biotechnology Research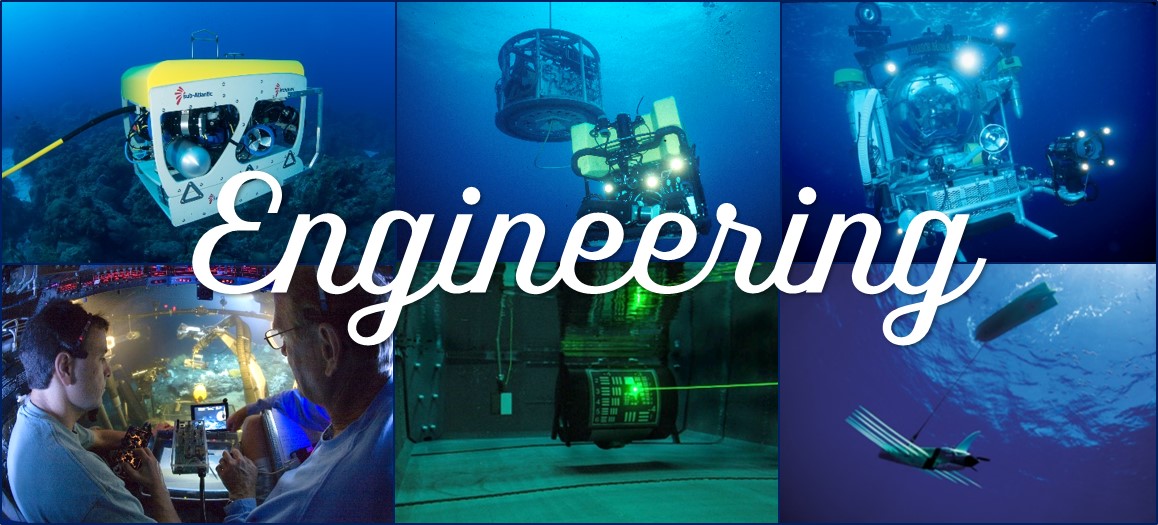 FAU Harbor Branch Engineers develop new technology to explore and learn more about the ocean. They also build instruments that can allow our scientists to collect their data and help solve real-world problems like finding clean and renewable energy sources.
Harbor Branch Oceanographic Institute was founded upon deep-sea exploration. In 1971, Seward Johnson Sr. and Edwin Link created the Johnson Sea-Link submersibles, human-operated vehicles (HOVs), that were used to explore depths of up to 3,000 ft. These machines were an incredible part of the institute's legacy as they allowed scientists to discover new animals and habitats around the world! Their unique collection capabilities allowed researchers to take samples from the ocean floor, many of which are still in use today. By the time of their retirement, in 2010, the subs had conducted nearly 9,000 dives and were even featured in documentaries that aired on the Discovery Channel, BBC, and PBS.
Today, researchers use Remotely Operated Vehicles (ROVs) to explore ocean depths of up to 15,000 ft. Through our partnership with NOAA, we participate in research cruises around the world! New technology enables ocean explorers to livestream feeds from ROV video cameras to our Exploration Command Center, where they can be viewed an analyzed by scientists.
Our engineers also use robots to study the ocean. By deploying autonomous underwater vehicles (AUVs), we can survey large areas of the ocean for months at a time and collect biological, physiological, and chemical data.
Researchers use innovative technology to follow and model currents around the world to better understand environmental processes and ecosystem connectivity.
Researchers also seek to understand ocean optics or ways that light moves through seawater. The research is important for communicating underwater with lasers, optimizing the performance of imaging systems, predicting underwater visibility, assessing the light available in marine ecosystems, and establishing remote sensing networks.
For more information, visit:
Ocean Engineering and Technology
Aquaculture is the farming of aquatic plants and animals for food or stock enhancement. Today over 50% of the seafood we consume comes from aquaculture. These practices significantly reduce the strain on marine environments and are more sustainable than commercial fisheries.
Researchers seek to increase the supply of nutritious and safe seafood and improve production efficiency. Scientists also develop new animal feeds and study the health of the organisms cultured.
Our 30-acre Aquaculture Park is used to grow a multitude of edible fresh and saltwater species including pompano, red drum, clams, shrimp, sea cucumbers, sea urchins, sea purslane, sea asparagus, and sea lettuce.
Researchers also grow plants and animals that can be released into the environment to rebuild populations that have been over-harvested or impacted by human activities. Current stock enhancement projects focus on mangroves, queen conch, red drum, and bonefish.
We also share our research findings with the next generation and farmers around Florida. Our goal is to create a skilled workforce and enhance the transfer of technology into the private sector.
For more information, visit:
Aquaculture and Stock Enhancement
Past Art Contest Winners
Congratulations to our past Ocean Science Art Contest winners and thanks to everyone who submitted artwork inspired by the research at FAU Harbor Branch!