FAU Broward Campuses News
FAU Davie's Faculty Innovation Hub: Helping Professors Innovate their Courses with Technology
by Roberto Santiago & Alberto Fernandez |
Tuesday, Feb 01, 2022
---
The Faculty Innovation Hub, opened last Fall 2021 on the second floor of the FAU Davie Liberal Arts building, is frequented by faculty seeking to use virtual and augmented reality technology, 3-D modeling and interactive simulations to better communicate with their students. "We've had five faculty regularly create in the hub for their online courses. Every semester we have new faculty who begin developing fully online courses with us so we look forward to having more this semester," said Deny Chang, Assistant Director, Media and Innovation Center for Online and Continuing Education. "Everyone from FAU, representing multiple colleges and departments, are all creating content for their students, including Boca Raton faculty."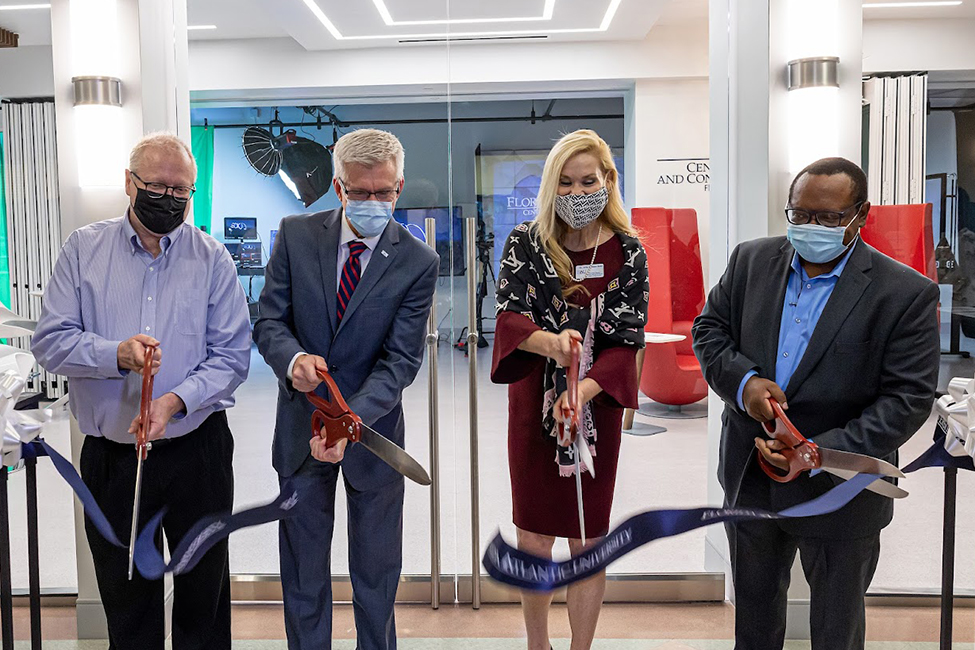 For her courses, CHM 2032L General Chemistry for Health Sciences Lab and CHM 2045L General Chemistry 1 Lab, Dr. Ozlem Yavuz-Petrowski, Assistant Lab Director for General Chemistry, Department of Chemistry and Biochemistry, Charles E. Schmidt College of Science, created 360 degree labs and incorporated pop up video instructions and assessments inside the video environment. These immersive videos were recognized by the Online Learning Consortium and won last year's Excellence and Innovation in Online Teaching Award.
"I am always thinking of ways to improve how the labs are being run and what can be done to improve the overall learning experience. The goal was to facilitate the learning experience for FAU students. When you picture students in a lab you immediately think about them conducting experiments, handling chemicals, using lab equipment and stuff like that," Dr. Yavuz-Petrowski said. "The lab component of a lot of chemistry classes is so important because it reinforces the material students are learning in the classroom and also it gives them a chance to apply their knowledge. With this in mind, 360 degree Labs was created to further improve our online teaching methods aimed especially at online students."
Innovation Hub staff was instrumental in helping create these new online labs, Dr. Yavuz-Petrowski said. "Together, we planned out experiments, a story board, explanatory videos, interactive components of the video and with their software, equipment, and 360 degree video equipment we created what we now call 360 degree labs."
Dr. Yavuz-Petrowski said that students enjoy 360 degree labs. They think labs are more enjoyable than taking quizzes and listening to lectures. The labs are interactive, easy to navigate, realistic and informative. "The students say the labs not only teach them what tools and instruments to use, but also show them how to apply the skills. Most of the students feel they are in the actual lab when they are completing experiments in our online 360 degree lab," she said.
For his course, ECO 4223 Money and Banking, Dr. Rupert Rhodd, College of Business, was the first faculty member to utilize the 82" Lightboard. This is a large piece of glass that allows instructors to write out a lesson on the lightboard while maintaining eye contact with the student. The camera flips the image so the student can read what is written on the glass. Dr. Rhodd has also created a course introduction video with our greenscreen video studio where he placed himself inside his PowerPoint presentation.
For her course BSC 1005 and BSC 1005L Life Science, Professor Sheryl Van der Heiden, Department of Biological Sciences, Charles E. Schmidt College of Science, created the fully online version of Life Science lecture and lab courses. She has created science lab videos, interviewed scientists in the field, split screen PowerPoint videos and interactive assessments. Plans are to record more videos and possibly a 360 degree science lab.
And for her course, FIN 4303 Financial Institutions, Dr. Anita Pennathur, College of Business, recorded course videos at the Innovation Hub. She plans on recording with the lightboard and creating an instructional calculator video for her course.
In December, the College of Engineering & Computer Science toured the Faculty Innovation hub with a potential 360 degree video project of the SeaTech Dania Beach labs. FPAN (Florida Public Archeology Network) will be creating content at the Innovation Hub for an augmented reality app.
"There is an instructional designer at the hub every Friday for Open Lab," Chang said. "This is where faculty can stop by for assistance, no appointment necessary and get help with their courses."