Welcome Home, Owls!
Monday, Aug 23, 2021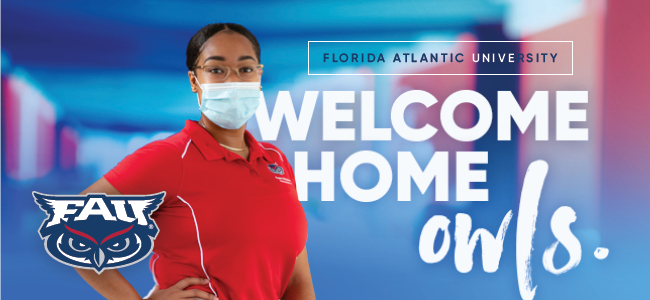 ---
Welcome to the start of a new academic year! I hope everyone is as happy as I am to return for a traditional in-person instruction and campus experience.

As I've shared several times, face coverings and vaccinations are essential to ensuring a safe and healthy campus environment this fall. Everyone is expected to wear face coverings when inside our buildings. Please CLICK HERE for information about COVID-19 vaccines, including when and where you can get vaccinated on campus for free. We can move forward together if we work together to help stop the spread of this virus.

I want to say a special word of welcome to the nearly 4,000 members of our new freshman class. FAU received more than 32,000 applications for the fall 2021 semester. The average high school GPA for our first-time-in-college students is 3.95, an increase from 3.79 last fall. Residence halls on the Boca Raton campus are at 100 percent capacity. More than 4,600 students in Boca Raton and more than 400 students in Jupiter will be living on-campus this semester.

This is an exciting time for Florida Atlantic University. This year marks the 60th anniversary of the founding of FAU, when the state legislature granted funding to build Florida's fifth public university in Boca Raton. We'll share more about how we plan to commemorate this special occasion in the coming weeks.

I know we've all missed out on a lot over the past year and a half — especially our students — and we are dedicated to providing them with most engaging collegiate experience possible. Our offices, classrooms and other facilities are open, and we are ready to make it a great year.

I look forward to seeing everyone on campus as we move forward together.