Reflecting on 9/11
Friday, Sep 10, 2021
---
Saturday marks the 20th anniversary of the horrific terrorist attacks that took place on Sept. 11, 2001. A total of 2,977 men, women and children lost their lives at the World Trade Center and the Pentagon, and on United Flight 93. The victims ranged in age from 2 to 85 years old.

The FAU Chamber Singers and Women's Chorus placed 2,977 flags in the Dorothy F. Schmidt College of Arts and Letters Amphitheater on the Boca campus, one for each victim of 9/11. The memorial will remain in place though the weekend as a place of reflection.

Many FAU students weren't even born yet, but those of us who are old enough to remember can tell you exactly where we were, and what we were doing, when we heard the devastating news. We remember how the rest of our day, and following days, unfolded. We remember watching the news every night, filled with a combination of hope for survivors, fear of what may come next, and deep sorrow for all who were directly impacted.

Many members of the FAU community were near an attack site or lost a loved one. Four members of the FAU family were first responders in New York City, and selflessly put themselves in harm's way to help others that day: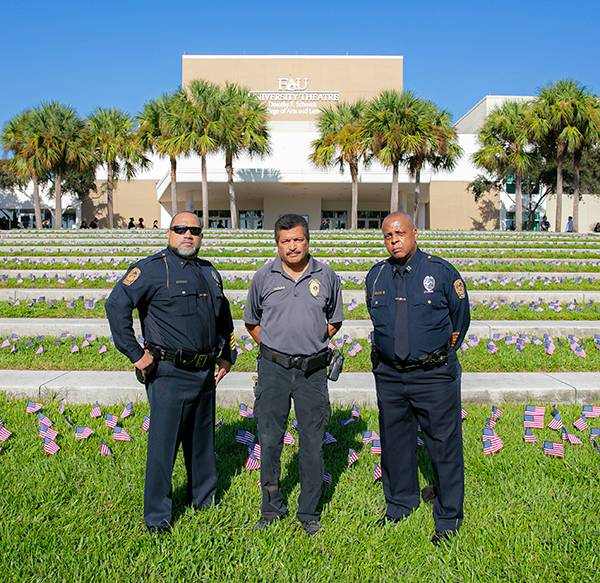 Jose De La Cruz retired as a Sergeant after serving 21 years with NYPD. He has been with FAUPD since 2020.


Captain Larry Ervin retired as a 2nd Grade Detective from Patrol Bureau after serving 25 years with NYPD. He has been with FAUPD since 2005. Every time Captain Ervin sings the National Anthem at a university event, I'm reminded of his bravery, and the many other heroes who came to the rescue that day.


Carlos Guzman retired as a warrant officer under NYPD's traffic control division after serving 20 years. He has been with FAU since 2011 and serves as the parking enforcement supervisor.


Lieutenant Commander Illaden Laureano retired as a Detective Sergeant in the Kings County Attorney's Office Squad after serving 23 years with NYPD. He has been with FAUPD since 2019.

Our nation owes these men, and the many other first responders at Ground Zero, a debt of gratitude for their valor on that day, and for their hard work on recovery efforts in the weeks and months that followed.

The lives of every American were impacted on 9/11 and it took a long time for the feelings of shock, fear, insecurity and sadness to go away. Even now, 20 years later, it doesn't hurt any less to think about it. However, what I most remember about 9/11 is how in the days that followed, we came together as a nation. In the midst of a great tragedy, we found strength and resilience, and we experienced a resurgence of American Spirit that remains with us to this day.

God Bless America. We will never forget.