FAU TechGarage Team Wins eMerge Americas Hackathon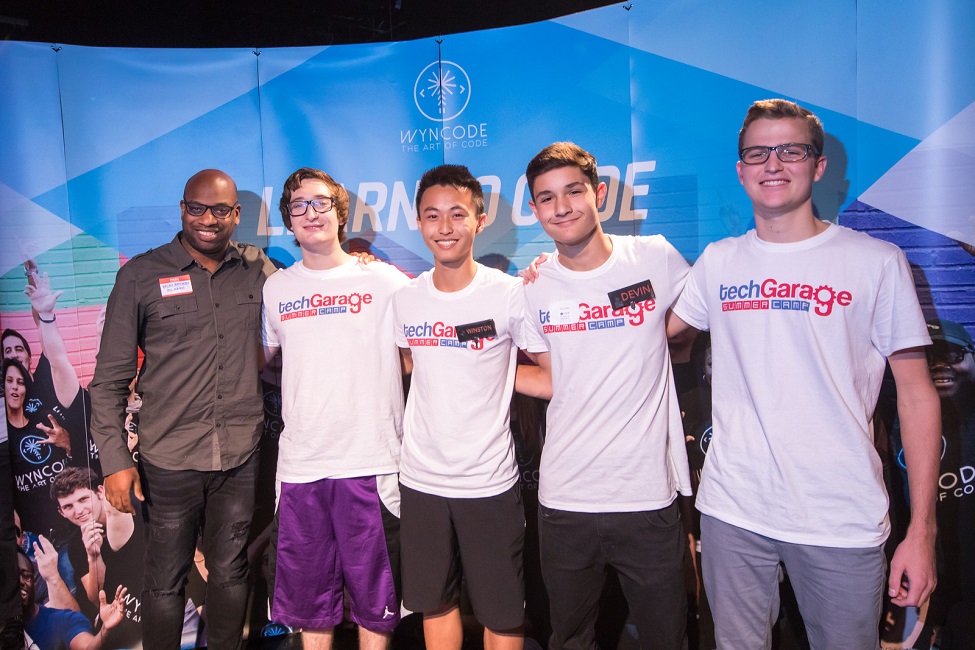 The TechGarage team (in white shirts) from left to right: Jacob Zipper, Winston Cheung, Devin Willis and Carson Lyttle
---
By kelsie weekes | 6/16/2017
A group of high school students from Florida Atlantic University's TechGarage program at FAU Tech Runway recently took first place in the 2017 eMerge Americas Hackathon, a 24-hour computer programming competition, in Miami. The event was sponsored by Visa, Kairos, Royal Caribbean Cruises and Wyncode.
The team competed against 34 other teams, all representing technology companies from South Florida. The TechGarage team, which includes Winston Cheung from Atlantic High School; Carson Lyttle from Boca Raton High School; Devin Willis from FAU High School and Jacob Zipper from Pine Crest School, was the only student team to participate in the event.
The FAU TechGarage group's winning technology was SmileMetrics, a system that allows businesses to measure overall customer satisfaction in the hospitality industry in real-time. The technology monitors the emotions of customers by integrating an embedded processor and a five-megapixel camera in a name tag worn by the customer service representative. This gives businesses the ability to resolve a negative customer experience before a review is posted online, and allows companies to identify employees who consistently deliver a positive or negative customer experience.
"Because of their constant exposure to technology at such a young age, we firmly believe that the next generation of students is capable of doing amazing things," said Scooter Willis, director of the FAU TechGarage program. "We are focused on project-based learning and challenging these students to be great."
The TechGarage program at FAU Tech Runway is a year-round program where high school and college students meet weekly to work on science, technology, engineering and mathematics projects. TechGarage also hosts a four-week summer camp at FAU High School, where students in grades 4-12 can learn about robotics, programming, 3D printing and more.
"My love for building, programming and problem solving began in second grade when I started doing robotics, and I'm fortunate to continue this passion with help from the many resources and mentors available to me at FAU," said Devin Willis, a ninth-grade student at FAU High School and member of the winning TechGarage team. "I'm proud of my team's performance at Hackathon, and attribute this success to our strong background in computer-aided design, programming and robotics that we learned at TechGarage."
The eMerge Americas Hackathon is part of the eMerge Americas annual conference, a platform for technology companies, startups, entreprenuers and global industry leaders to share the latest trends and ideas. This year's conference featured discussion panels, networking events, vendors and keynote speakers, including Apple co-founder Steve Wozniak.
For more information about TechGarage, visit www.tech-garage.org.
-FAU-