Board of Governors Approves New Student Housing for FAU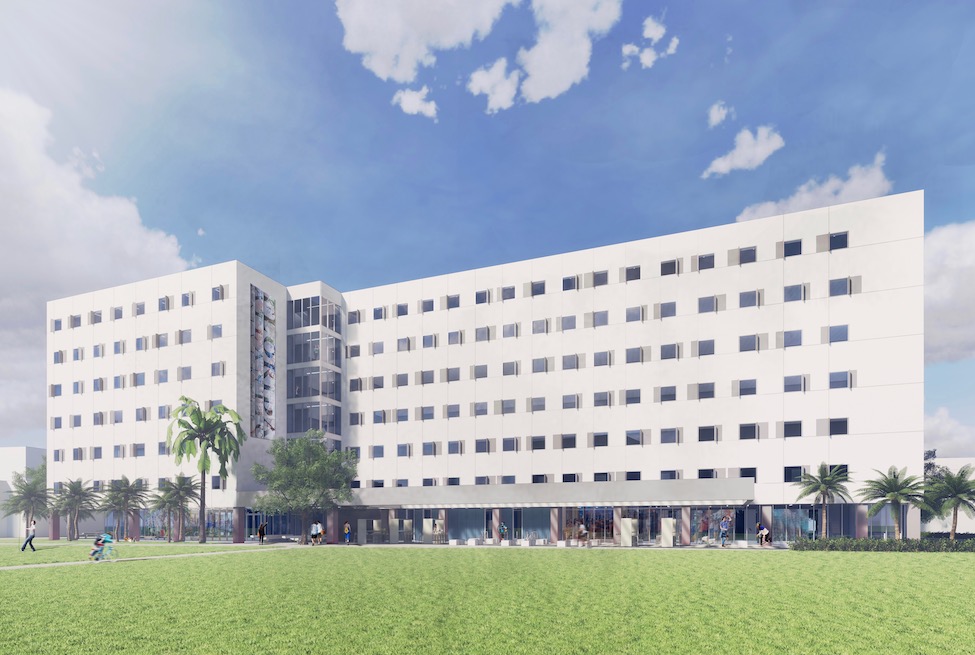 Boca Raton campus residential hall rendering
---
Florida Atlantic University's Boca Raton campus and John D. MacArthur Campus in Jupiter will soon offer two new state-of-the-art student housing facilities after the Florida State University System's (SUS) Board of Governors voted unanimously to approve $78.5 million in construction projects during today's meeting of the SUS leadership body.
On the Boca Raton campus, the 94-bed Algonquin Hall, which opened in 1965, will be demolished this summer and replaced with a 616-bed residential facility offering the latest amenities. Construction of the new $61.4 million facility will begin this fall, and will bring the total student bed count on the Boca Raton campus to 4,700 once finished.
On the Jupiter campus, the university will build a $17.1 million, 165-bed residential hall that will provide a total of 435 beds once finished. Construction is scheduled to begin in spring 2020 with completion by summer 2021.
John D. MacArthur Campus residential hall rendering
Corey King, FAU vice president for student affairs, said these housing projects will further add to FAU's vibrant student life.
"FAU has a diverse and inclusive culture, and this is reflected in the more than 400 student groups active on our campuses and an exciting college residential life experience," King said. "We are at capacity in our student housing as more and more students choose to live on campus and immerse themselves in campus life." 
For more information on FAU student housing and residential life, click here.
In addition to new student housing projects, construction is already underway on two other projects that will greatly enhance FAU's education and campus life experiences for students.
The FAU Student Union is undergoing a $25 million renovation and expansion to provide a new banquet facility, increased dining and mercantile options, more flexible event space and enhanced services for students. The existing Student Union interior, built in 1972, will see new flooring and lighting, expanded conference spaces and a state-of-the art student gaming and meeting room.
Construction started in fall 2018 and is scheduled to be complete in spring 2020. For more information about the new Student Union, click here.
In February 2018, construction began on the Schmidt Family Complex for Academic and Athletic Excellence. The 166,320-square-foot facility located adjacent to FAU Stadium will play a central role in elevating FAU's academic standing — benefiting students in all academic programs, including those not associated with athletics.
The complex will include 120,000 square feet of academic space; the Bobby and Barbara Campbell Academic Success Center; the Christine E. Lynn Sports Medicine Center; Eleanor R. Baldwin History and Tradition Hall; and a strength and conditioning center.
The $72.5 million complex received initial funding from the Schmidt Family Foundation in December 2014, the largest single gift in FAU's history.
Construction is scheduled to be complete by the end of this year. For more information, click here.
-FAU-