FAU Dedicates Phil Smith Hall and Center for Free Enterprise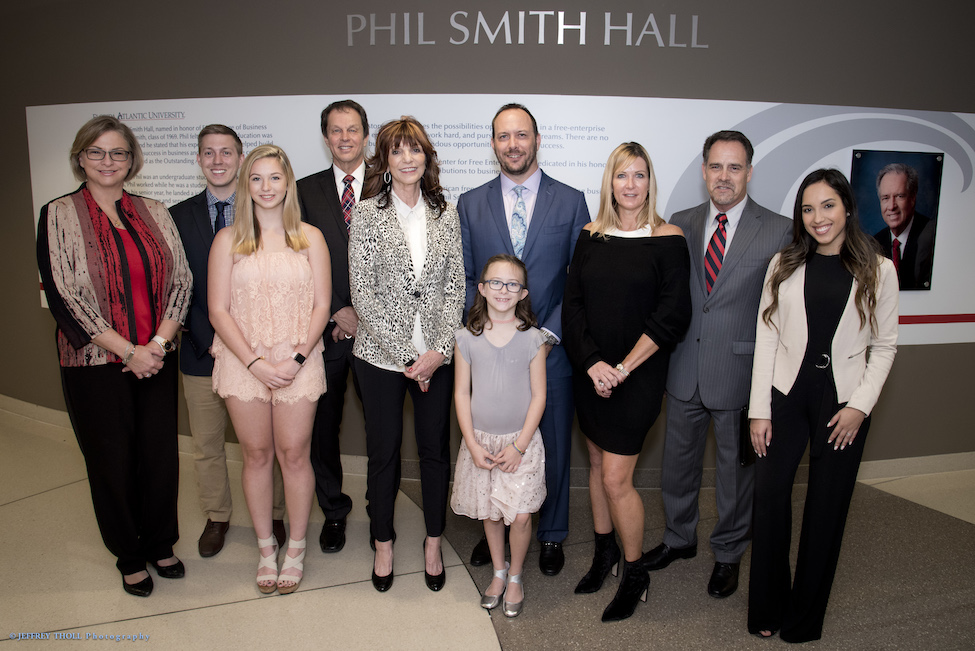 Pictured from left to right: Cheryl Burke Jarvis, Christopher Boudreaux, Kaelin Kelley, John Kelly, Susan Smith, Cali Myers, Charlie Myers, Shawn Smith-Myers, Daniel Gropper, and Maria Trajano.
---
By james hellegaard | 1/19/2018
Family, friends and colleagues of the late South Florida businessman and philanthropist Phil Smith recently gathered with Florida Atlantic University faculty, staff and students to celebrate the dedication of Phil Smith Hall and the Center for Free Enterprise at FAU's College of Business.
The event at the Boca Raton campus featured a special unveiling ceremony of a wall display welcoming visitors to Phil Smith Hall, which included a portrait of Smith and text telling his story and describing the goals of the new center that bears his name.
FAU President John Kelly spoke, along with Daniel Gropper, Ph.D., dean of the College of Business; Susan Smith, widow of Phil Smith; FAU College of Business student Maria Trajano; and Mike Dayhoff, CEO of Phil Smith Automotive Group. The Smiths' daughter Shawn Smith-Myers, son-in-law Charlie Myers, and granddaughters Kaelin Kelley and Cali Myers, also attended.
"Phil would be so proud to see this building named after him at the college that he chose to further his education," Susan Smith said. "Phil was an amazing person, and to have this building named after him is incredible."
The $5 million gift from Phil and Susan Smith to establish the Center for Free Enterprise and name Phil Smith Hall is the largest gift to the College of Business in FAU's history. The main tower at the College was named Phil Smith Hall in honor of the FAU alumnus. The Hall and Center are dedicated to Smith's legacy and the many positive contributions he made to business and society. 
Smith, a leading Broward County businessman and philanthropist, died in December 2016 after suffering from ALS, also known as Lou Gehrig's Disease.
The Phil Smith Center for Free Enterprise supports the vision and strategic plan of the College of Business to advance thought leadership in business, adding chaired professorships and supporting research and educational programs for faculty members and students. The Center also supports distinguished visiting faculty along with a lecture series and other educational programs focused on the principles of free enterprise and how those principles affect growth and prosperity. Faculty members conduct research and develop programs based on the business philosophy and principles that guided Smith during his career.
Gropper introduced two faculty members now associated with the Center as Phil Smith Fellows, Cheryl Burke Jarvis, Ph.D., chair of the College's marketing department, and Christopher Boudreaux, Ph.D., assistant professor of economics.
A native of South Florida, Smith graduated with a Bachelor of Science degree in finance in 1969 from FAU's College of Business. He was president and CEO of Phil Smith Management, Inc., operating 11 automobile dealership locations representing 25 franchises in Florida and North Carolina; as well as the Coral Ridge Country Club. For more than 30 years, Smith managed auto dealerships and built his organization from the ground up, starting from his first equity venture in a Toyota dealership in Homestead in 1980.
"Naming Phil Smith Hall makes a significant statement for all of our FAU students," Gropper said. "This is the largest building in the College of Business complex. As our students study in one of the many classrooms in Phil Smith Hall they will know that this building is named for a man who was once a student just as they are. One who worked to put himself through school and over time built a successful business career that elevated his colleagues, his family, his customers and his entire field."
Smith was a member of the FAU Foundation Board and was named a distinguished alumnus of the College of Business in 2015.
"It will be a pleasure for me when we have visitors on campus and we stop at the place where Phil Smith's name is recognized," President Kelly said. "We'll be able to talk to people about how he was a self-made man. A person that didn't have a whole lot to start with, found a wonderful wife who stayed with him his entire life, had beautiful children, a great and successful business and was generous to the base of his heart. It is an honor and a privilege for us to have Mr. Phil Smith's name on this facility." 
-FAU-