FAU High Student Competes in 3M Young Scientist Challenge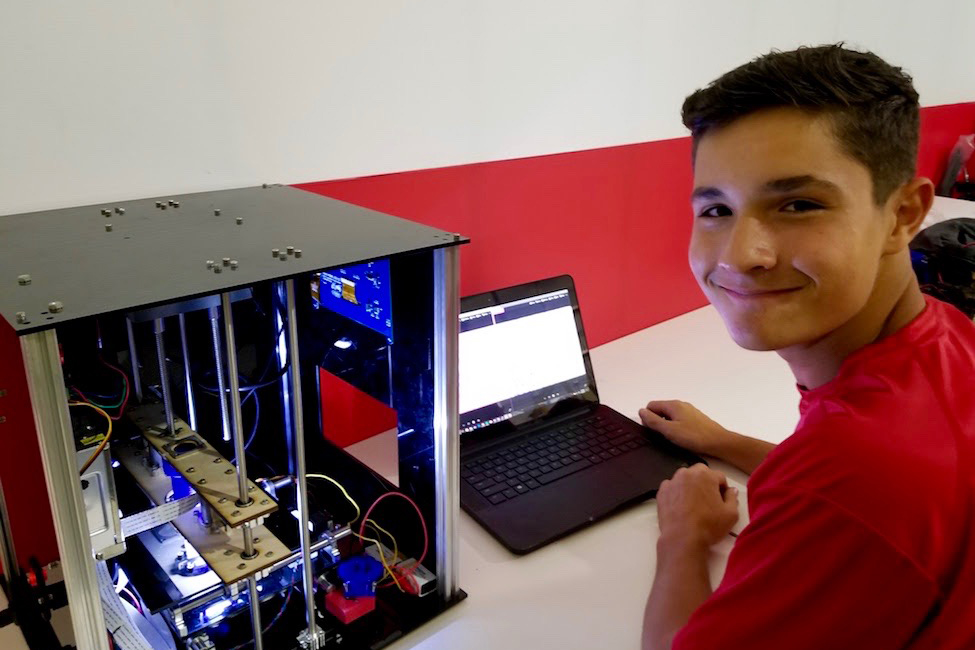 ---
By kelsie weekes | 10/16/2017
Florida Atlantic University High School freshman Devin Willis will compete to become America's Top Young Scientist during the Discovery 3M Young Scientist Challenge on Tuesday, Oct. 17 from 3 to 5 p.m. Willis, 14, is one of 10 finalists competing for the title and a $25,000 prize.
Willis developed an innovative machine called SLIDEMAP that increases the speed and accuracy of a cancer diagnosis. Using a 20X microscope, the machine captures several images of a tumor at the cellular level, then uses an algorithm to stitch the images together. The final image is passed through a neural network to analyze the tumor and determine whether it's benign or cancerous.
"I recently read that when pathologists were given the same tissue sample, they agreed on a diagnosis only 75 percent of the time," he said. "I hope this machine can create more consistency among diagnoses."
The idea for SLIDEMAP came from Willis' dad, Scooter Willis, who currently works in data analytics for cancer research. Scooter saw a need for this machine and told Devin about the problem.
"My dad knew I loved robotics and computer programming and thought this would be a great project for me," he said.
Willis has been building and developing SLIDEMAP since he was in sixth grade. Last year, he made a two-minute video about his invention and submitted it to the Discovery 3M Young Scientist Challenge. He was chosen as a finalist in June.
"All of the finalists get to work with a mentor from 3M which has been pretty helpful," he said. "It's nice to have the support and input from a real scientist."
Willis isn't the first FAU High School student to compete for the title of America's Top Young Scientist. Hannah Herbst, now a sophomore at FAU High, won the competition in 2015 with her ocean energy probe that turns ocean tides into usable power. Herbst later went on to present her project to U.S. President Barack Obama during the 2016 White House Science Fair.
To watch the Discovery 3M Young Scientist Challenge live from 3M Headquarters, visit www.youngscientistlab.com/live-event. 
-FAU-