FAU Enrolling for Alzheimer's Prevention Research Program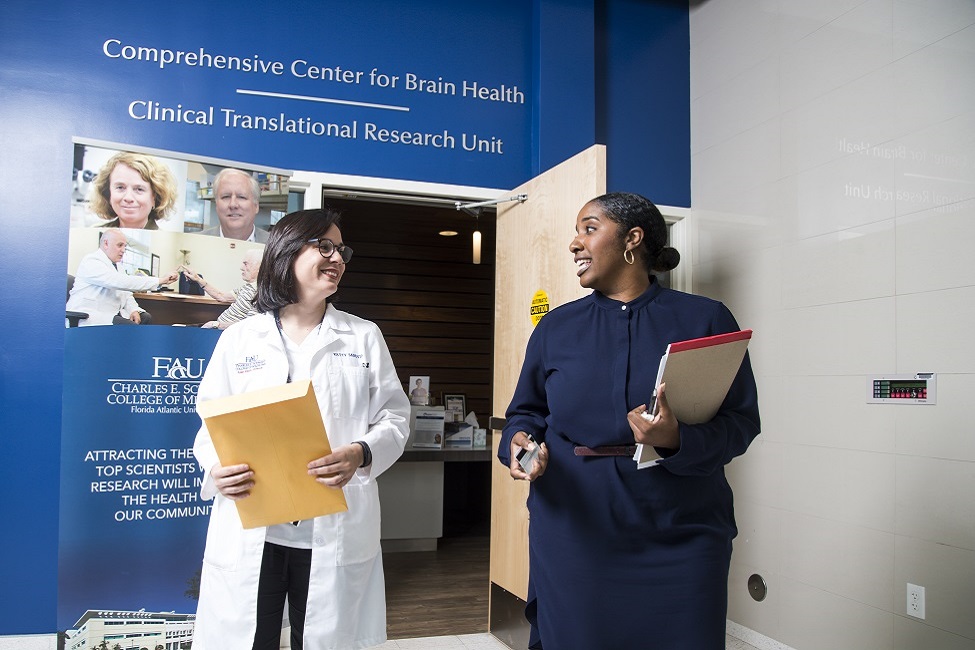 (Photo by Alex Dolce)
---
Florida Atlantic University in Boca Raton, Florida is now enrolling volunteer participants in a pioneering international Alzheimer's disease prevention research program. The Alzheimer's Prevention Initiative (API) Generation Program is made up of two clinical trials—Generation Study 1 and Generation Study 2—and will test investigational study medications which aim to prevent the onset of Alzheimer's disease in cognitively healthy people whose genetic makeup puts them at particularly high risk for developing the disease at older ages.
The number of people in Florida who are age 65 and older with Alzheimer's disease is expected to increase 41.2 percent by 2025 to a projected 720,000, highlighting the urgency of finding a medical breakthrough. Alzheimer's disease affects 11.5 percent of Medicare beneficiaries in Palm Beach County and 12.7 percent of Medicare beneficiaries in Broward County (a nearly 18 percent increase over national average). According to the Alzheimer's Association, Florida is number one in per capita cases of Alzheimer's disease in the United States. FAU is one of approximately 190 sites globally participating in the API Generation Program.
"We are very excited to be a part of research that could significantly increase our understanding of Alzheimer's and potentially benefit millions of people around the nation and the world who might be at risk of developing Alzheimer's disease," said James E. Galvin, M.D., M.P.H., principal investigator of the Generation Program at FAU's Comprehensive Center for Brain Health. "Participating in research like the Generation Program is a great way to join the fight against this horrible disease."
The API Generation Program is the first to incorporate both genetic testing and counseling. Prospective participants referred to the trial will be required to learn if they carry a specific gene that puts them at increased risk to developing Alzheimer's. Genetic counseling will be provided in person or by phone.

Participants will be recruited via multiple venues, including the Alzheimer's Prevention Registry's GeneMatch program (www.endALZnow.org/GeneMatch), a first-of-its kind program designed to identify a large group of people interested in volunteering for Alzheimer's research studies, based in part on their genetic information.
To learn more about volunteering for the Generation Program at FAU's Comprehensive Center for Brain Health, visit http://med.fau.edu/ccbh/ , call 561-297-0164, or go to www.GenerationProgram.com.
The Generation Program is sponsored by Novartis, a Swiss pharmaceutical company, and Amgen, a biotechnology company based in Thousand Oaks, CA, in collaboration with Banner Alzheimer's Institute in Phoenix, AZ.
Alzheimer's is a debilitating and incurable disease that is estimated to affect more than 46 million people worldwide according to Alzheimer's Disease International.

About Study Site
The Comprehensive Center for Brain Health at Florida Atlantic University provides personalized care for the prevention and treatment of a variety of brain disorders. The Center has a dual focus on diagnosis and prevention of neurodegenerative diseases such as Alzheimer's disease, Parkinson's disease, Lewy body dementia, frontotemporal degeneration, vascular cognitive impairment, and Chronic Traumatic Encephalopathy (CTE) and other related disorders and meeting the needs of family caregivers. The Center specializes in providing customized prevention plans for individuals who are concerned with their cognitive health and neurodegenerative disease risk. In addition, intensive medical management for those who are actively struggling with neurodegenerative disorders is offered. Evaluation, diagnosis, and treatment is provided by a transdisciplinary team led by world-renowned neurologist and researcher James Galvin, M.D., M.P.H.
About the Alzheimer's Prevention Initiative
The Alzheimer's Prevention Initiative (API) is an international collaborative formed to launch a new era of Alzheimer's prevention research. Led by the Banner Alzheimer's Institute, the API will conduct prevention trials in cognitively healthy people at increased genetic risk for Alzheimer's disease. It will continue to establish the brain imaging and biological and cognitive measurements needed to rapidly test promising prevention therapies, and to provide registries to support enrollment in future prevention trials. API is intended to provide the scientific means, accelerated approval pathway, and enrollment resources needed to evaluate the range of promising Alzheimer's prevention therapies and find ones that work without losing another generation. For more information, go to www.banneralz.org.
About GeneMatch
GeneMatch is a research program of the Alzheimer's Prevention Registry to help identify individuals who are willing to participate in research studies based in part on their APOE genetic information, the major genetic risk factor for late-onset Alzheimer's disease. The program is optional for people who are enrolled in the Alzheimer's Prevention Registry. It will enroll people who are between 55 and 75 years of age, reside in the U.S., and do not have a diagnosis of dementia or other cognitive impairment syndrome. For more information, go to https://www.endalznow.org/genematch.
-FAU-