FAU Students Support Haiti with Relief Effort
The FAU community came together to start a Help for Haiti relief effort in the aftermath of Hurricane Matthew.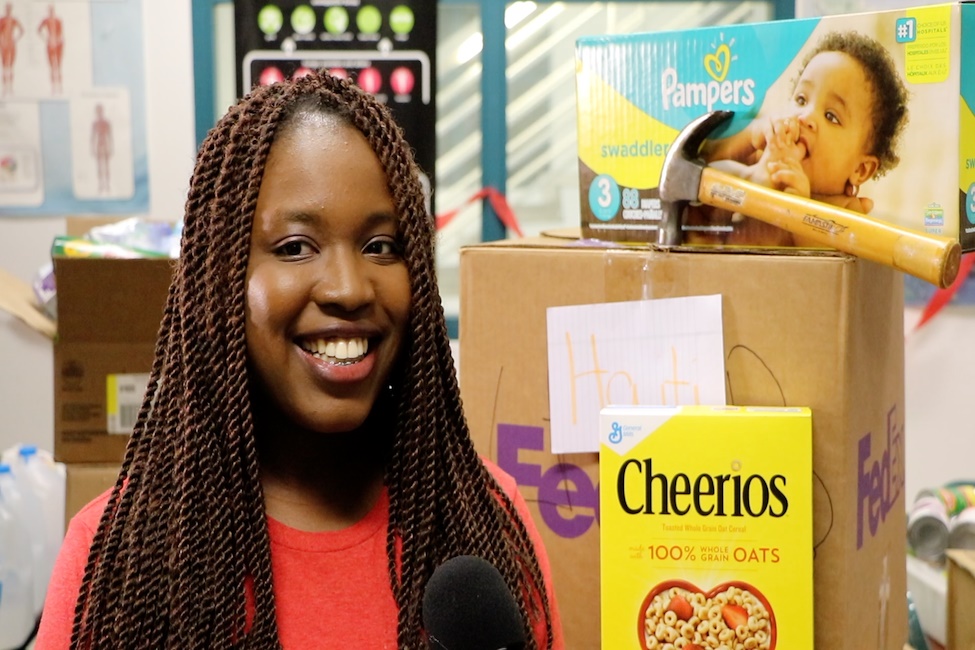 FAU student and Haiti native Esther Loude began a Help for Haiti drive on campus.
---
By kelsie weekes | 11/14/2016
FAU student Esther Loude was devastated when she saw the videos and photos coming out of Haiti in the aftermath of Hurricane Matthew. The category 4 storm ravaged parts of the country, leaving hundreds dead, and tens of thousands more homeless. She knew she had to do something.
"I am from Haiti, and my dad's hometown there was really affected by the hurricane," she said.
Loude, a member of FAU's American Medical Student Association (AMSA), gathered her friends and began a relief effort on campus, asking people to donate clothes, shoes, baby food and diapers. Adriana Bautista, president of AMSA, immediately jumped on board.
"As students, we are so wrapped up on grades, resumes and applications," Bautista said. "It's nice to take a step back and realize everything we do affects someone else and causes change."
Donation bins were set up around campus, and word of the drive quickly spread. When FAU Athletics heard about the effort, they quickly got involved and made it a friendly competition. A bin was set up in each of FAU's athletic teams' locker rooms to see which team could bring in the most pounds of canned goods.
"We have a lot of people on the team whose families were affected by this," said Greg Joseph, a kicker on the FAU football team. "We care about our community and really try to rally together at a time like this."
The Help for Haiti drive was such a success that an entire classroom in the Charles E. Schmidt College of Science was filled with donations. Canned goods will be given to Food for the Poor, and other donations will go to the Haitian American Nurses Association to bring on a trip to Haiti later this month.
"It makes me feel good that I'm helping my people," said Loude. "They are not going to go to bed hungry. I feel like I have a voice."
-FAU-