FAU High's Hannah Herbst Featured on Discovery Education
Florida Atlantic University High School student Hannah Herbst was featured live on Discovery Education to talk about her experience as "America's Top Young Scientist."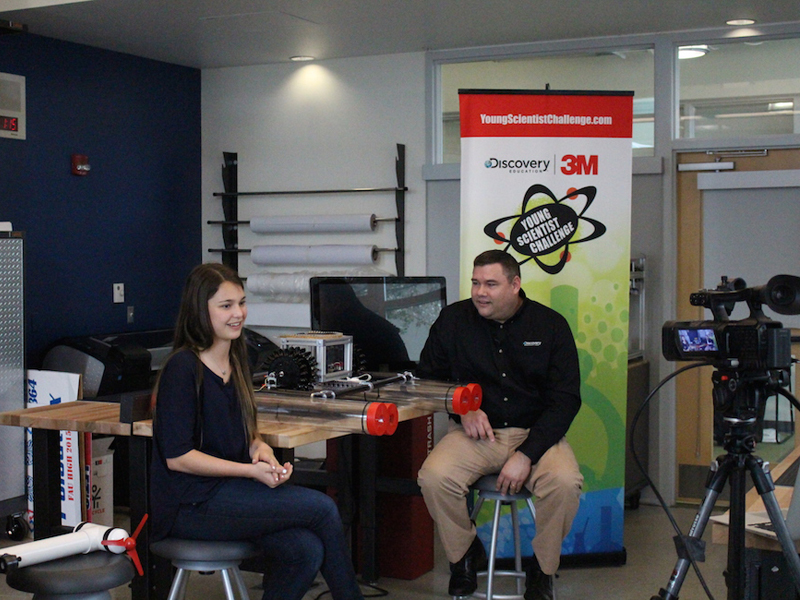 Hannah Herbst answers questions from students across the country during a live-streamed event on Discovery Education Channel.
---
By kelsie weekes | 3/8/2016
Florida Atlantic University High School student Hannah Herbst was featured live on Discovery Education to talk about her experience as "America's Top Young Scientist." Herbst, 15, beat out nine other finalists to win the 2015 Discovery Education 3M Young Scientist Challenge. With help from a 3M scientist, Herbst created an ocean energy prototype that aims to provide a stable power source to developing countries by using untapped energy from ocean currents.
During the live-streamed event from FAU High, students in classrooms across the country tuned in to ask Herbst questions live on Twitter using the hashtag #YoungScientist. Herbst talked about how her pen pal living in Ethiopia without electricity inspired her invention. She also spoke about the challenges she faced while developing the prototype and the many opportunities she's had since winning the challenge, crediting FAU for its unwavering support.
"There are tons of awesome resources here. I have my STEM coordinator Mr. Allan Phipps and my parents who were also very encouraging of my ideas," she said. "I was also able to get in touch with FAU's Harbor Branch Oceanographic Institute where they are developing a big turbine themselves, so I got advice from people working on it there."
Since being named "America's Top Young Scientist," Herbst has traveled across the country to share her innovation. She has been featured live on Fox & Friends and Wake Up with Al on NBC. She also had the opportunity to speak at the Social Innovation Summit recently in Silicon Valley, California.
Herbst, a freshman at FAU High, also is dual-enrolled at FAU, with plans to study engineering.
"I'm not sure what I want to do in the field yet, but no matter what I do, I want to solve the world's crises and help save lives."   
-FAU-