FAU Brain Institute Designated 'Nikon Center Of Excellence'
Florida Atlantic University's Brain Institute in Jupiter is now home to a Nikon Center of Excellence.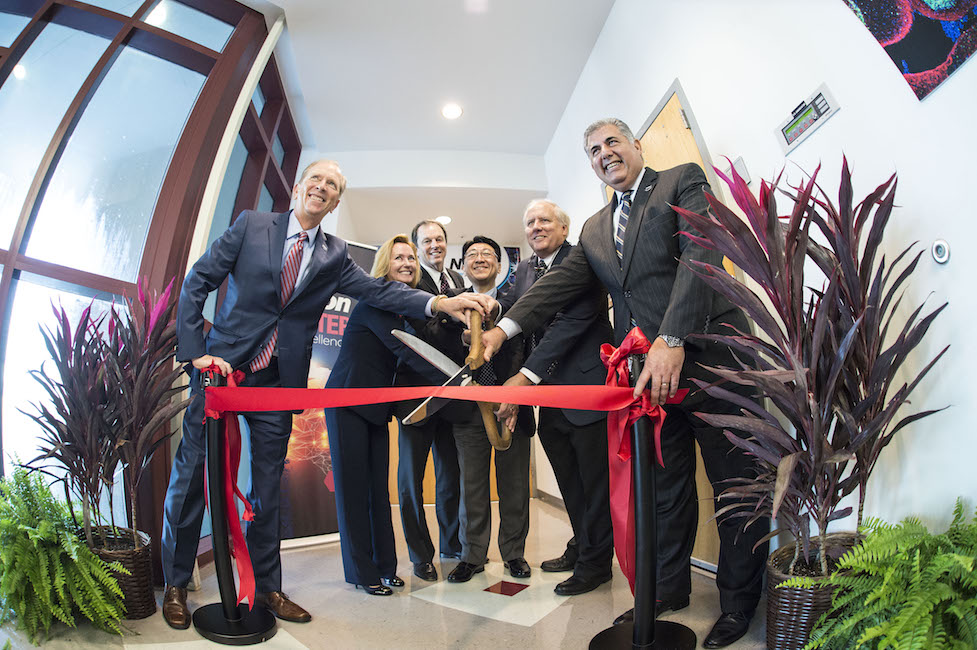 ---
Florida Atlantic University's Brain Institute in Jupiter is now home to a Nikon Center of Excellence, making it one of seven designated centers in the United States and 17 worldwide. FAU President John Kelly joined Toshiaki Nagano, president and chief executive officer of Nikon Instruments Inc., and Randy Blakely, executive director of FAU's Brain Institute, for a special event today to highlight the growth and progress associated with FAU's Jupiter Life Science Initiative. Together, they signed a Memorandum of Understanding before an audience of more than 300 community stakeholders and FAU students, faculty and staff. 
"We are very pleased to be opening the first Nikon Center of Excellence in the Southeast. This strategic partnership between FAU and Nikon represents a commitment to accelerating advancements in neuroscience, which is this Center's area of expertise," said Nagano. "Nikon is proud to support FAU and we will grow together by leveraging cutting-edge microscopy technology to challenge the boundaries that exist in science." 
A Nikon Center of Excellence (NCE) is a partnership and exchange of knowledge with selected research centers around the world that invest in Nikon advanced imaging instruments to provide young researchers access to the latest optical systems. The research centers benefit from Nikon technical knowledge and this access to high-end research microscopes at a favorable cost. Nikon gains a showcase for its products and invaluable feedback from "up and coming" researchers who can share new emerging applications and science in specific research areas. This input allows Nikon to ultimately provide the perfect imaging solution. 
"The establishment of a Nikon Center of Excellence at FAU brings a new level of imaging capability to our scientists and trainees, and links our community to prominent cell imaging centers at premier academic institutions and research centers around the world," said Blakely. 

NCEs support its scientific community by offering training courses on basic and advanced light microscopy techniques and introducing the latest innovations in light microscopy and imaging. Its partner centers serve as training locations for Nikon staff and a demonstration site for customers seeking advanced optical technology. Nikon is growing a comprehensive global network of NCEs and Nikon Imaging Centers exchange ideas and further advance microscopy techniques. 
"FAU is undergoing rapid development as a center of world-class research, due in part to our innovative partnerships with leading global companies such as Nikon," said Kelly. "It is exciting to anticipate the new frontiers our faculty and students will cross with access to this state-of-the-art technology."
-FAU-