FAU Broward Campuses News
In Person and Online Fitness for FAU Broward
by Roberto Santiago & Alberto Fernandez |
Sunday, Aug 01, 2021
---
The FAU Broward Student Wellness Center opened on the Davie campus in 1996, offering students, faculty and staff a clean and comfortable gym with weight and cardio machines, fitness equipment, lockers and private showers. Group classes featuring yoga, kickboxing, and weight/cardio training were introduced in 2012. Live online classes featuring cardio sculpt, Pilates, and yoga debuted last year after the pandemic shut down the university. "Upon the expected return to a more normal campus life this Fall, FAU Campus Recreation is hoping to offer a few sections of in-person strength or HIIT classes within the Davie Student Wellness Center (BC-51); as well as a few sections of yoga at the Davie Student Union (SD-105)," said Jamie Flood, Assistant director for Wellness and Fitness. "Throughout the Fall semester we will gauge attendance and assess needs or interest in other group fitness class formats as well to help better predict our Spring offerings."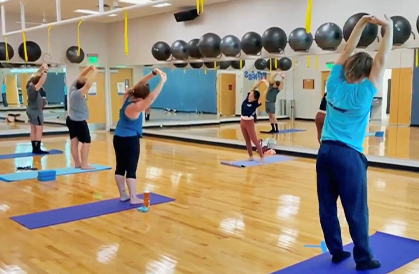 Participant Dr. Jane Caputi, a professor of Women, Gender and Sexuality Studies at the Dorothy F. Schmidt College of Arts and Letters, credits the online group fitness classes for keeping her strong and positive during the pandemic. "The online classes made an absolutely superlative impact on my physical and mental well-being during the pandemic and continue to do so," Dr. Caputi said. "The classes not only give structured and balanced exercise, with conjoined physical and mental health benefits, but also provide community. Instructors often have a dedicated group who show up regularly and this creates a source of fun and togetherness." Her favorite classes are cardio sculpt, HITT and core, Pilates, total body strength, and yoga. "The instructors are without exception wonderful and enthusiastic and skilled. They offer guidance and modifications for those of us who cannot do every exercise. You can put your camera on to have the instructor check your form, or you can leave the camera off. Either is ok."
Chelsea Brand, a certified yoga instructor who has been teaching for over 10 years, is one of the many outstanding instructors that teach online and in person at FAU. "I teach to all skill levels and want to make sure I am giving my students what they need so I will offer a beginner, intermediate and advanced variations while building a sequence. There should be a flow where we warm up, build heat in the flow and then cool down," Brand said. "If the class is Gentle Yoga, my students know it will be relaxing and a class they can take no matter how they feel that day. Yoga is for everybody and it's my job to make it accessible for all."
Flood said that the Wellness Center is currently working on scheduling the group fitness classes it will offer this Fall. "Our class times and offerings are based largely upon proven popular time-frames (ie. early morning, lunch-time, after-work), proven popular class formats (yoga, strength/HIIT, Zumba, cycle) and the availability of our instructors," Flood said. "Based on our preliminary data, we anticipate decreasing our virtual group fitness class offerings as we return to more in-person offerings again this Fall. We anticipate to continue our well-received virtual class offerings; such as yoga, cardio sculpt and pilates at the same times they are currently offered and anticipate removing the weekend classes from our virtual schedule due to low participation."
Membership for the Wellness Center is not only for FAU students, faculty, staff and alumni, but for family members in their immediate household as well. Membership is also a bargain at only $120 a year for both gym use and for unlimited in person and online fitness classes. Membership for students is included in their tuition and fees. On the Broward Campus specifically, non-students can purchase a Wellness Center Membership by clicking on the following link. "To access programs offered through Broward Campus Recreation, including group fitness classes, members should navigate to our OwlRec Portal and locate the 'Davie Programs' icon,'" Flood said.
Participant Rosie Kenna is grateful for the online classes and looks forward to finally being able to take live, in person classes on campus this Fall. "I would like to take HIIT, Yoga and Bootcamp classes in person," Kenna said. "My mental and physical well-being has benefited --- as well as my sleep."