FAU Broward Campuses News
FAU Student Health Services: Taking Care of Davie Since 2008
Friday, Oct 01, 2021
---
Whether it's COVID-19 vaccines or tests, flu shots or general health care issues FAU students in the Davie, Boca Raton and the Jupiter campuses have been able to depend on FAU Student Health Services (SHS). "My experience at the Davie FAU clinic was amazing," according to a student survey. "My nurse who administered the vaccination was friendly and made me feel comfortable while giving me the shot. The receptionist greeted me with a smile and willing answered all of my questions and made sure I had everything needed before leaving."
The Davie clinic opened in September 2008 to serve students attending the Broward campuses. Prior to 2008, health care services for FAU Broward students were provided by the Nova Southeastern University student health clinic.
"The Davie clinic provides students on the Broward campuses with primary care services, including physicals, women's health, immunization, management of chronic health conditions, acute care (fevers, coughs, sore throats) and more," said Dr. LeAnn Gutierrez, Director, Student Health Services. Sexual and reproductive health services, including STI testing and contraceptive counseling are also available. Nutrition counseling and psychiatric services are available via telehealth. Broward students also have full access to all services provided at the clinic on the Boca Raton campus, including the dental clinic. Services are provided by appointment only. Students are not charged for any services at the time of visit, balances are sent to student accounts after their visit, and a self-pay discount is available for students not using insurance (list of SHS charges).
All FAU students have access to an after-hours nurse line staffed by registered nurses who can assess a student's symptoms and help them determine how to get the most appropriate care. Students can call the FAU SHS number and select option 3 to be connected to the after-hours nurse line.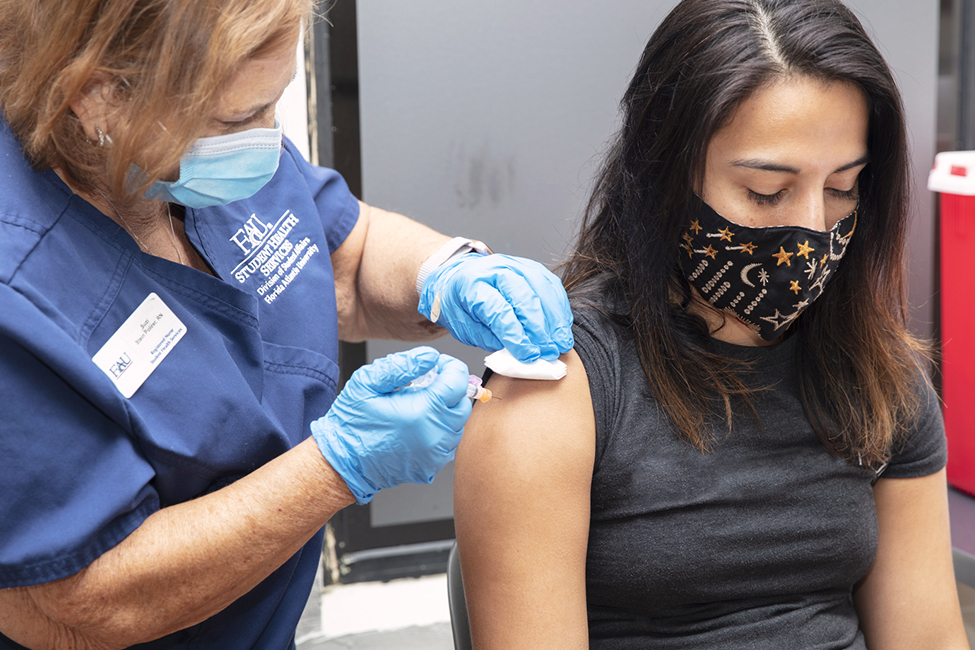 According to Dr. Gutierrez, the top conditions treated at SHS Davie clinic during the last academic year were: Immunization & screening services; colds, flu, and other respiratory infections (including COVID-19); general physical examination women's health concerns; and screening and treatment of sexually transmitted infection.
In 2019, prior to the pandemic, the clinic had 368 visits and 424 visits in 2018. And since 2020, the Davie location has contributed to the university's pandemic response by evaluating and testing employees and students for COVID-19 at the no-cost respiratory care clinic. Since March 2020, the Davie clinic has had 39 COVID encounters and administered 40 COVID tests. In March 2021, the SHS clinic at Davie, in cooperation with the Broward Department of Health, administered 476 Janssen COVID vaccinations to FAU students, faculty and staff.
FAU Student Health Services, including the SHS Davie clinic, consistently receives positive responses on the American College Health Association (ACHA) Patient Satisfaction Assessment Service (PSAS) survey administered throughout the academic year.
According to one FAU Broward student surveyed: "I visited SHS for a COVID-19 test. Everyone I spoke with from the first screening call was extremely helpful, kind and professional. The physician took far more time than I expected to review my history, provide information and answer my questions."
And according to another: "My provider and the staff were very knowledgeable, courteous, and made me feel my time in the clinic was highly efficient, while the care was simultaneously very thorough. I highly recommend the FAU SHS to my other peers."
FAU Student Health Services is a member institution of the American College Health Association and has been accredited by AAAHC (Accreditation Association for Ambulatory Health Care) since 2016 and is currently in the process of preparing for its reaccreditation.