FAU Honors Local Veterans with Flag Pole Dedication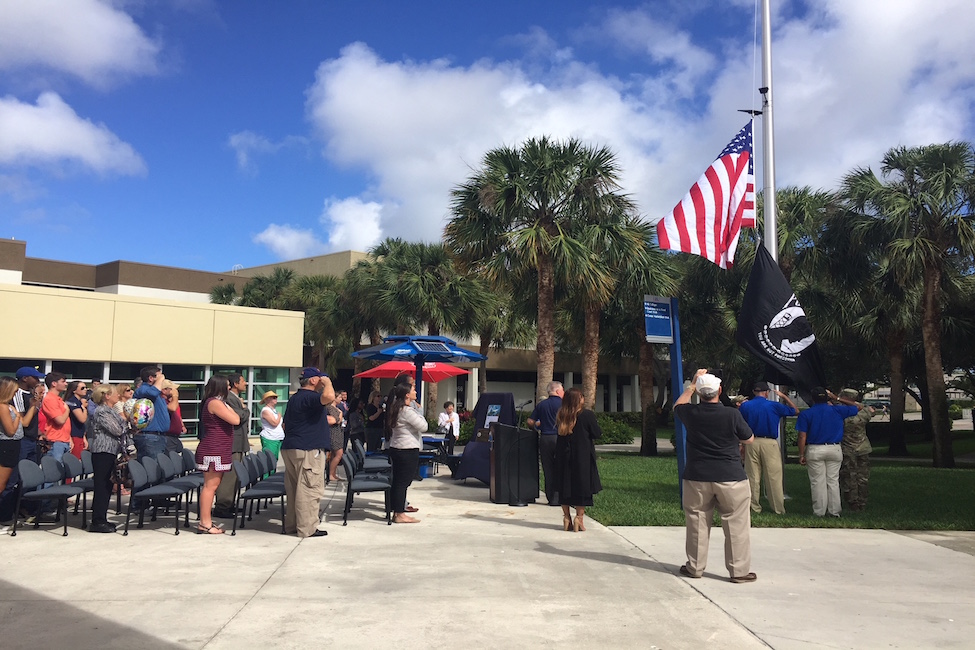 ---
By kelsie weekes | 11/16/2017
A new flag pole now sits in front of the Student Union on Florida Atlantic University's Boca Raton campus. FAU Student Government, with help from the FAU Military and Veterans Affairs Office, worked together to find the ideal spot on campus to honor FAU's military and veteran students, as well as local veterans who visit our campus. During a recent flag pole dedication ceremony, FAU students, staff, student veterans, members of the military and the local community watched as the American and POW/MIA flags were raised on the new pole.
"We saw this as an opportunity to show our appreciation on behalf of the student body," said Der'Resha Bastien, Boca Raton campus student governor. "These flags serve as a constant reminder of the cause for which our veterans fight for."
FAU currently serves more than 1,500 military and veteran students. FAU's Military and Veterans Student Success Center serves as a hub for these students, providing them with financial assistance, academic support services, internship and employment opportunities, as well as networking and engagement events. FAU was recently named a 2018 Military Friendly® University in recognition of these efforts.
"This new flag pole will serve as a beacon for our student veterans and all who are currently serving," said Larry Faerman, Ph.D., associate vice president and dean of students. "We hope our students will remember the sacrifice behind these flags each time they see them, and that they will continue to look for new ways to support our veterans."
-FAU-