FAU and Coral Springs Fire Department Team Up for Trauma Day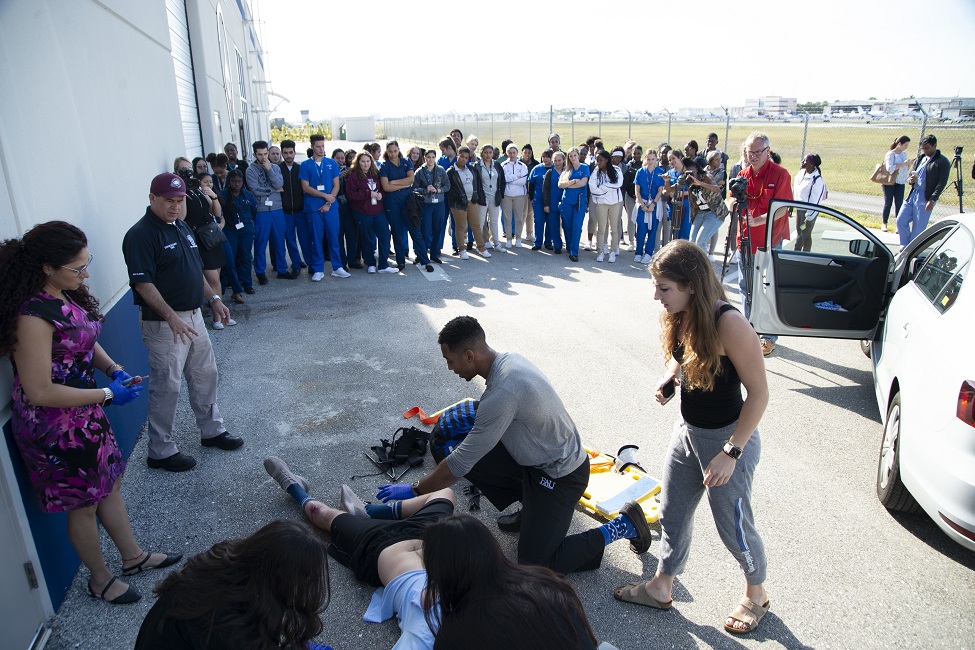 (Photo by Alex Dolce)
---
Florida Atlantic University's Schmidt College of Medicine and Juan Cordona, chief of the EMS Division of the Coral Springs Fire Department, recently teamed up for "Trauma Day" at FAU Tech Runway®. The highlight of the event was a mock crisis and rescue scenario.
Fifty Medical Academy students from Boynton Beach Community High School, Park Vista Community High School and Forest Hill Community High School learned about triage management, EMS equipment and management, clinical skills regarding the care of trauma victims, and techniques to arrest life-threatening bleeding. 
The mock crisis and rescue scenario was enacted by Cordona and medical students in FAU's College of Medicine. The scenario involved a 22-year-old man who was drinking and car surfing and fell on the pavement, sustaining multiple injuries. The high school students observed the trauma scenario and learned about the consequences of drinking and driving and making poor decisions. The trauma team treated the life-threatening injuries and stabilized, immobilized and prepared the patient for transport by ground to the closest trauma center.
Trauma Day is a program offered as part of FAU's medical school's Healthcare Careers Outreach Program (HCOP) through the Office for Diversity and Inclusion. HCOP provides underserved middle and high school students who aspire to become physicians or other health-related professionals with hands-on activities and programs to help them reach their goals.
-FAU-