State University System kicks off pro-business campaign
Joined by state lawmakers and business leaders, members from across the State University System on Wednesday came together to celebrate its new campaign.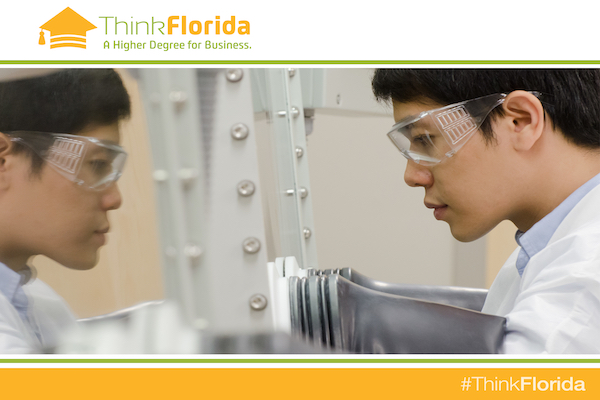 ---
The concept, created with input from all 12 of Florida's public universities, is designed to build synergies with Florida's business community and promote further collaboration in the areas of talent, research and partnerships. Coinciding with the celebration, the State University System also launched its website, social media campaign and newsletter.
"I want our universities to push the envelope over the next two years in terms of research, online education, and aligning our degrees to match the needs of Florida's high-skilled workforce," said Board of Governors' Chair Tom Kuntz. "That's how we can best propel Florida's economy, and it's how we can best serve our students."
Thursday's Board of Governors' meeting will also mark the start of a new feature during which a university or business partner will present on State University System initiatives that contribute to economic development. The Think Florida campaign is a part of an ongoing effort by the State University System to align degrees with job production, promote greater collaboration between universities and employers, and ensure that the universities are responsive to the state workforce. 
"Florida is the second largest State University System in the country, which means that we also have a large pool of graduates ready to work," said House Speaker Steve Crisafulli. "Our goal is to effectively convey to businesses the value of our graduates and the value of our research, ensuring that businesses come to Florida and that businesses already in Florida are hiring our graduates."
"Universities are making great strides, brought on by performance funding and other initiatives to ensure that university degrees translate to jobs," said Don Gaetz, immediate past president of the Florida Senate. "This campaign sounds like a recognition of that improvement, and a commitment to continue making job-readiness a top priority."    
"Our universities are charged with training our students and shaping them to be creators and entrepreneurs," said Joe Negron, Senate President Designate. "The universities are laser-focused on that mission, as evidenced by the campaign announced today."   
"Private businesses play a huge role in the success of our universities, just like our universities play a huge role in the success of our private businesses," said Erik Fresen, chair of the Education Appropriations Subcommittee in the Florida House. "It only makes sense that the two are stronger if they work together."
"Whether discussing research, talent or partnerships, it's clear the State University System and private businesses have a lot to gain by creating new opportunities for collaboration," said Senator Kelli Stargel, chair of the Higher Education Committee. "By making a concerted effort to expand their reach to the business community, the universities are also poised to expand their service to students." 
Held at FSU's Turnbull Center, speakers at Wednesday's event included Board of Governors Chair Tom Kuntz and immediate past Chair Mori Hosseini, Florida Chamber of Commerce Executive Vice President for Governmental Affairs and Political Operations David Hart, Enterprise Florida President and CEO Bill Johnson, Florida Atlantic University President John Kelly, and Florida Student Association President Tonnette Graham.  
"I can speak for myself and my peers across the State University System when I say we are working every day to obtain the knowledge and skills that will enable us to prosper in our careers," said Florida Student Association President Tonnette Graham, also a member of the Board of Governors. "This initiative is designed to create even more pathways for students to succeed."
"Florida's public universities churn out an enormous amount of talent and are a great asset for our businesses," said Bill Johnson, head of Enterprise Florida. "We're committed to working hand-in-hand with the State University System to make that known."
-FAU-