FAU Tech Runway Celebrates Annual Maverick Reception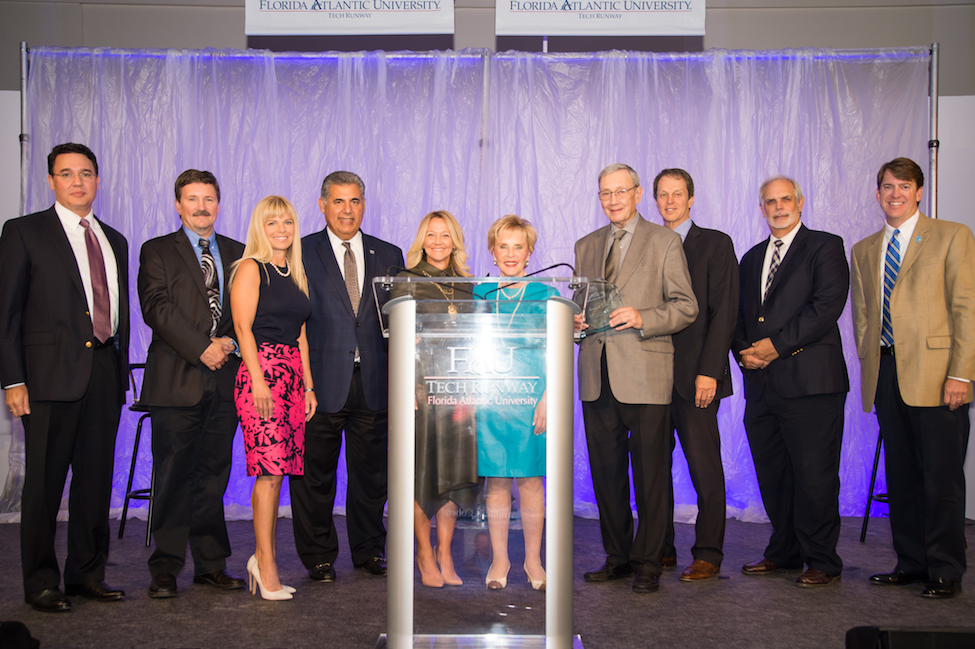 ---
By brittany sullivan | 11/2/2017
FAU Tech Runway® recently celebrated its 2017 Maverick Reception at FAU Tech Runway in Boca Raton. The reception celebrated a year of success and innovation accomplished by the 52 ventures affiliated with its programs. FAU Tech Runway® supports the Florida entrepreneurial ecosystem, Florida Atlantic University, as well as the regional community, through its unique offering of services, events, and community.  Additionally, FAU Tech Runway® programs foster the growth of students, faculty and local innovators and provides the resources their businesses need to thrive, all in one collaborative hub.
"The 2017 Maverick Reception recognized two exceptional individuals who have made very special contributions to our program and one truly 'maverick entrepreneur,' who succeeded in re-inventing the e-tailing experience," said Rhys. L. Williams, associate vice president for research and the managing director for FAU Tech Runway®. "No one thought it could be done, but each award recipient in their own way proved otherwise. We also thanked the donors, partners, advisory board members, and expert business mentors whose support and selfless contributions make FAU Tech Runway one of the top incubator/accelerator programs in the state.  The event also set records for us, in terms of attendance, donor support, and quality of the evening's programming.  It was a phenomenal evening."    
The 2017 award recipients were: Arnold L. Cohen, member of the FAU Tech Runway Advisory Board, who received the FAU Tech Runway Lifetime Service Award; Ryan Cohen, co-founder and chief executive officer of Chewy, Inc., who received the Maverick Award for Entrepreneurial Achievement; and Philip Voluck, FAU Tech Runway mentor board member, who received the Maverick Mentor Award.
Cohen also served as keynote speaker for the event. Since founding Chewy in 2011, he, along with his management team, has grown the company to be one of the fastest growing retailers in America. With more than 6,000 employees, 3-million-square-feet of warehouse space in six states and 3.8 million customers, Cohen is fulfilling his vision to create a highly scalable, vertically integrated e-commerce retailer with world-class customer service and fulfillment operations.
"It was an honor participating in this year's FAU Tech Runway Maverick Reception," said Cohen. "The support, resources and collaborative culture that Tech Runway offers to students, will undeniably help instill confidence and encourage them to pursue their dreams of being entrepreneurs."
For more information about FAU Tech Runway®, visit techrunway.fau.edu. 
-FAU-