FAU Honors Outstanding Leaders at 2015 Talon Awards Ceremony
Since 1997, FAU's annual Talon Awards ceremony has recognized outstanding leaders from the community, as well as FAU alumni, faculty and student body constituencies.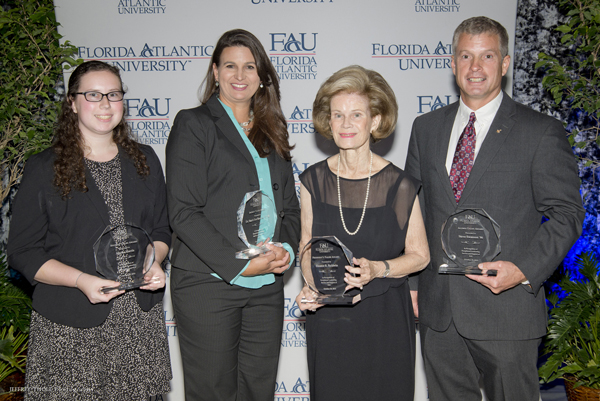 From left, award recipients Alyssa Harris; Stacie Lee Rossow, D.M.A., '97, '01; Eleanor Baldwin and Steve Swanson '86, Ph.D.
---
Florida Atlantic University recently hosted its annual Talon Leadership Awards ceremony as part of Homecoming 2015. Since 1997, the Talon Awards ceremony has recognized outstanding leaders from the community, as well as FAU alumni, faculty and student body constituencies. Co-sponsored by the FAU Alumni Association (FAUAA) and FAU Student Government, the ceremony and reception took place at the Marleen & Harold Forkas Alumni Center on FAU's Boca Raton campus.

Honored that evening were Eleanor Baldwin, retired teacher and FAU benefactor; Steve Swanson '86, retired NASA astronaut; Stacie Lee Rossow, D.M.A., '97, '01, assistant professor in FAU's Dorothy F. Schmidt College of Arts and Letters; and Alyssa Harris, an undergraduate student in the College of Engineering and Computer Science.

"It's important to say thank you to people who have made extraordinary contributions to the life of the university," said FAU President John Kelly. "The Talon Awards give us the opportunity to shine a spotlight on four such individuals each year as an expression of our gratitude and admiration."

Baldwin was the recipient of the President's Talon Award. A former middle and high school teacher, she retired in 1999 after 34 years in Broward County schools. Baldwin has touched the lives of countless FAU students and transformed campus life through a number of generous gifts over the past two decades, including a major gift to name the History and Tradition Hall in FAU's Schmidt Family Complex for Academic and Athletic Excellence. The presidential residence and the presidential suite at FAU Stadium also are named in honor of her gifts to each. Baldwin also has shared her time and talents with FAU by serving on the FAU Foundation Board and the College of Education Advisory Board.

Swanson received the Alumni Talon Award. In a span of seven years, he made three trips to the International Space Station (ISS), returning from his most recent mission aboard Russian spacecraft Soyuz TMA-12M in November 2014. Swanson joined NASA as a systems engineer in 1987 in the Aircraft Operations Division of Johnson Space Center, working on the Shuttle Training Aircraft. In June 2007, while serving as a mission specialist aboard the Space Shuttle Atlantis, he carried an FAU flag with alumni pins attached to it while traveling to the ISS to deliver a truss segment and new solar arrays. The flag now hangs in the main lobby of the Forkas Alumni Center. Swanson is the recipient of the NASA Exceptional Achievement Medal, the Johnson Space Center Certificate of Accommodation and the Flight Simulation Engineering Award.

Rossow accepted the Faculty Talon Award for her exceptional leadership, commitment and service to FAU students. A double alumna of FAU, she serves as associate director of choral and vocal studies in the Department of Music, teaching a full course load, advising up to 60 students, and serving on committees for student projects and theses. Rossow's dedication and compassion have been showcased by her support of FAU's first blind student in the music education program. In 2013, Rossow learned the Braille Music Notation system in order to teach it to her student, who is now in her third year in the program. Additionally, Rossow serves as co-director of the annual Anúna Summer School workshop in Dublin and founding director of Sirenia, a six-member female choral ensemble.

Harris, from Wyckoff, N.J., is pursuing a degree in electrical engineering. An avid researcher who published her first research paper as a sophomore, Alyssa was recognized as the "Undergraduate Researcher of the Year" for the College of Engineering and Computer Science. She serves as the president of Society of Women Engineers at FAU, encouraging women to pursue careers in the STEM field. She is also president of Owls Supporting Diversity, a disability awareness organization on campus, as well as secretary for the Tau Beta Pi, the engineering honor society.

Before the Talon Awards were presented, eight FAU alumni and future alumni were inducted into the Parliament of OWLs (Older, Wiser Leaders), the University's alumni honor society that recognizes outstanding former student leaders, past presidents of the FAUAA, distinguished alumni of the colleges and Alumni Hall of Fame members. Inductees included Pablo Francisco Carreno Cabrejos, B.F.A. '15, B.A. '15; Henry Fidler, B.S.N. '15; Jayne Hafer, B.A. '11, M.Ed. '15; Mumbi Ngugi (December 2015); Samica Telhomme, B.B.A. '15; and Max Torres (May 2016).

For more information about the FAU Alumni Association, call 1-888-FAU-ALUM (328-2586) or visit www.faualumni.org.


-FAU-