They're Back! Scientists Now Have Intimate Shark 'Diaries'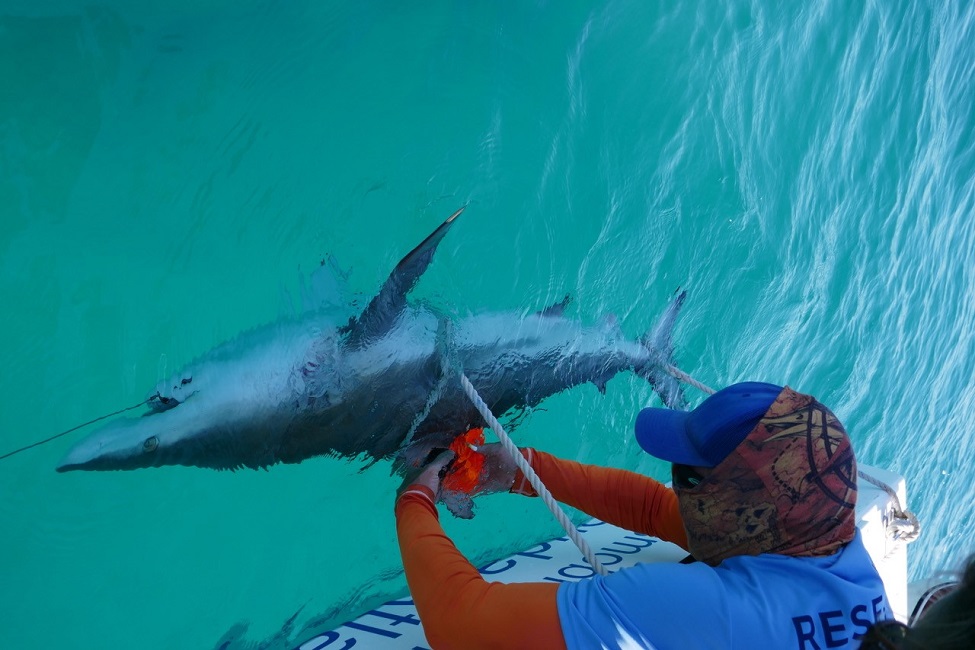 The reusable radio and satellite sensor attached to the blacktip shark's dorsal fin for two to four days is sensitive enough to even count the number of tail beats – just like a Fitbit counting steps.
---
The annual migration of blacktip sharks is in full force along South Florida's Atlantic coast as thousands of them head south for warmer weather. For almost a decade, Stephen Kajiura, Ph.D., an internationally renowned shark researcher at Florida Atlantic University, has been tracking the migration patterns of these top predators by air and by sea. Now, the latest addition to his arsenal of tools is providing personal and intimate details about them.
Attached to their dorsal fins for two to four days, a $5,000 reusable radio and satellite sensor is capturing and measuring detailed information on blacktip sharks' movements. Data from these "shark diaries" can reveal activities like how often they swish their tail, what depth they prefer to inhabit, and even their favorite time of the day to get close to the beach.
Earlier this month, Kajiura and his team in the Elasmobranch Research Laboratory in FAU's Charles E. Schmidt College of Science, fitted two blacktip sharks with these bright orange instruments. So far, they have found that when the sharks are first instrumented, they head for deeper water to recover before rejoining the schools along the beach. The sharks average a swimming speed of about 1.5 meters per second; a little quicker than the average human walking speed, and about the same as a human sprint swimmer. The instruments are sensitive enough to even count the number of tail beats – just like a Fitbit counting steps. The tremendous amount of high resolution data provides a treasure trove for the researchers to sift through as they unravel the daily activities of the sharks.  
"We welcome blacktip sharks back to South Florida because they are critically important to our ecosystem. They sweep through the waters and 'spring clean' as they weed out weak and sick fish, helping to preserve coral reefs and sea grasses," said Kajiura. "For years, we have gathered and documented data about their migration patterns with photos and videos that we captured by aircraft, boat and drones. This latest instrument is providing us with a very different perspective on how these mysterious animals behave."   
Data derived from the sensors will help Kajiura to continue to keep an eye on the oceans and census populations, and monitor animal responses to climate change. In addition, information about patterns when sharks visit beaches could put lifeguards on higher alert during those times. 
Blacktip sharks migrate south during the coldest months of the year and head north when it starts to warm up. Water temperatures determine where they wind up. They leave the north when water temperatures drop below 71 degrees Fahrenheit and start heading south. They swim as far south as southern Broward County or northern Dade County and as far north as New York.
Kajiura has previously reported as many as 15,000 sharks on any given day. In 2017 and 2018, he saw a dramatic decline in the number of blacktip sharks that migrated south – about one-third of what he typically has observed over the years.  
"It appears that blacktip shark migration season is off to a good start this year," said Kajiura. "We are starting to see congregations of them along our coast and we are monitoring them very closely."
In addition to the new sensors, Kajiura studies the correlation of water temperatures and shark migration patterns using small transmitting devices and web-accessible monitoring devices to receive the data in real-time via email notifications. He also uses a fixed-wing aircraft with a camera to capture photos and video of the sharks as he flies about 500 feet above the water going about 90 mph. South Florida's crystal clear nearshore waters makes it easy to distinguish the sharks. The researchers capture these images and take them back to the lab to manually count the sharks, which look like little black dots on a computer screen. Last year, Kajiura added drones to his collection of ocean-observing tools, which also provide additional data and different visual perspectives of these sharks.
The sensors were obtained through a grant from the Colgan Foundation, a not-for-profit corporation founded by Sean P. Colgan to benefit athletic, scientific, environmental, and education communities. This reseach also is supported by a grant from the Save our Seas Foundation awarded to Marianne Porter, Ph.D. 
-FAU-