FAU Medical School Applications Soar to More than 6,000 for 66 Spots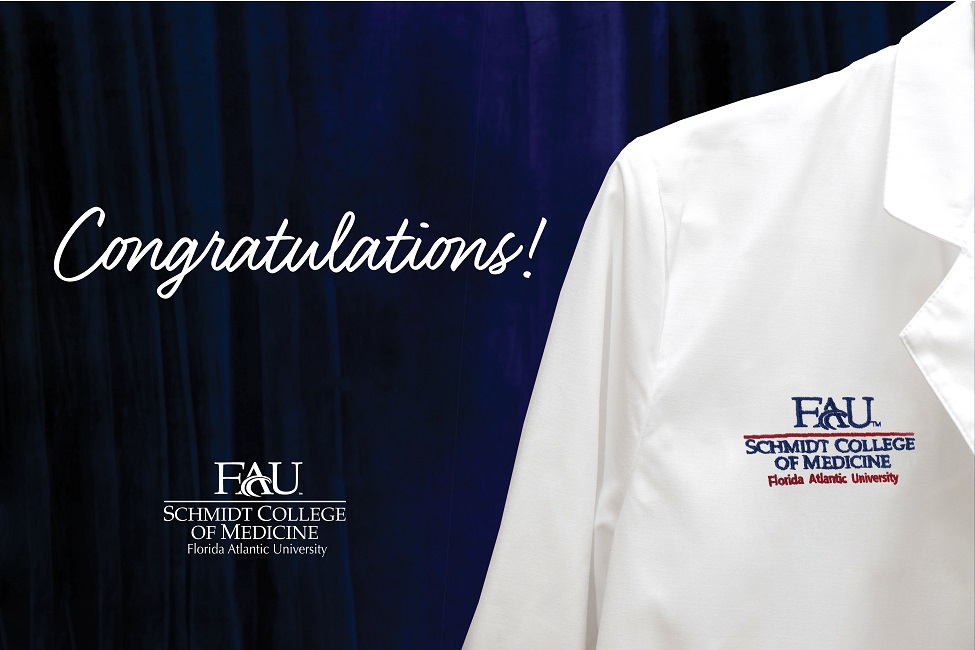 ---
Facing intense competition, members of this year's incoming class of Florida Atlantic University's Schmidt College of Medicine were selected among more than 6,000 applicants nationwide. The medical school received 6,032 applications for 66 spots, up 61 percent from last year. This upward trajectory in medical school applications is a national trend, which indicates that aspiring physicians were not deterred by the stress of COVID-19 and they are eager to do their part.
"According to the Association of American Medical Colleges, the United States will need about 133,000 more doctors by 2033," said Sarah K. Wood, M.D., interim dean and senior associate dean for medical education, FAU Schmidt College of Medicine. "This boom in medical school interest nationally and especially for our medical school is happening at a critical time in Florida's and our nation's history. We couldn't be more proud of the perseverance and enthusiasm from the talented members of our class of 2025."
On Friday, the medical school's class of 2025 received their first doctor's white coat during the White Coat Ceremony. This time-honored event is celebrated at medical schools around the nation and symbolizes entry into the medical profession as medical students are cloaked with their first doctor's white coat. For more than a century, the white coat has been the symbol of the medical doctor. 
The 66 members of the class were selected from a diverse and highly accomplished group of applicants. Twenty-four percent represent racial and ethnic populations underrepresented in medicine, which will help to advance the medical school's mission to enhance diversity in the physician workforce. This year, as part of the medical school rankings, the Schmidt College of Medicine was ranked No. 24 in the nation in the "Most Diverse Medical Schools" category by U.S. News & World Report, which is based on the percentage of underrepresented minority students.
Fifty-two percent of the class of 2025 is female; 48 percent is male. Seventy-three percent of the class members are from Florida and 27 percent are from out-of-state. Eleven members of the class received their bachelor's or master's degrees from FAU.
This year's keynote speaker was Allison H. Ferris, M.D., an associate professor of medicine in the Schmidt College of Medicine who serves as program director for FAU's internal medicine residency program.
"The pandemic placed us in a constant state of uncertainty that required us to utilize never-before-seen methods to recruit students and to teach medicine. However, it highlighted a major strength of our medical school, our community of learners and our educators," said Jennifer Caceres, M.D., senior associate dean for student affairs and admissions. "Students, staff, and faculty stepped up to help the admissions team deliver a unique and successful first-time ever virtual recruitment season. One silver lining of this pandemic is the reminder of the noble nature of medicine as we all witnessed the sacrifices made by the front-line workforce. It is revitalizing to see how this inspired so many to pursue medicine and has increased the level of passion and enthusiasm in the applicant pool this year. We cannot wait to see what the class of 2025 will bring to the Schmidt College of Medicine and what they will accomplish as future physicians serving our diverse communities."
Most of the major colleges in Florida are represented in the class of 2025 in addition to Boston University; Duke University; Johns Hopkins University; New York University; Northwestern University; University of Michigan – Ann Arbor; Vanderbilt University; and the University of Southern California.
Although most of the class members majored in traditional pre-med subjects, the class also is comprised of students with humanities and social science degrees, in keeping with the college's recognition in 2020 by U.S. News & World Report as one of the top medical schools in the country for liberal arts majors.
The medical school's White Coats-4-Care fundraising program for scholarship and student support set an all-time record this year raising nearly $600,000. Bonnie and Jon Kaye chaired the event for the 11th consecutive year. In addition, the college established the Robert A. Wood FAU Medical Scholars Fund supported through the generosity of Ann and John Wood, which will support 10 medical students through all four years of medical school. Through a leadership gift from Nancy Flinn, the medical school also established an Equity, Inclusion and Diversity Scholarship fund this year. The Schmidt College of Medicine receives many other gifts annually ranging from $100 to $2,500 to support incoming students' first white coats, scholarships and medical school programs.
Through the leadership of Michael T.B. Dennis, M.D., chair of the medical school's advisory board, each new medical student received their first stethoscope, generously donated by the Palm Beach County Medical Society. The stethoscope, a vital tool for conducting physical examinations, is one of the most enduring symbols of the medical profession.
The White Coat Ceremony was founded in 1993 by the Arnold P. Gold Foundation. The Foundation concluded that the beginning of a student's journey into medicine is the best time to influence standards of professionalism, humanistic values and behavior.
-FAU-