It's a 100 Percent 'Match' for FAU's Soon-to-be Physicians!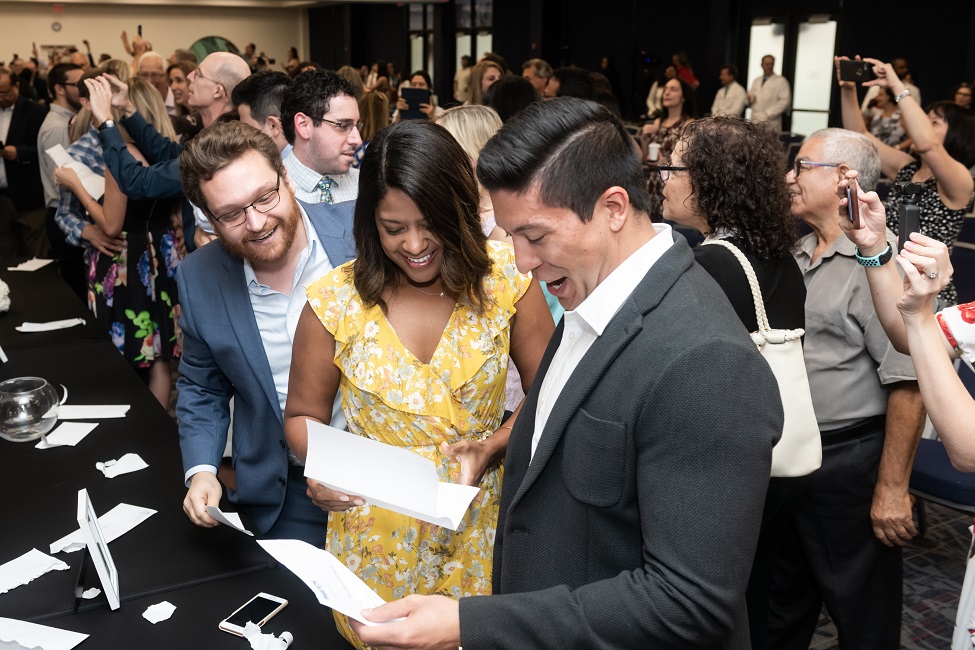 ---
The soon-to-be graduates of the class of 2019 at Florida Atlantic University's Schmidt College of Medicine joined thousands of medical students across the nation to celebrate "Match Day." The 55 members of the class of 2019 achieved a 100 percent match as they participated in this rite of passage to find out where they will be spending the next several years of medical training as residents.
Residency programs take three to seven years to complete depending on the medical specialty and are required for physicians to become license-eligible (board certified).
Promptly at noon, together with other graduating medical students in the United States, the class of 2019 opened their sealed envelopes containing their residency match results. Match Day occurs on the third Friday of March every year where the results of the National Resident Matching Program(NMRP)are announced.
"As you open your envelopes and discover where you will be conducting your next phase of training, please know that you will always be part of the Schmidt College of Medicine family," said Phillip Boiselle, M.D., dean of FAU's College of Medicine as he addressed the class of 2019 during Match Day. "Congratulations to the class of 2019 on achieving a 100 percent match. We are especially proud of your accomplishments, intellectual curiosity, enthusiasm about the practice of medicine, and your compassion for your patients as well as one another, which are all admirable and inspiring in equal measure."
In line with the medical school's mission, one-third or 21 members of the graduating class will enter primary care specialties, which include internal medicine, pediatrics, family medicine, and obstetrics/ gynecology. Nearly one-third of the class also matched in highly specialized fields that are among the most competitive in the match process, including urology, ophthalmology, dermatology, radiation oncology, and orthopedic specialties, among others.
In addition, on Match Day, 50 outstanding medical students from around the country successfully matched into FAU's residency programs in internal medicine (27), surgery (10), emergency medicine (6), psychiatry (4) and neurology (3). Sixty-two percent of them have academic (college, medical school) or personal/family connections to Florida, a strong predictor that they will remain in Florida to practice and reduce the state's projected physician workforce deficit.
Among the various Florida institutions where FAU's class of 2019 placed are Jackson Memorial Hospital; Orlando Health; the University of Miami Miller School of Medicine/Holy Cross; the University of South Florida Morsani College of Medicine; the University of Florida College of Medicine-Shands Hospital; the University of Central Florida College of Medicine/GME Consortium; Florida Hospital; Broward Health Medical Center; and FAU's Schmidt College of Medicine.
The class of 2019 also placed in several top institutions nationally, including Dartmouth-Hitchcock Medical Center in Lebanon, New Hampshire; Northwestern McGaw/Lurie Children's in Chicago; Hospital of the University of Pennsylvania in Philadelphia; Vanderbilt University Medical Center in Nashville; Baylor College of Medicine in Houston; the University of Chicago Medical Center in Chicago; and the University of Michigan Hospital in Ann Arbor.
"Class of 2019, in addition to achieving a 100 percent match rate, you have exceeded our expectations by placing in some of the most competitive specialties in prestigious institutions throughout our nation," said Stuart L. Markowitz, M.D., senior associate dean of student affairs and admissions in FAU's College of Medicine. "Savor this special moment with your colleagues, friends, family and all of us at Florida Atlantic University as we celebrate your many accomplishments on this important day. Congratulations and best is yet to come!"
The NRMP expects the 2019 Main Residency Match to be the largest in history, exceeding the more than 43,000 applicants who registered for the 2018 Match. Results of the Main Residency Match are closely watched because they can predict future changes in the physician workforce.
The NRMP uses a computer algorithm, developed in 1952 by Nobel Prize-winning economist Alvin Roth, to place students in the program that they prefer. Each residency program at a hospital has a fixed number of first-year positions that they can fill each year based on their accreditation. Leading up to the big day, each student lists in order of preference the residency program that he or she seeks to work with and each residency program then ranks its applicants in order of its own preferences.
-FAU-