FAU Presents Hay Fever, Once Upon a Mattress and More
Professional actors join FAU students to present a musical and a comedy in this summer festival.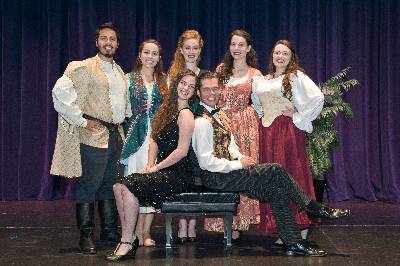 ---
Florida Atlantic University's Department of Theatre and Dance in the Dorothy F. Schmidt College of Arts and Letters has announced its summer lineup for Festival Repertory Theatre 2016. "Hay Fever" a comedy by Noel Coward, will run from Friday, June 10 through Sunday, June 26; the musical "Once Upon a Mattress" will run from Saturday, July 9 through Sunday, July 31; two big band concerts will be presented on Saturday, July 16 at 7 p.m. and Sunday, July 17 at 2 p.m.; and a Piano Gala will be featured on Saturday, July 23 at 4 p.m. Tickets are $20 and all shows are in the University Theatre and Studio One Theatre at 777 Glades Road, Boca Raton campus. To purchase tickets, visit www.fauevents.com or call 800-564-9539. Group and festival rep package tickets are available at 561-297-6124.
There will be an opening night reception on Friday, June 10 at 5:30 p.m. in the Schmidt Gallery on the Boca Raton campus. Tickets for the reception are $100 and include preferred seating for that night's performance and a $50 tax-deductible gift for theatre student scholarships. For information on the reception, visit fauf.fau.edu/FestRep or call 561-297-2337.
From the pen of one of the greatest comic geniuses of all time and set in an English country house in the 1920s, "Hay Fever" is a rollicking comedy that offers what the New York Times called "an evening of intoxicating escape." The play imagines one couple's "quiet" weekend getaway gone hilariously awry when the most unruly guests show up – their children. The Bliss family become embroiled in an outlandish family feud as this farcical comedy of manners descends into a flurry of comic mayhem leaving everyone breathless including the audience.
"Once Upon a Mattress" is consistently ranked among the top five shows produced in the United States. This twice Tony-nominated musical (Best Revival of a Musical in 1970 and 1997) is a wonderfully funny and charming reimagined telling of the "Princess and the Pea" story. First starring Carol Burnett, "Once Upon a Mattress" has provided many great actresses the chance to shine. With reviews like "as fresh, inventive and funny as ever" and "a hilariously nutty retelling of the beloved fairy tale," "Once Upon a Mattress" is a musical comedy gem that is carried on a wave of wonderful songs, heartwarming romance and side-splitting story lines.
Festival Repertory Theatre also includes two big band concerts featuring hits from the 30s, 40s and 50s presented by the Florida Wind Symphony Jazz Orchestra under the direction of Kyle Prescott; and a four-piano gala extravaganza featuring Heather Coltman and friends.
Patrons can receive discounts on dining when they present their show tickets at the Living Room Theaters Restaurant, located next to the theaters. For information, visit fau.livingroomtheaters.com.
All proceeds from the Festival Rep productions benefit student scholarships in the department of theatre in FAU's Dorothy F. Schmidt College of Arts and Letters. The shows are made possible with support from Bank of America and the Cultural Council of Palm Beach County. The June 10 opening night reception is underwritten by FAU's University Club. For more information on Festival Rep, visit www.fau.edu/festivalrep.
-FAU-