FAU Tech Runway® Reveals its Seventh Venture Class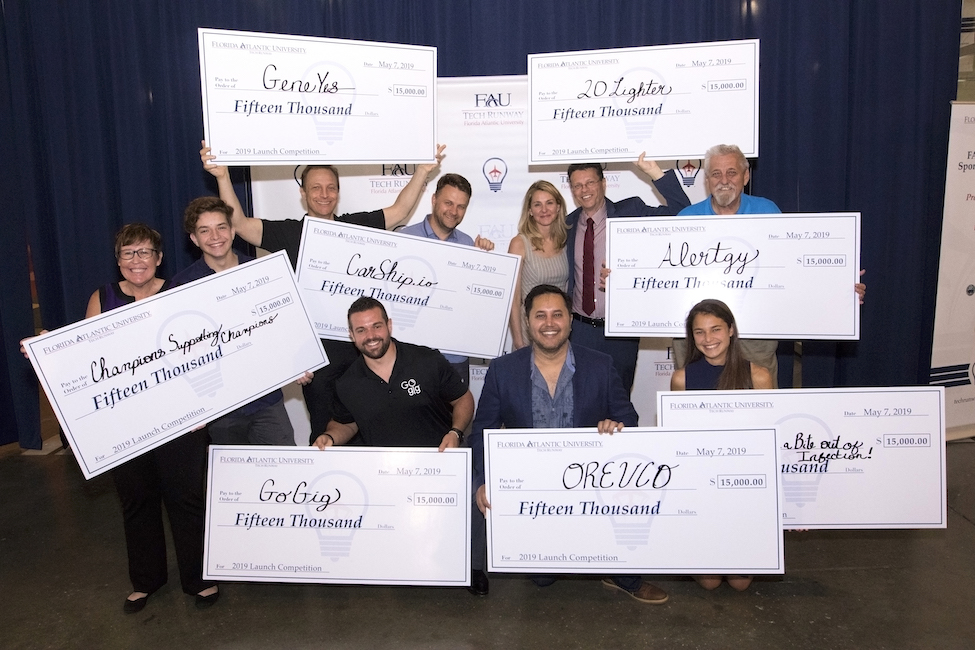 ---
FAU Tech Runway® hosted its 2019 Launch Competition and Demo Day on Tuesday, May 7 at the Research Park at Florida Atlantic University, revealing its seventh class, known as "Venture Class 7." This annual Launch Competition provides the most promising startups and talented entrepreneurs in South Florida with an opportunity to join a year-long program that brings the competition winners "best-in-class" instruction, mentoring, resources, networking, assistance, office space, and other vital programs.  
Among the 21 companies joining Venture Class 7, eight of these will receive a $15,000 cash investment award.  With a total of $120,000 cash awarded, FAU Tech Runway's competition is the biggest "purse" in the state.  
The 21 winners representing community, faculty and student tracks were selected by a panel of 16 judges, including successful entrepreneurs, technology investors, entrepreneurship professors, economic development professionals, philanthropists, and commercial bankers.    This year's eight cash investment award winners are:
GoGig: an anonymous professional networking platform that helps match currently employed, passively seeking, job candidates to new hiring companies through career desires and cultural fit metrics.
Alertgy: a truly non-invasive, continuous glucose monitor (NICGM) and alert system. 
GeneYes: VALIDATE (Virtual Agent-Linked Intelligent Disease Assessment Tool Engine) provides a full-bodied, highly animated, two-way conversational virtual agent for patient-reported data collection and genetic testing clinical decision support.
CarShipIO: an integrated platform and two-sided marketplace for the auto transportation industry.
OREVCO: the OREVCO Real Securities Exchange (ORSE) is the world's first U.S.-focused commercial real estate securities exchange, empowering investors to trade commercial real estate assets as efficiently and inexpensively as equities.
Sharks take a Bite out of Infection!: an antibacterial, reusable bandage that prevents the migration of multiple strains of deadly bacteria into the wounds of post-operative, hospital-based patients.
20Lighter: a holistic, lifestyle transformation solution incorporating cutting edge health-related and quality of life outcomes, empowering clients with industry-leading results that translate into happier and healthier lives.
Champions Empowering Champions: a not-for-profit changing the educational, professional, health, and cultural outcomes of college students who have experienced foster care or homelessness, through innovative programming built on interdisciplinary, evidence-based research.
In addition, 13 more companies were awarded based on various tracks including, community, student and faculty. 
Community track: CyberFit, 0Bank, Reuse Pac Inc., Secret Sequence
Student track: Custom Component Kits, FaZed Audio, NERD Delivery, Sweep Storage, Micah 6:8
Faculty track: Deep Science, DeeTex, Equal Water, NetFly
"FAU Tech Runway received a record number of 170 application for the Launch Competition this year. The 21 winners selected by our expert Judges Panel truly represent the cream of the crop," said Rhys L. Williams, managing director of FAU Tech Runway®. "Every year the level of entrepreneurial talent represented, and the sophistication of the business concepts submitted jumps up several levels, and this year was absolutely no exception. We can't wait to begin working with this new class of entrepreneurial leaders."  
In addition to the investment awards received by the top third of the incoming class, all Venture Class 7 winners join a robust community of fellow entrepreneurs, mentors, investors, instructors, and top-level support professionals. They will be provided with co-working, skills training, and expert business mentoring, all at no cost. Nearly 50 highly-vetted MIT program-trained mentors, instructors, and staff serve as mentors, trainers, and support professionals.  
Competition winners will complete a rigorous five week "I-Corps" training module, requiring them to complete 40 "customer discovery interviews" and attend industry conferences and trade shows.  Additionally, they will complete a 12-session course of instruction focused on specialized topics tied to Stanford's Lean LaunchPad curriculum.  Classes cover customer development, value proposition, distribution channels, capital raising, and other subjects critical to entrepreneurial success. 
Prior to announcing the Launch Competition winners for Venture Class 7, 14 other companies in from the graduating Venture Class 6 gave live elevator pitches, shared their accomplishments during the year-long program, and offered demos of their companies' products from an exhibition area.  
FAU Tech Runway® is a public-private partnership formed to incubate and accelerate early-stage technology-based companies, under the purview of FAU's Division of Research. It also has provided financial support, entrepreneurial education, free workspace, investor introductions, expert mentoring, marketing assistance, student interns, and a close-knit entrepreneurial community for 72 early-stage companies since its launch. 
In four years, 351 jobs and 165 internships have been created; 79 FAU students have been employed; more than $64 million in revenue has been earned; and more than $63 million in capital has been raised from all sources.
The 2019 Launch Competition presenting sponsors include Arnold L. and Barbara D. Cohen; Burdette Beckmann Inc.; the Fleisher Family Foundation; the City of Boca Raton; and Palm Beach County.  Platinum-level sponsor include the law firm of Duane Morris. Gold-level sponsors include Bank of America; TD Bank; SunTrust Foundation; Kaufman Rossin; the Chester Foundation; Ryan and Connor Lynch (Plastridge Insurance); Marti Latour; and the George Elmore Family Foundation. Silver-level sponsors include Florida Power and Light, Prototype House, and Rhys L. and Dr. Lorna Williams. Bronze-level sponsor include the law firm of Locke Lord.
For more information on FAU Tech Runway®, visit techrunway.fau.edu. 
-FAU-