FAU Hosts Live Earth-to-Space Call with NASA Astronaut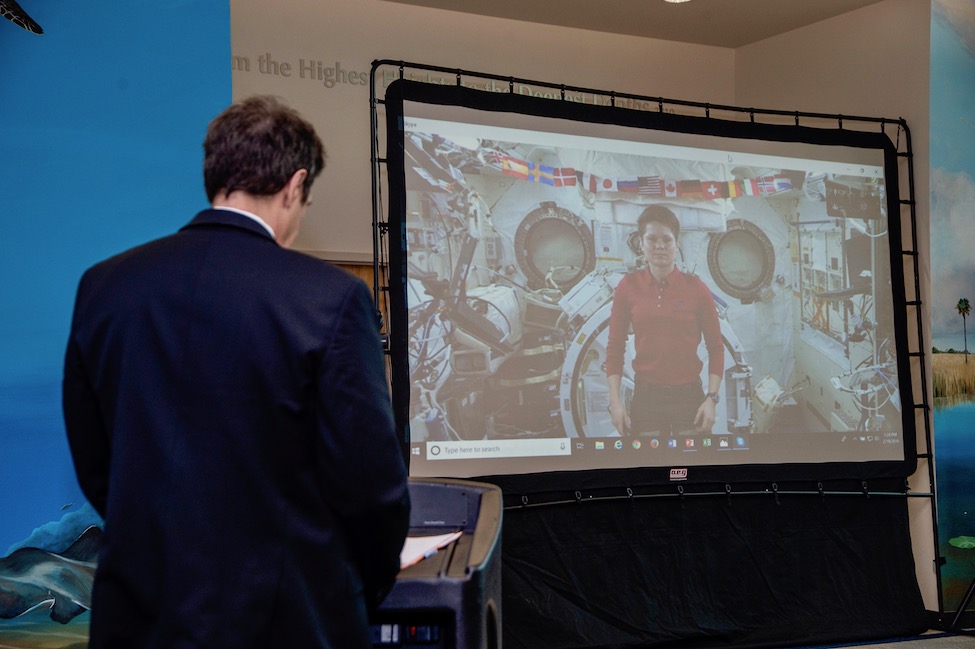 (Photo by Alex Dolce)
---
Florida Atlantic University's College of Engineering and Computer Science recently hosted more than 200 local high school and college students to experience an Earth-to-space call with NASA astronaut and expedition 58 flight engineer Anne McClain on board the International Space Station.
McClain answered a range of questions from FAU High School students, as well as students from the tri-county area about her background, astronaut training, launch day and what life is like on the space station. She demonstrated microgravity and how to move around on the station during the live video call.
"The first time I told my parents I wanted to be an astronaut I was three years old," said McClain. "Be unrealistic about your dreams but be very realistic about your path to achieve them. When you're passionate about what you're doing you're going to enjoy it more. I would encourage everyone who is passionate about doing something to make a realistic path for themselves."
The schools that participated were: FAU High School; Boynton Beach High School; Katz Yeshiva High School; Olympic Heights High School; Palm Beach Central High School; West Technical Education Center; McNicol Middle Magnet and STEM School; Terra Environmental Research Institute High School; and Jose Marti Mast 6-12 Academy.
"FAU is very proud to provide this unique opportunity for local students to speak with astronauts living and working on the International Space Station," said FAU President John Kelly. "We hope that this experience will reinforce their interest in STEM subjects and encourage them to pursue careers in these critically important fields."           
FAU alumnus and retired NASA astronaut Steve Swanson '86 delivered an interactive lecture about his time as an astronaut in the NASA space program, which included an explanation of his journey in space and his time on the space station.
"It's always a pleasure to be back at FAU," said Swanson. "I got an excellent education here. This is a fantastic university and the people here are wonderful. To have the opportunity to represent NASA at my alma mater is a great honor."
U.S. Rep. Ted Deutch was in attendance and spoke prior to a live video call with Gov. Ron DeSantis who greeted the students. Also in attendance were members of FAU's Board of Trustees and Stella Batalama, Ph.D., dean of FAU's College of Engineering and Computer Science.
"The College of Engineering and Computer Science, in partnership with NASA, is fully committed to introducing and exposing students to science, technology, engineering and math," said Batalama. "This truly extraordinary experience served as a platform to create, support and nurture interest in STEM and inspire students to revolutionize and transform the technological landscape of the world."
To watch the full International Space Station Skype call with NASA astronaut Anne McClain, click here.
-FAU-