FAU College of Business Honors Rita and Rick Case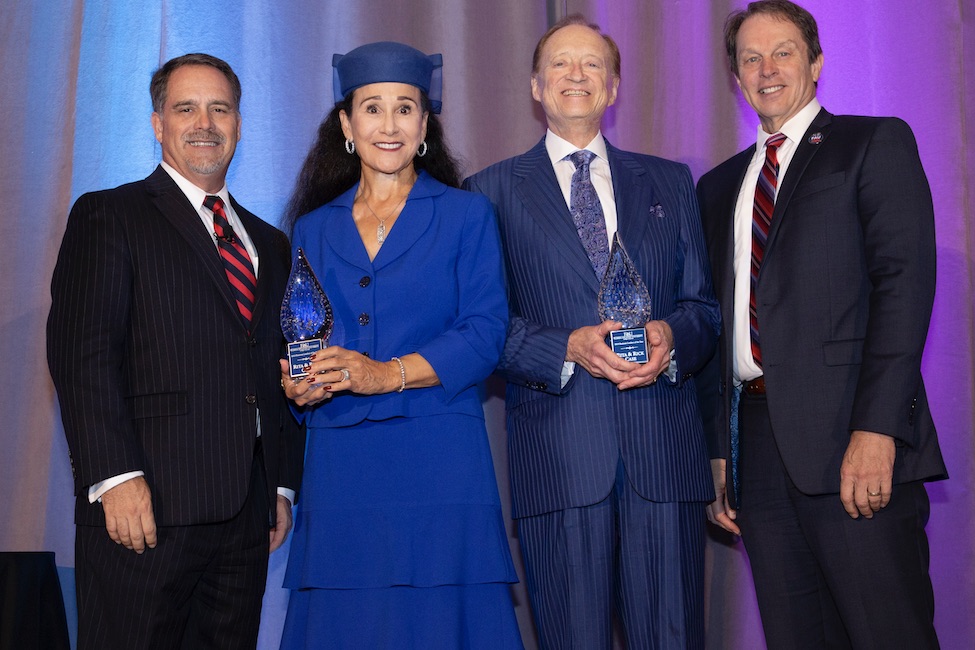 ---
By james hellegaard | 1/31/2020
Florida Atlantic University's College of Business recently honored Rita and Rick Case of the Rick Case Automotive Group at
its 28th annual Business Leaders of the Year breakfast at the Boca Raton Resort & Club. 
"Both Rita and Rick are widely recognized as people who are very smart with great business minds, but also have big hearts. They're an amazing couple in business," said Daniel Gropper, Ph.D., dean of FAU's College of Business. "They have also been great supporters of our community, helping in health care, education, housing and particularly youth activities. At FAU's College of Business, our core mission is to educate our students and help open the doors of opportunity for them. That is why we support our students and celebrate business leaders such as Rita and Rick Case."
The event was sponsored by the Rick Case Automotive Group (Presenting Sponsor), JM Family Enterprises(Platinum Sponsor), Zimmerman Advertising (Platinum Sponsor), Boca Raton Resort & Club (Gold Sponsor), SBA Communications (Gold Sponsor) and FAU Executive Education (Gold Sponsor).  A portion of the sponsorship dollars raised from the event provide scholarships to FAU College of Business students who have strong academic achievement and demonstrate leadership qualities.
In his remarks, Keith Koenig, CEO of City Furniture, noted the friendship he and his wife, Kelly, have with Rita and Rick Case. What the Cases do outside of business, Koenig said, defines them more than what they do inside their business. 
"What they do is work nonstop for our community, and they're not doing it for self-betterment. They're doing it because they know they have been given a gift, they have been blessed and they want to share that with the community," Koenig said. "They only want what's best for the community. But here's the message I'll share with all the young people: Guess what happens to them? They get blessed in return. Their business grows because they build friendships. Not out of self-interest, but because people trust them and love them and appreciate what they're doing." 
Rita and Rick Case have been partners in business, life and their humanitarian efforts since 1980. Rick started his automotive career selling cars from his parents' front yard in high school, and he opened his first dealership in 1962. Rita was mentored in her parents' auto dealership and became general manager after college. Rick, from Akron, Ohio, and Rita, from Northern California, met at a Honda automobile convention in 1977. Together they worked to build an automotive dealership group that provides a customer and community friendly experience. All of their 16 dealerships, located in Cleveland, Atlanta and South Florida, participate in the philosophy of giving back to the community and helping their customers do the same.  
The Rick Case Automotive Group is celebrating its 58th year in business and produces more than a $1 billion in annual sales, with more than 1,200 associates. It's recognized nationally with numerous awards as one of the top performing dealership groups. 
Since moving to South Florida in 1985, they have displayed a passion to support and improve their community, donating and raising more than $100 million by creating and leading fundraising events to benefit many organizations. Their own Rick Case Bikes for Kids program, started 38 years ago, has donated more than 100,000 bicycles to children with a need during the holiday season. 
As Rita and Rick case accepted this honor from FAU, Rita called it the "ultimate achievement." 
"We have spent our career focused on the goal to build a business that would be respected by our community for providing a quality product, delivered by professional, knowledgeable associates, in facilities that are state-of-the-art for our industry and exceeding our customers' expectations," she said. "At the same time, we're focused on our legacy, which is to give back to the community, to make a difference that will go beyond Rick and I and onto our children and make this community a great place."
Since 1991, FAU's College of Business has presented the Business Leader of the Year award. Some of the past recipients of the award include Fabiola Brumley, Colin Brown, Heiko Dobrikow, Naren Gursahaney, Jeff Stoops, Jordan Zimmerman, Wayne Huizenga, Jim Robo, Mike Jackson, Ronald Assaf, Alexander Dreyfoos, Jim Moran, Carl DeSantis, Pat Moran, Jeb Bush, and Alan Levan.
-FAU-