FAU and Barb Schmidt Launch Student Activism Fellowship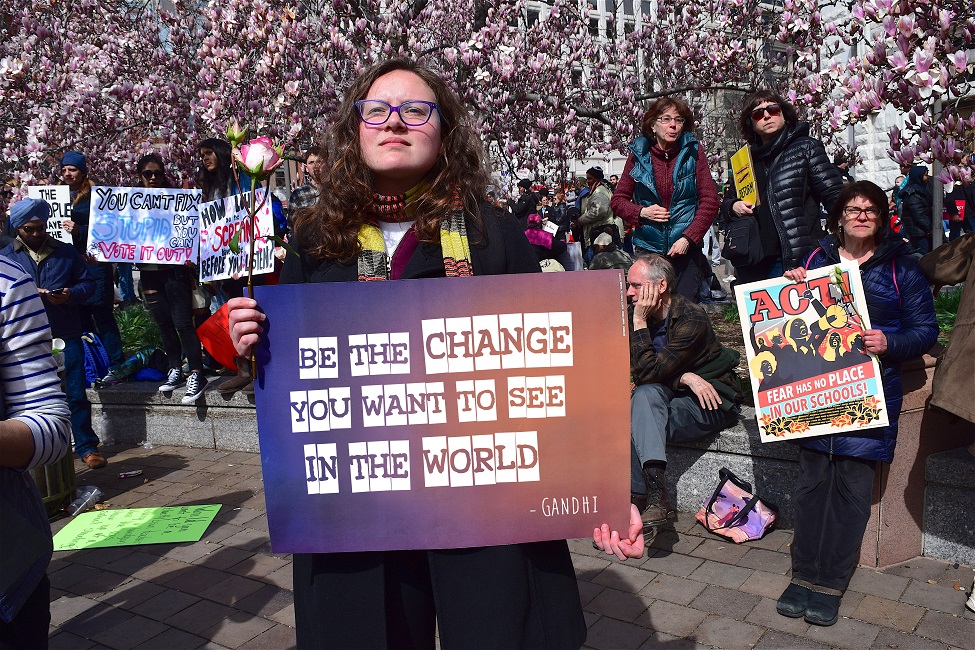 ---
Florida Atlantic University's Dorothy F. Schmidt College of Arts and Letters, in partnership with Barb Schmidt, recently launched a program for high school students titled "The Barb Schmidt Fellowship: Cultivating Community Involvement, Activism and Social Change." Students can apply for the fellowship and earn six FAU credits through weekend workshops and activities during the 2018-19 school year. There is also a $1,000 stipend for participants who successfully complete both semesters. Students must submit a completed application and two written recommendations (at least one from a teacher) by Friday, June 15. To view the application visit fau.edu/barb-schmidt-fellowship/.
The goal of the program is to provide student leaders with a platform to develop the skills and knowledge needed to initiate, execute and sustain a social movement through peer mentorship and workshops led by social influencers and FAU faculty. Students will learn key professional and technical skills from experts in news media analysis, design of social movements, social and digital media advocacy, presentation sills, fundraising and nonprofit organizing, video production, campaign operations and more. After exploring the workings of social movements and gaining the expertise needed, students will then work on their own project of choice, which will be presented at the end of the fellowship and launched as a real intervention related to the project's goals.
The fellowship is open to students who have completed their freshman year of high school and who have a 3.0 grade point average or higher. Students also need to be living in Palm Beach or Broward counties and qualify for dual-enrollment at FAU. Thirty students will be accepted into the program.
"We have all been inspired by what youth leaders are doing to make our world a better place. We want to support the work being done by facilitating students' growth in community engagement and social change efforts," said Michael Horswell, Ph.D., dean of FAU's Dorothy F. Schmidt College of Arts and Letters. "Becoming a Barb Schmidt Fellow will help students gain essential skills for successful organizing, foster partnerships through networking with other activists, university faculty and community leaders, and enable the launch of multiple projects for the benefit of our communities."
During the fall semester, participants will attend class two Saturdays per month from 9 a.m. to 2 p.m. at FAU. Fellows will explore the dynamics of creating, developing, and sustaining social movements through peer-to-peer and student-to-faculty interactive workshops designed to be a platform for student-driven activism and engagement.
Grounding this experience will be the introduction to and practice of mindfulness techniques to ensure the self-care and sustainability required for successful social movement work. Each participant is expected to use the fall classes to develop a project proposal, in consultation and guidance with faculty.
During the spring semester, fellows will attend class one Saturday per month from 9 a.m. to 2 p.m. at FAU. Students will work individually or in teams to design and implement their service-learning project. They will create a project portfolio to include all aspects of social movement development and implementation and prepare it for launch at the end of the semester.
"This fellowship was created to honor and support local students as they create positive change," said Schmidt. "They are the future, and we need to support them in every way we can."
A practitioner of mindfulness and meditation for more than 30 years, Schmidt is the author of the internationally bestselling book "The Practice: Simple Tools for Managing Stress, Finding Inner Peace, and Uncovering Happiness" and founder of the nonprofit organization Peaceful Mind Peaceful Life. Her mission is to bring mindfulness teachings to the community in the belief that outer peace begins through inner peace. She has been on more than 100 retreats and studied with teachers around the world, including the Dalai Lama.
For more information, contact Suzy Livingston at 561-297-3158 or slivingston@fau.edu.
-FAU-