FAU's Theatre Lab Celebrates Successful First Season
Since its grand opening in August 2015, more than 1,500 people have attended a Theatre Lab event.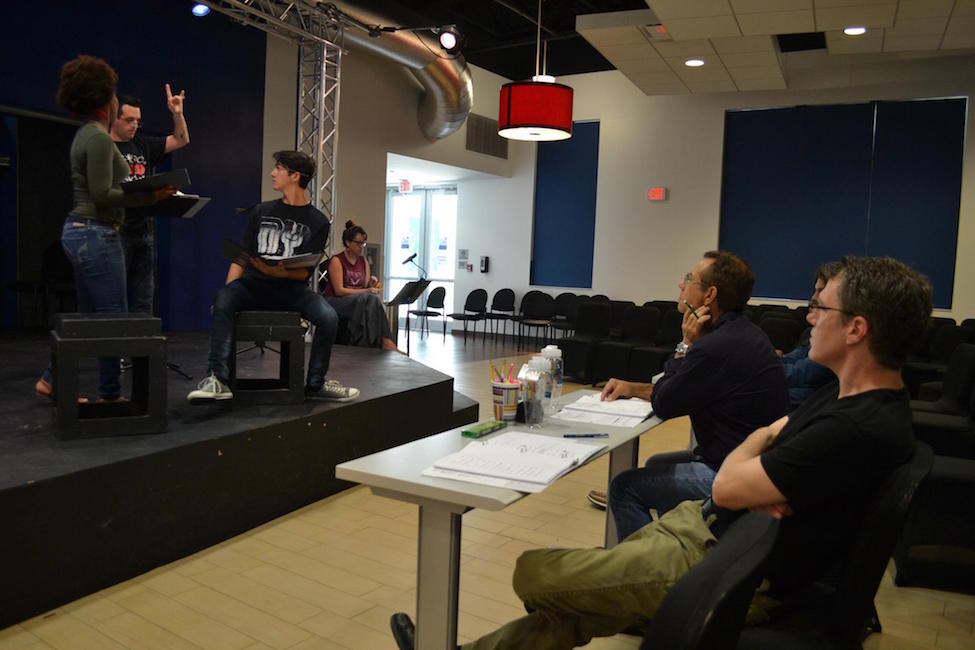 ---
By kelsie weekes | 5/17/2016
Theatre Lab, Florida Atlantic University's professional resident theater company, has closed its curtain to a successful first season on FAU's Boca Raton campus. Since its grand opening in August 2015, more than 1,500 people have attended either a reading of a play, a concert-reading of a musical, a cabaret, an improv comedy show, or an art exhibition.
Theatre Lab is dedicated to the development and production of new works in American theater, and offers FAU students an opportunity to be a part of it. So far, 19 graduate students and eight undergraduate students have played a role in an on-stage production, while another 42 undergraduate students have served as front-of-house team members and assistant stage managers. Not only do these students obtain professional credits for their resume, they also are paid for their work.
"We want to build that bridge to the professional world for these students," said Matt Stabile, associate artistic director of Theatre Lab. "Having our students sit at a table with playwrights such as Israel Horovitz and reading his work is an experience they'll never forget."
In addition to the opportunities provided to FAU students, Theatre Lab also has launched the Future PAGES Project, which allows local students in grades 3-12 the chance to share their voices and stories. Students participate in writing workshops and then are invited to attend a live performance at Theatre Lab. After the show, students can submit original pieces of writing based on the themes of the production they attended. The program ends with a live performance of the students' original work as part of the New Play Festival.
Since last fall, the Future Pages Project has produced 32 creative writing workshops and 15 live theatrical performances with more than 1,500 elementary, middle and high school students in Palm Beach and Broward counties.
"One of our primary goals here at Theatre Lab is to use the power of theater to bring our community together. This program accomplishes that goal," said Stabile. "The Future Pages Project provides students the skills and confidence to share their thoughts and voices with the world."
Next season, Theatre Lab plans to fully produce its plays and build out the theater space to accommodate larger productions.
"We are cementing ourselves as a part of the South Florida theater community," said Louis Tyrell, artistic director of Theatre Lab. "We want to be a nationally-renowned playwright center."
For more information on Theatre Lab or to find out about its upcoming events, visit  
-FAU-