Tech Runway® Releases Second Annual Economic Impact Report
FAU's Tech Runway® has released the results of its second annual economic impact report.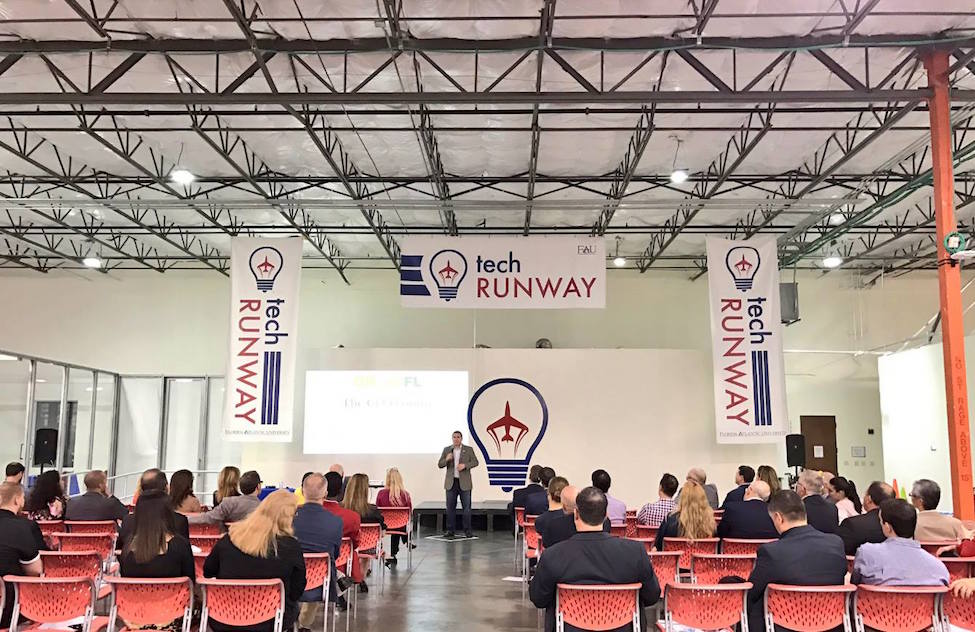 ---
By brittany sullivan | 1/23/2017
Florida Atlantic University's Tech Runway® has released the results of its second annual economic impact report. The report provides the cumulative performance metrics of 29 Tech Runway companies since fall 2014.
FAU Tech Runway,® a public-private partnership formed to foster early-stage technology companies under the purview of FAU's Division of Research, has provided financial support, entrepreneurial education, free workspace, investor introductions, expert mentoring and a close-knit entrepreneurial community for 29 start-up companies since its launch.
In just two years, 205 jobs and 76 internships have been created; 39 FAU students have been employed; 136 corporate partnerships have been created; more than $8 million in revenue has been earned; and more than $19 million investment capital has been raised.
These achievements have required relatively modest state investment. Florida Gov. Rick Scott approved $750,000 in funding for FAU Tech Runway® in the 2016-17 state budget. FAU Tech Runway® has proven itself to be a good return on this investment; for every $1 million in public investment received, $9 million is put back into the economy.
"The entire FAU Tech Runway® team has come together to create a vibrant, entrepreneurial hub for the South Florida technology community," said Rhys L. Williams, associate vice president and managing director of FAU Tech Runway®. "We are in awe of our companies' recent accomplishments, and we are grateful to our board members, business mentors, instructors and staff in helping our companies exceed their goals."
Launch Competition Applications Accepted this Week
Applications for this year's Launch Competition will be accepted beginning Friday, Jan. 27 through Wednesday, March 22.  Winners will be announced at a ceremony on Thursday, May 18.  The winners of the FAU Tech Runway® Launch Competition join the Venture Class Program, which brings together "best-in-class" instruction, mentoring, resources, networks and programing for Launch Competition winners.
Numerous winners can receive up to $25,000 in grant funding, and the opportunity to be housed, trained and mentored for one year by highly-vetted mentors, instructors and staff, all dedicated to their success and at no cost. The winners will complete a 16-week course of instruction based on the Stanford Lean Launch Pad curriculum. Classes cover customer development, value proposition, distribution channels and topics critical to entrepreneurial success.
Last year's Launch Competition was sponsored by TD Bank, JP Morgan and MoreVisibility. Since 2009, more than 1,400 applicants and 160 teams have competed for cash and admission to the Venture Class Program to pursue their dreams of becoming the next big company to launch out of South Florida.
For more information on FAU Tech Runway®, visit techrunway.fau.edu.
-FAU-