FAU Graduate Shares War Experiences Through Writing
After five deployments overseas with the United States Army, Patrick Martin, 30, turned to writing as an outlet from his war experiences.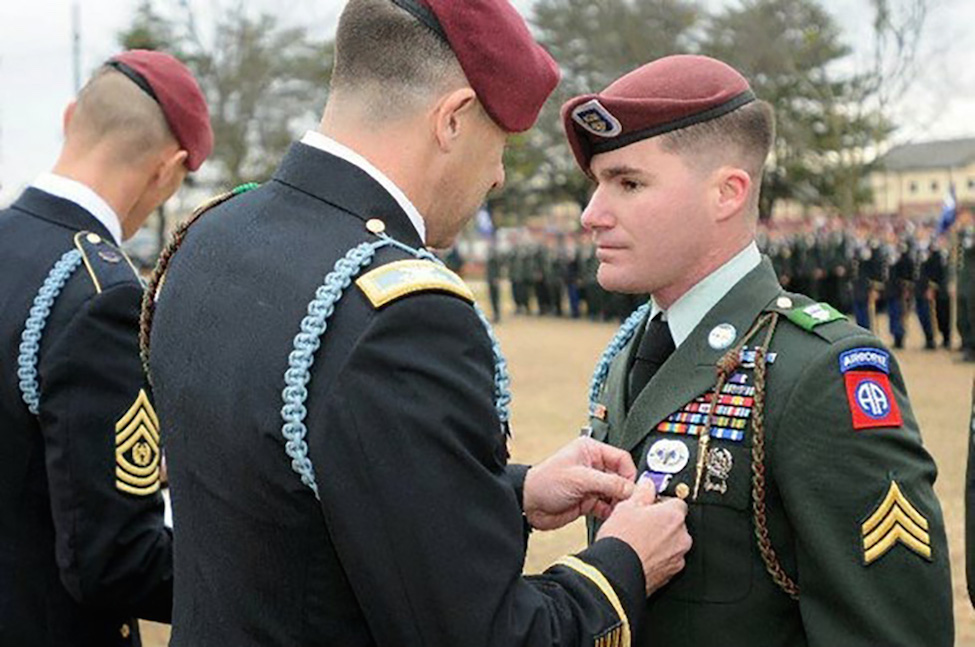 Patrick Martin receives his Purple Heart on July 11, 2010.
---
By kelsie weekes | 5/6/2016
After five deployments overseas with the United States Army, Patrick Martin, 30, turned to writing as an outlet from his war experiences. On Friday, May 6 at 5 p.m., Martin will graduate summa cum laude from Florida Atlantic University with a bachelor's degree in multimedia studies with a focus in journalism.
The South Florida native joined the 82nd Airborne infantry in 2004, and was quickly sent to Afghanistan to cover the first parliamentary elections in 35 years. In 2007, he was deployed to Iraq during the first surge of troops under U.S. President George W. Bush. Martin remembers the day he was involved in a firefight spanning multiple days with enemy forces.

 "From the moment we landed and set up a patrol base, we started receiving mortar rounds and small arms fire," he said.
Martin made it out of the firefight unwounded, but he wasn't so lucky during his second trip to Afghanistan. While traveling to Bagram Air Base on the last day of his deployment, an enemy fired a rocket-propelled grenade (RPG) into his vehicle.

 "I took a shrapnel to the face, and also ended up with a mild traumatic brain injury and severe concussion," he said. "I still have a piece of shrapnel in my leg."
On July 11, 2010, Martin was awarded a Purple Heart for his injuries, the oldest military award still given to U.S. military members.
That year was a memorable year for Martin. Just a few months earlier, he made a surprise trip to Haiti following a devastating earthquake. He said the deployment made a lasting impression on him.
 "I was speechless over what I saw there," he said. "Knowing you're there to help with something was different for me. It was a humanitarian mission, and it was extremely rewarding."
Martin was released from the Army in 2013, and returned to South Florida to pursue his education. He was accepted into FAU's journalism program in 2014, and immediately began working as a reporter for the University Press, FAU's student newspaper. He also started a personal blog to share his experiences in the military.
"Writing has always been a passion of mine, and the military gave me a vehicle to propel my writing," he said. "Writing is a release for me, and I love when people read what I've written."
Neil Santaniello, a senior instructor in the School of Communication and Multimedia Studies within the Dorothy F. Schmidt College of Arts and Letters, calls Martin a standout student.
 "Patrick is held in high regard by FAU's journalism faculty," he said. "He is smart, well-informed on current events, a meticulous fact-finder, and has a passion for journalism, not just the scoop."
Martin currently serves as a freelance reporter for Treasure Coast Newspapers, but this fall will move to New York City to attend Columbia University for his master's degree. The school has awarded him with a $20,000 journalism scholarship.
"I will be the editor of the New York Times one day," he said. "Everybody wants to hear a good story. I want to help produce more interactive stories, the stories that people will want to read."
-FAU-