FAU Broward Campuses News
Florida Atlantic University Launches Memory and Driving Study at Davie Campus
Monday, Mar 01, 2021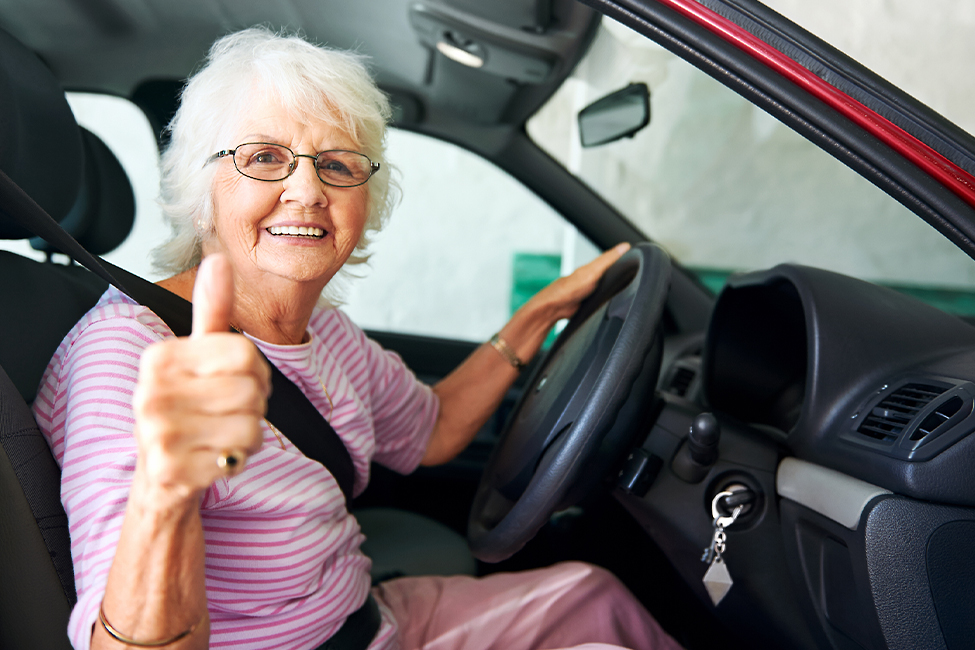 ---
Do you want to help Florida Atlantic University formulate the first older driver in-vehicle sensors to detect cognitive change? To achieve this goal, the research team at the Christine E. Lynn College of Nursing in collaboration with FAU's College of Engineering and Computer Science and Charles E. Schmidt College of Science needs 750 older drivers who live near the Davie and Boca Raton campuses to volunteer to participate. The team invites men and women age 65 years and older, of different race and ethnic backgrounds, who have a vehicle and drive, to participate in this groundbreaking study. The study starts April 2021. FAU staff and faculty are encouraged to invite their friends and family to participate. The study is open for anyone in the community. Those interested in the study can call Dr. Laurie Martinez, project coordinator, at 845-705-8982.
The FAU researchers involved in this study are: Ruth Tappen, R.N., Ed.D., FAAN, principal investigator and Christine E. Lynn Eminent Scholar and professor; Dr. David Newman, co-principal investigator, an associate professor and a statistician at the FAU's Christine E. Lynn College of Nursing; Dr. Monica Rosselli, professor of psychology at the Davie Campus; María de los Ángeles Ordóñez, DNP, APRN, GNP-BC, PMHNP-BC, CDP, FAANP, FAAN, director of the Louis and Anne Green Memory and Wellness Center at FAU and a professor at FAU's Christine E. Lynn College of Nursing; and Dr. Jinwoo Jang, Dr. Borko Furht and Dr. KwangSoo Yang are faculty at the College of Engineering who have designed the sensors.
FAU has a team of researchers representing diverse communities and speaking several languages (English, Spanish, Haitian-Creole), who will test and evaluate an unobtrusive in-vehicle sensing system placed in drivers' cars. The sensor system is designed to be an early warning system that can detect cognitive change and could be used in the future as a widespread, low-cost early warning of cognitive change for a large number of older drivers. The study is supported by a five-year, $5.3 million grant from the National Institute on Aging.
Participants will come back to the FAU Center on the Davie or Boca campus every three months for three years (total of 13 visits) so the team can download the data from the sensors, repeat some of the cognitive testing, and ask some questions about experiences with the sensor installation. These visits should take about 2 – 2.5 hours each. As compensation, participants will receive $25 Publix, Amazon or Wal-Mart gift cards at the completion of each visit and $50 at their final visit. A total of $350 in gift cards.
"The purpose of this study is to determine whether changes in the way a person drives are useful indicators of important changes in thinking, judgement, or memory (aka, cognition)," said Ruth Tappen. "The study will enable researchers to test and evaluate a readily and rapidly available, unobtrusive in-vehicle sensing system, which could provide the first step toward future widespread, low-cost early warnings of cognitive change for older drivers in the U.S."
Team members will install temporary sensors in the participant's car that are designed to be unobtrusive and should not be distracting or interfere with driving. This includes small video cameras, GPS (Global Positioning Sensor), scanners, and accelerometers. Participants will participate in a basic screening for driver safety (i.e., vision, hearing, strength), completion of a questionnaire with basic information (i.e., age, gender, language spoke), and a set of cognitive tests (i.e., memory, following arrows, symbols). Participants will bring their vehicle to one of the FAU Centers at Davie Campus or Boca Campus to have the set of sensors temporarily installed. The sensors are designed to record how they drive (eye movement, blinks, head movement, distractions, drowsiness, and shoulder harness use) and movement of their vehicle (location, speed, breaking, turning, lane changes). There will be two miniaturized cameras, one facing forward toward the road and one facing the driver. The driver facing video camera will only record the face and upper torso (shoulders) of the driver while the vehicle is turned on.
"Research is important to healthy aging as discoveries lead to new and better treatments and disease preventive practices. Benefits of volunteering for this particular research project include learning about memory and driving and helping others in future generations," said Dr. Laurie Martinez. "Potential volunteers can be assured that researchers are required to follow strict rules enforced by the Federal Government to protect participants' safety and privacy."