FAU Broward Campuses - Faculty Spotlight
Dr. Daniel Reyes-Guerra
Thursday, Apr 01, 2021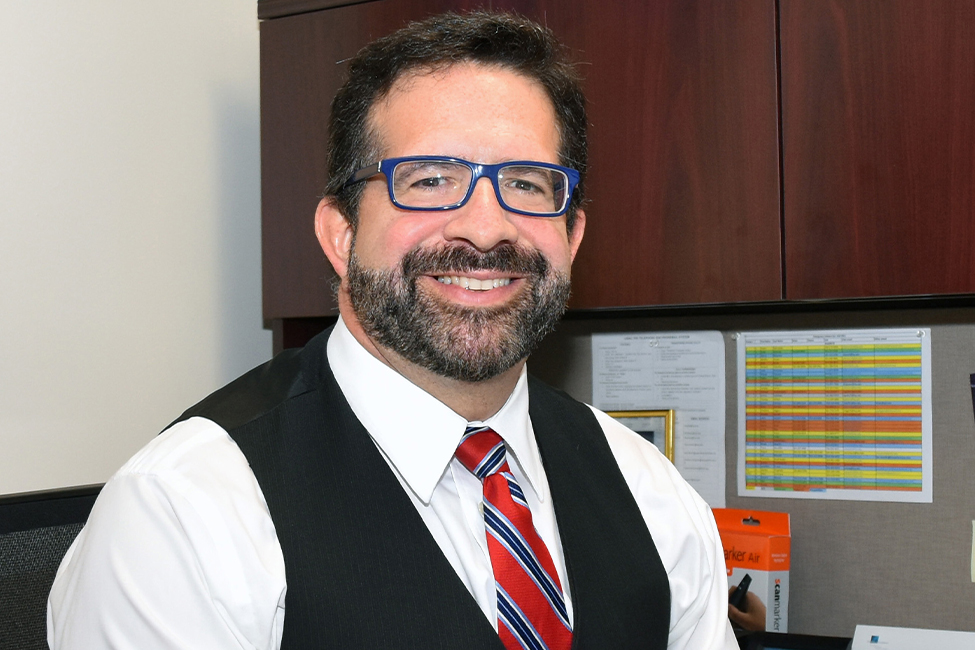 ---
Associate Professor | Educational Leadership & Research Methodology
Dr. Daniel Reyes-Guerra, Associate Professor, Educational Leadership and Research Methodology (ELRM), in Florida Atlantic University's College of Education is at the forefront of innovation in school leadership education programs in Florida and the nation. Reyes-Guerra research interests include leadership for social and emotional learning, strategic leadership in times of change, equity-centered leadership, educational leadership policy, and university-school district partnerships. He was awarded a $5.6 million Wallace Foundation grant called the Florida Atlantic University Principal Preparation Initiative (FAUPPI) to partner with local districts and the Florida Department of Education to improve the profession of school leadership in the State of Florida. The grant facilitated collaboration with local school districts to completely redesign FAU's Master's degree in Educational Leadership.
The FAUPPI project has created professional learning programs that lead to state certification for principals and assistant principals. These university-district partnership programs include Broward County Public Schools' Principal Rapid Orientation and Preparation in Educational Leadership (PROPEL), partnership programs with the School District of Palm Beach County (EXEQ), and the school districts of Martin, Saint Lucie, and Okeechobee districts (ELITE). In addition, the non-district partnership program called IDEAL is open to cohorts from across the country. IDEAL just received the 2021 ranking as one of the best on-line national programs by US News and World Reports.
The cornerstone partnership for all this work, which started with a $3.5 million Race to the Top grant from the State of Florida in 2011, is the PROPEL Program housed on the Davie Campus and coordinated by Dr. Sharon Moffitt. Highly selective cohorts of aspiring assistant principals learn in a co-taught and co-developed Master's Degree program, and this endeavor has become a national model for school leadership programs.
"I think that the most personal and professional gratification that I have had in developing PROPEL comes at two levels. The first is the access and real professional collegiality and alliances that we have formed with the Broward County Public Schools district, and having the honor to work with such real, focused, and caring educators. Specifically, the top-level administrators who partner with us have been reflective of people who are really looking out for the best for the students of Broward, and specifically those who have been historically underserved or have experienced inequitable outcomes," said Reyes-Guerra. "The second is sharing the experience of our Master's Degree students as they finish the two-year program – the promotion ceremonies we have done on the Davie Campus, with the University Provost, President, College Dean, District Superintendent, and other top officials, sharing our students' experiences and the pride and joy of their families, as well as the students' commitment to public education, is emotionally exhilarating and makes me proud of FAU."
This year, as the growing need for more deeply addressing the equity needs of student learning and awareness has come to the forefront (as demonstrated by the national recognition of racial and institutional bias brought to light by the murder of George Floyd and the inequities in learning exacerbated by the pandemic), Reyes-Guerra (with the support of FAU's Office of Institutional Advancement & Office of Foundation Relations) has put together a collaborative team from FAU, the Broward County School District, the Duval County School District, the city governments of Jacksonville and Fort Lauderdale, looking for opportunities to engage in community-based racial equity leadership development and project implementation. The idea is for FAU to facilitate community leaders and high school students in addressing their own solutions to the advancement of equity in their specific communities.
Reyes-Guerra is also working with Broward County Public Schools and Osceola Public Schools in developing school leadership pipeline programs centered on equity. This holds promise to further the work of FAU in school leadership while expanding FAU's service area to greater parts of Florida. Likewise, the School Leaders PhD program he coordinates has now moved to a new synchronous remote on-line delivery format that will allow students from across the globe to join the strongest educational leadership doctorate in Florida, with its first cohort to begin this Fall.
An important area of all this work is policy: Reyes-Guerra, in partnership with the Florida Department of Education, convened State leaders and stakeholders in 2017 to create a guiding vision for school leadership learning and development. The statewide task force was brought together as part of the work of FAUPPI and prepared a report, including recommendations for aligning policy with that vision, to Florida's Commissioner of Education in 2019. This report set the stage for that policy work that has been implemented through state-wide committees. In partnership with the Florida Department of Education, he serves to coordinate the efforts of these multiple statewide committees to improve educational leadership across Florida. Through these efforts, he brings together agencies, organizations, and individuals with complementary missions but who rarely have the opportunity to work together.
Currently, these committees are developing systems and policies around school leadership professional certification, educational leadership program approval standards, educational leadership professional standards and evaluation, educational leadership assessment, and related state-provided supports for leadership learning and professional development like leadership tracking systems and leadership coaching models. Collectively, their work is aimed at improving the standards and policies governing school leadership preparation, certification, and professional development.
Reyes-Guerra has served as President of the Florida Association of Professors of Educational Leadership (FAPEL). His current position as the Past Chair of the American Educational Researchers Association (AERA) Learning and Teaching in Educational Leadership Special Interest Group (LTEL-SIG) puts him in direct contact with leading scholars in the field.
Reyes-Guerra teaches doctoral-level courses such as Executive Leadership, Seminar in Administration and School improvement and chairs and serves on several dissertation committees. He joined the University in 2003 as a Principal-in-Residence in ELRM's Grow Your Own Program, while earning a Ph.D. in Educational Leadership from FAU. He became an Assistant Professor in 2009. Previously, he was a Secondary Principal at the American School of Asuncion in Paraguay for seven years and a High School Principal at the Escuela Americana in El Salvador for three years. Prior to that, he taught English and social studies for a total of seven years at the American School of El Salvador and the American School of Guatemala. He holds a M.S. in Educational Administration from the University of Alabama, Tuscaloosa, and a B.A. in History and Government from Cornell University. During his free time Reyes-Guerra is a ranked bridge player, master swimmer, enjoys art collecting, spending time in El Salvador with family and friends, and playing with his labradoodle named Zeus.