FAU/NCHA Community Health Center Receives HRSA Federal Designation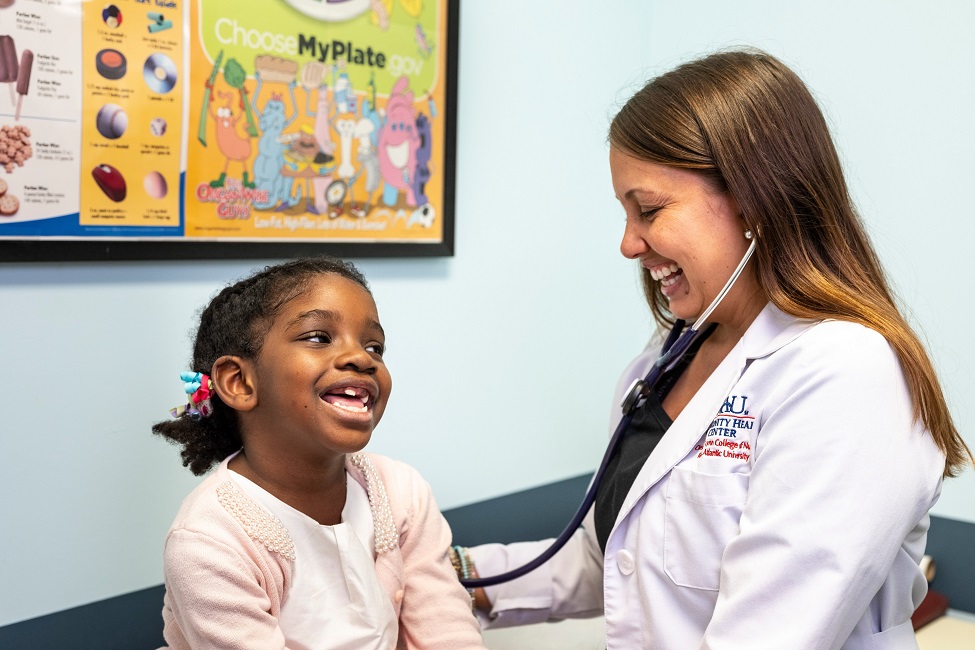 Jessica Mendez, MSN, APRN-BC, CDE, clinical director, FAU Community Health Center, tends to a pediatric patient.
---
The Florida Atlantic University/Northwest Community Health Alliance Community Health Center (FAU/NCHA Community Health Center), operated by the Christine E. Lynn College of Nursing, is the first university in Florida to be designated by the United States Health Resources and Services Administration (HRSA), as a "Federally Qualified Health Center (FQHC) Look-Alike," effective May 1. An FQHC is a clinic that provides comprehensive primary, behavioral health and preventive care to patients of all ages in underserved and rural areas. The purpose of FQHCs is to serve communities that may have financial disadvantages, language barriers, geographic barriers, or other specific needs.
According to HRSA, 30 million Americans or 1 in 11 people across the U.S. rely on FQHCs for care including 1.4 million homeless patients, 1 in 5 rural residents, 1 in 8 children, 1 in 4 uninsured, more than 1 million agricultural workers and more than 398,000 veterans.
"Receiving this important designation from the U.S. Health Resources Services Administration is the result of the tireless efforts of our nurse-led Community Health Center's staff and leadership team, including our executive director Dr. Kay Edwards, and our nursing faculty who are all dedicated to providing lifesaving health care and services to underserved populations in Palm Beach County. Our Community Health Center is an invaluable resource in the community and provides patient-centered care by an outstanding interdisciplinary team of professionals that include nurse practitioners, physicians, psychiatrists, social workers, medical assistants and others," said Safiya George, Ph.D., dean, FAU Christine E. Lynn College of Nursing. "The majority of residents who live in our service areas live well below poverty. As a Federally Qualified Health Center Look-Alike, we will be able to expand and enhance the vital services we provide at our FAU/NCHA Community Health Center." 
To receive an FQHC Look-Alike designation, organizations must operate and provide services consistent with HRSA's Health Center Program requirements to ensure health care for underserved communities and vulnerable populations in the U.S. through service provision to all, regardless of ability to pay. Health Center Program look-alikes improve the health of underserved communities and vulnerable populations by expanding access to comprehensive, culturally competent, quality primary health care services.
"The need for comprehensive health care services and outreach programs in Palm Beach County's underserved communities is immense," says Karethy Edwards, Dr.PH, FNP-BC, Community Health Center project director, executive director and associate dean of academic programs, Christine E. Lynn College of Nursing. "Almost one quarter of the population who reside in the areas we serve is uninsured and often seek care in emergency rooms because they do not have an alternative. Many of them have high blood pressure, diabetes, asthma and other chronic health conditions and also suffer from depression and anxiety disorders. When taken into account with the surging cost of health care and related services, this is a challenging issue for our communities in need. Fortunately, our FAU/NCHA Community Health Center is poised to help address these challenges. Equally important, our FQHC Look-Alike designation is the only one-of-its-kind in Florida for a university. Only a small number of schools like The Ohio State University, University of Colorado, Texas Tech University and a few others have received this designation from HRSA. We are honored to have this distinction."
There are approximately 458,350 people living in the FAU/NCHA Community Health Center service area in West Palm Beach. The population has a higher proportion of Black/African American and Hispanic residents than the county and the state. About 47 percent of the population lives below 200 percent of poverty and 20.6 percent lives below poverty. More than 20 percent of the population is uninsured, compared to 15 percent in Palm Beach County and Florida. The entire service area is designated as a primary care, dental and mental health "Health Professional Shortage Area."
The FAU/NCHA Community Health Center is already part of the fabric of health care in lower income Palm Beach County. FAU and NCHA have partnered with several West Palm Beach organizations, which have been working for a number of years to establish additional health services in an historic part of the city. The FAU/NCHA Community Health Center has two sites providing primary health care services integrated with behavioral health services. One is located in Westgate and has been operated by the Christine E. Lynn College of Nursing since 2014; and the other newer site is located in the northwest area of the city, which has the highest level of minority population and poverty. The health center has formal agreements with two area medical centers and the major FQHC for services not provided directly.  
Needs assessments conducted by the Palm Beach County Health Department and the Northwest Community Consortium, Inc., a community organization working with FAU, found that the service area has a tremendous need for additional accessible medical and behavioral health services. In 2018, the two area FQHCs, including the Palm Beach County Health Care District, served only 16.75 percent of the low income population of the service area zip codes.  
In 2019, the FAU/NCHA Community Health Center provided 3,654 primary care visits and 841 behavioral health visits to 1,188 patients. Last year, the center distributed more than 550 face masks to residents in this community, specifically targeting homeless individuals. With COVID-19 concerns, primary care telehealth services were made available to patients and included routine sick and health maintenance follow-up care and management of chronic illnesses like hypertension, diabetes, asthma, and arthritis.
The two FAU/NCHA Community Health Center locations in West Palm Beach are 1650 Osceola Dr. and 720 Eighth St., at the U.B. Kinsey Educational Community Center.
FQHC Look-Alikes do not receive federal funding but are eligible to apply to the Centers for Medicare and Medicaid Services (CMS) for reimbursement under FQHC Medicare and Medicaid payment methodologies, which provide higher reimbursement funds for patient visits. FQHC Look-Alikes also are eligible to purchase discounted prescription drugs through the 340B Federal Drug Pricing Program, receive automatic Health Professional Shortage Area designation, and may access National Health Service Corps providers.
-FAU-